26. March 2013
First Krones subsidiary abroad awarded globally recognised TÜV certificate
TÜV SÜD awards its IMS certificate to Krones do Brasil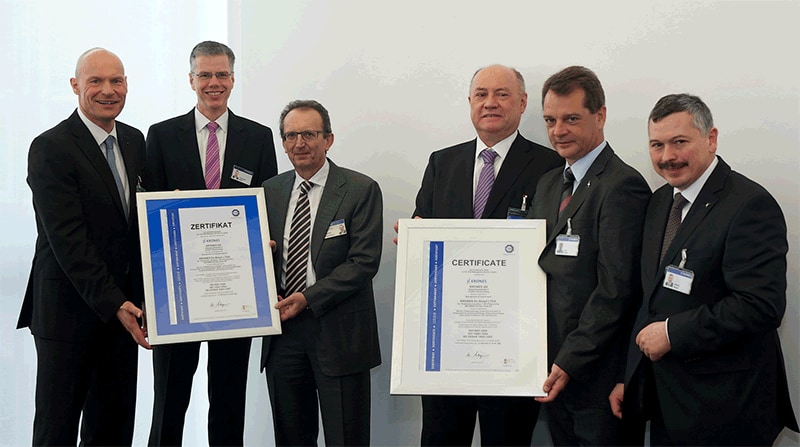 The Krones plant in Brazil, Krones do Brasil Ltda., has been successfully certified by the German technical inspectorate TÜV SÜD. It is thus the first Krones plant abroad to have been awarded the TÜV certification. In March 2013, TÜV SÜD handed over the initial certification, in the form of an IMS certificate extended to cover quality (DIN EN ISO 9001), environmental protection (DIN EN ISO 14001) and occupational safety (BS OHSAS 18001) to Jens Hoyer, the Managing Director of Krones do Brasil. By introducing a quality, environmental and occupational safety management system at the Center in Brazil, Krones AG, Neutraubling, Germany, is demonstrating the purposeful progressing of its management systems, unveiled and launched in 2009, not only for the German facilities, but as a kick-off for Brazil too.
In the presence of Werner Frischholz, the Krones Executive Board Member responsible for Operations and Service, and Christoph Klenk, his colleague responsible for Finance and Information Management, Christian Striegl, TÜV SÜD's branch office manager in Munich, emphasised: "At Krones' facility in Brazil, the issues of sustainability, eco-management and occupational safety have been taken fully on board. Not only to the benefit of Krones AG, but also to the benefit of your staff, the natural environment and the community as a whole. Under the aegis of the VALUE programme, focusing on internationality, quality and organisation, you have not only put the issues of eco-awareness, occupational safety and sustainability firmly on the agenda, but incorporated them as integral constituents of appropriately structured intra-company processes." Other Krones facilities abroad, e.g. in China and the USA, are scheduled to follow or are already involved in the certification process.
Trend towards certification set to accelerate
Krones AG itself was awarded an IMS certificate back in 2009 by the German technical inspectorate TÜV SÜD, an accolade recognised the whole world over. With the successful IMS certification (Integrated Management System), Krones is underlining its global market leadership, not least in the quality of its management systems. Albert Bauer, IMS Officer at Krones AG, is confident "that the trend towards certification of management and product requirements is set to accelerate. Besides the hard facts of technical considerations, soft factors like the social standards involved are coming increasingly to the fore. We're seeing more and more searching questions and verification requests from both major clients and from analysts." Krones AG's management programme accordingly includes goals and action listings for meeting and mastering social challenges, like demographic change.
---