06. February 2017
Krones' exemplary occupational safety record honoured for the third time
Bavaria's Minister of Labour, Emilia Müller, presents the OHRIS certificate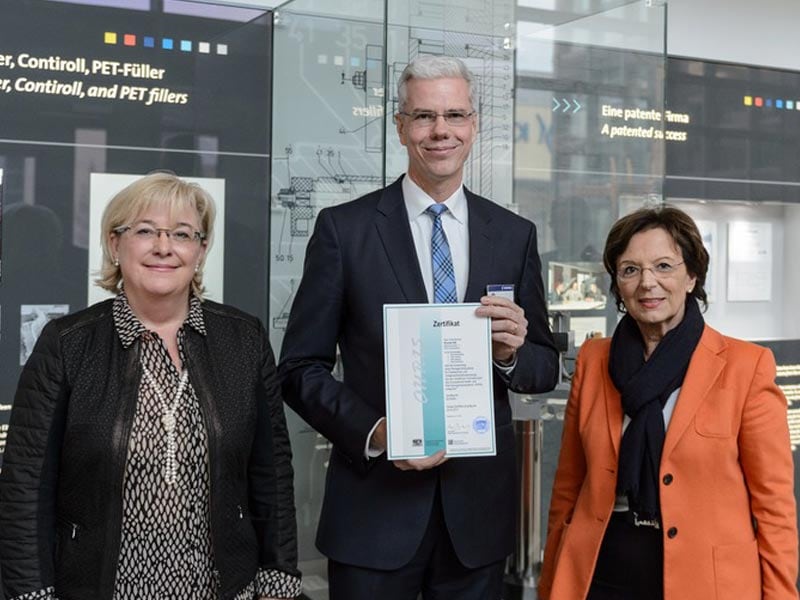 For its exemplary record in occupational safety, Krones' facilities in Neutraubling and Nittenau have for the third time been awarded the OHRIS certificate by the Bavarian state government. Bavaria's Minister of Labour, Emilia Müller, presented the accolade to the company in person. At a small reception also attended by Friedrich Wink, who heads the Factory Inspectorate Department at the government of the Upper Palatinate, Michael Berger, who had conducted the certification audit at Krones, member of the state parliament Sylvia Stierstorfer, plus representatives of Krones' managerial elite and the Group Employees' Council Chairman Werner Schrödl, the Minister handed over the OHRIS certificate to Krones AG's Executive Board Chairman Christoph Klenk.
Emilia Müller praised Krones' commitment to occupational safety: "I am delighted that I can now for the third time present Krones AG with the certificate for the OHRIS occupational safety management system. The OHRIS certificate stands for effective occupational safety in a workplace world that's becoming progressively faster and more demanding. Our goal is a simple one: when they go home in the evening, all employees should be just as healthy as when they arrived in the morning. This benefits not least the entrepreneurs as well. After all, a firm can only operate profitably and successfully if its staff are healthy too. Here, Krones AG is not only a global player in terms of innovation and production, but is also pre-eminent in social responsibility and occupational safety."
In his speech of thanks, Executive Board Chairman Christoph Klenk emphasised the following point: "Proactive responsibility for the staff, which includes health and safety at the workplace, is firmly anchored in Krones' corporate philosophy." Purposeful, continuous optimisation of occupational safety, he continued, is designed to promote personal wellbeing and therefore staff motivation and performance, thus also contributing towards the company's commercial success.
OHRIS – "Occupational Health and Risk Management System"
OHRIS was developed by the Bavarian state government in conjunction with private companies and trade associations. It is a corporate occupational safety management system tailored to a company's requirements that at the same time also demonstrably meets national and international standards in terms of health and safety. OHRIS strengthens a company's sense of individual responsibility in the field of occupational safety. The concept is designed to lastingly and effectively improve the protection of employees from work-related hazards. Comprehensive occupational safety, continually optimised, has always been part of the corporate philosophy at Krones AG, one of the region's biggest employers. This is impressively reflected in the accident statistics: in comparison to the average figures recorded by the Employers' Liability Insurance Association, the company can point to accident figures that are not only extremely low, but are also showing a long-term decrease.
---