24. March 2016
Krones opts for its own siding
With a siding of its own Krones AG, is easing the congested traffic situation in and around Regensburg and making a contribution towards protecting the natural environment.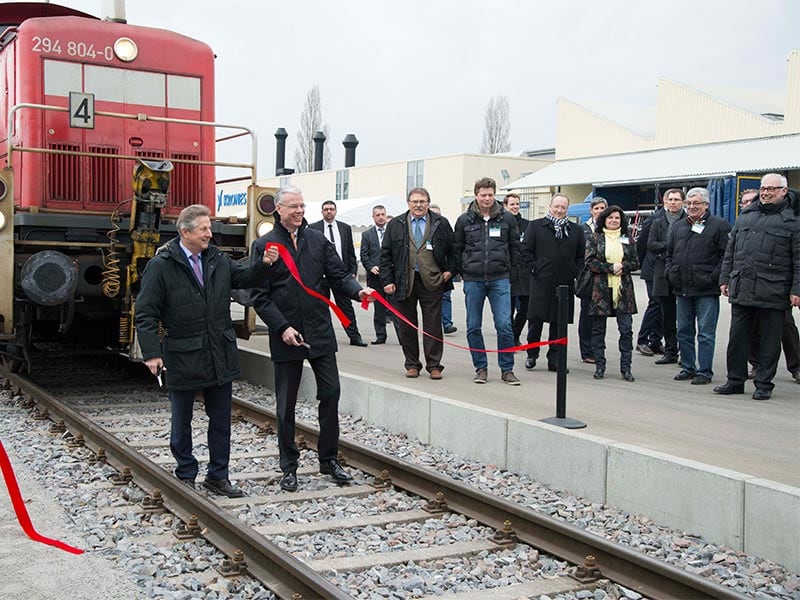 The traffic situation in and around Neutraubling is becoming progressively more congested. It will be several years yet before the road construction work designed to remedy this is completed and takes due effect. In order to render itself more independent of this and plan its goods transportation for optimum efficiency, Krones decided to reactivate a siding on its premises unused since the 1950s.
Two-thirds of the goods Krones produces are sent overseas. In order to deliver our products on time at the client's facility, logistics play a crucial role. Reason enough for Krones to optimise still further the links with its logistics hub in Hamburg within the context of its global logistics strategy. The logistics hub has a siding of its own, so that the goods from Krones AG in Neutraubling can now be loaded directly and stay on the train until they are unloaded at the Krones hub in Hamburg, where they can be assembled for dispatch.
In order to get Krones' products to the hub, hitherto more than 3,500 truck trips from Neutraubling were required each year. With a siding of its own, Krones can this year load approximately 950 railway trucks, which corresponds to a reduction of approximately 1,600 road truck trips. In the years ahead Road truck utilisation is set to be reduced still further: 2,000 fewer trips is the target . The siding's maximum capacity could with a track upgrade be even higher: approximately 2,600 wagons per year could use it, thus replacing more than 4,000 road truck trips per annum.
By relocating its transport operations from road to rail, however, Krones is not only reducing road congestion but also its CO2 emissions, and is thus making a significant contribution towards protecting the natural environment and enhancing sustainability.
The siding was officially inaugurated on 23 March 2016.
---