09. March 2011
Krones sets new quality standards in terms of information management
Krones AG is the first German mechanical engineering company to be certified under ISO/IEC 20000
Krones AG, Neutraubling, is the first German mechanical engineering company to have been certified in the field of information management under the internationally recognised ISO/IEC 20000 seal of approval. Krones' certification officially confirms that its IT operations provide all the preconditions for cost-efficient, reliable IT service management. At present, there are only about 40 companies in Germany certified to the ISO 20000 quality standard; in the German Engineering Federation (VDMA), Krones is in fact the only company so far.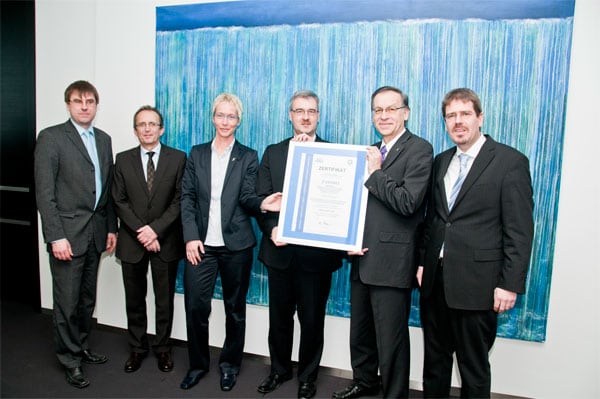 The certification procedure for Krones was carried out by the globally operating management certifier TÜV SÜD.
The TÜV SÜD technical inspectorate has confirmed that both Krones Neutraubling and Krones' other plants in Rosenheim, Freising, Flensburg and Nittenau have introduced and are using a management system for IT services. In winning certification under ISO/IEC 20000, Krones AG has proved that it is organising its IT processes efficiently and effectively in line with good-practice frameworks (ITIL, IT Infrastructure Library) and is thus supplying its IT services to an agreed level of consistently high quality. At the same time, it assures that compliance requirements (standards, guidelines and legal stipulations) are met, as well as putting in place quantifiable quality standards, designed to ensure the requisite transparency for both quality and costs.
At the certificate award ceremony, Hans-Jürgen Thaus, Deputy Executive Board Chairman of Krones AG, emphasised the significance of this accolade for the company: "With this certification, we secure a unique selling point on our chosen market, and a concomitant competitive advantage, since more and more of our customers, too, are demanding a standard that internationally has long since become established as a quality criterion".
Birgit Struwe, Department Head of IM Service Management at Krones AG, added: "ISO 20000 not only documents for the outside world the quality of our IT services; for our own IT people it also constitutes a prestigious recognition of their achievements and commitment."
---