11. July 2012
Krones signs up to the UN Global Compact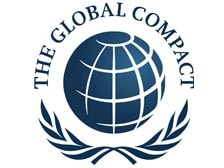 Entrepreneurial action, plus commercial and technical progress, are closely linked to social responsibility. Krones AG, the world's market leader in manufacturing machines and lines for the beverage industry in the categories of process, filling and packaging technology, took this insight on board very early, and has accordingly always viewed its social responsibilities to its staff, its business associates, society as a whole, and the planet's natural environment as fundamental elements of its corporate culture, firmly anchoring them in its mission statement.
In order to communicate to the public its corporate commitment to issues of business ethics, Krones AG has signed up to the United Nations (UN) Global Compact in May 2012.
The UN Global Compact lays down guidelines of worldwide validity for the fields of human rights, labour standards, environmental protection and combatting corruption, and obligates its member companies to comply with these.
---