Filling and capping within only five seconds
As fast as no other system
Please activate JavaScript to play this video.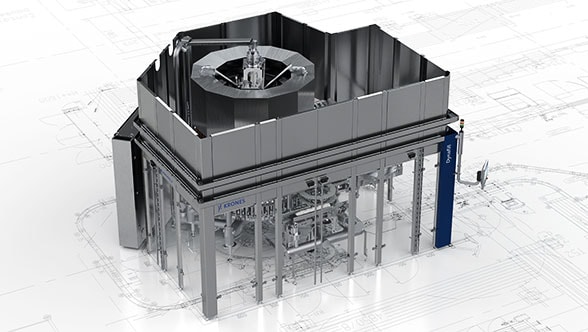 Download brochure Krones Dynafill
1,51 MB, .pdf
As fast as no other system
Please activate JavaScript to play this video.
Time reduced by 50 percent, distance reduced and only one instead of two machines in use – these and many other advantages of the Dynafill are very convincing: Filling and capping is done in one sole functional unit – and that within less than five seconds. With good reason, one can claim that the concept of Dynafill revolutionises beer filling.
At a glance
Innovation for beer filling into glass bottles
Combined filling and capping process on one single machine
Novel filling process
Benefits to you
Reduced space requirement
Thanks to the 2-in-1 principle, the Dynafill requires substantially less space than comparable combined filler-capper units. As the filler is not to be emptied in the case of a malfunction in the filling line, the buffer section to the labeller can be reduced. The labeller can also be directly block-connected to the filler.
Increased outputs
In future, the Dynafill enables a higher output than conventional systems: More than 100,000 containers per hour can be processed.
Increased filling quality
The closed hygienic filling and capping area ensures optimum product purity, as return gas feed back into the product bowl is no longer required. High-pressure injection is no longer required and no product is lost during filling.
Reduced CO₂ consumption
The CO₂ consumption is 20 percent lower than that of conventional systems.
Stable filling process
The Dynafill enables not only cold but also warm filling of beverages (temperatures up to 30 °C) – the process duration will not exceed five seconds in both cases. The filling process remains always stable.
Ideal cleaning conditions
The Dynafill is a closed system. The filling valve and the capper unit are integrated in the CIP circuit.
Easy accessibility
The individual components, such as the filling valve, the media hoses and the capper drive can be individually dismantled.