Strong market position
As the market leader, Krones is in a perfect position to benefit from industry growth.
Krones operates worldwide, delivering leading technologies for filling and packaging, process engineering, and intralogistics as well as IT solutions for the food and beverage industries. Our sound balance sheet and financial strength enable us to invest in new technologies – and to continue to offer our customers the best solutions. We are creating value for our customers and clear competitive advantages for our company.
Krones offers solutions for all of our customers' Needs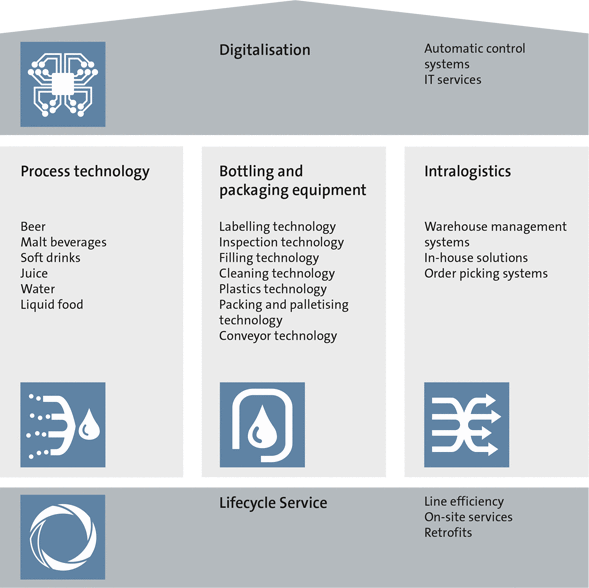 As a systems supplier, Krones has mastered the entire value chain and serves as a "one-stop shop" – optimising our customers' total cost of ownership.
Krones Group Annual Report 2016
---
Stable growth
Demand for products from the food and beverage industries is rising steadily worldwide.
The globalisation of the flow of goods, the rapid growth of megacities, and income trends make for stable demand, which in turn ensures that Krones is less susceptible to economic cycles than machinery and equipment manufacturers in other sectors. Continuous investment in research and development enables Krones to offer customers the best solutions to their challenges. In addition, a stable services business provides long-term support for Krones' growth.
---
Profitability
Profitability enables us to invest and pay dividends.
Krones intends to increase profitability in order to continually evolve the group and finance growth without incurring significant debt. Krones improved the EBT margin from 6.5% in the previous year to 7.0% in 2015. The actions we will take to achieve this are laid out in our Value strategy programme.
---
Strong services business
Krones is a dependable partner for its customers – and we are growing our stable after-sales business with excellent, fast service
Krones has a broad installed base of beverage and packaging machinery worldwide. To ensure that these systems remain productive over their entire service lives, we offer our customers a wide range of services in addition to replacement parts and upgrades. We want to leverage the potential of the newer markets as well and continue to expand our stable, profitable service business with local staff.
---
International reach
Krones' global presence enables us to offset shifts in demand in individual regions.
Krones' business is well-balanced geographically. Krones generates around 45% of revenue in the established markets of Europe and North and Central America, where the company has a strong presence of installed machinery and is growing through replacement equipment, innovations, and services. In the emerging markets, demand for packaged foods and beverages – and thus for our machines and lines – will continue to grow along with the regions' prosperity. Krones is growing its local workforce in the regions in order to further strengthen our position in these markets and provide our customers with rapid, affordable, and sophisticated service.
---
Long-term value creation
Krones is creating sustainable value and sharing its success with shareholders.
Within the Value strategy programme, Krones has set a medium-term target of generating a 20% return on capital employed (ROCE). At 17.7%, ROCE was already well above the cost of capital in 2015. Thus, Krones is generating long-term value for its shareholders and passing its success on to them by way of growing dividends. The relevant performance indicators for Krones are ROCE, revenue, and EBT.