Their thinking and actions shape the image of Krones
Regardless of whatever we do for our customers' satisfaction, their productivity and their competitive ability, we never lose sight of one decisive factor, and that is the people of our company and their creative force. Their thinking and actions shape the image of Krones. With regards to our customer, they are eager to meet the requirements and wishes of our customers even more.
More than 17,300 people worldwide are working for Krones. In Germany alone, about 10,700 men and women work in our five plants in Neutraubling, Nittenau, Rosenheim, Freising and Flensburg. We mainly produce in Germany. However, we are present also everywhere where our customers operate. We have a network of more than 100 sites spanning the globe.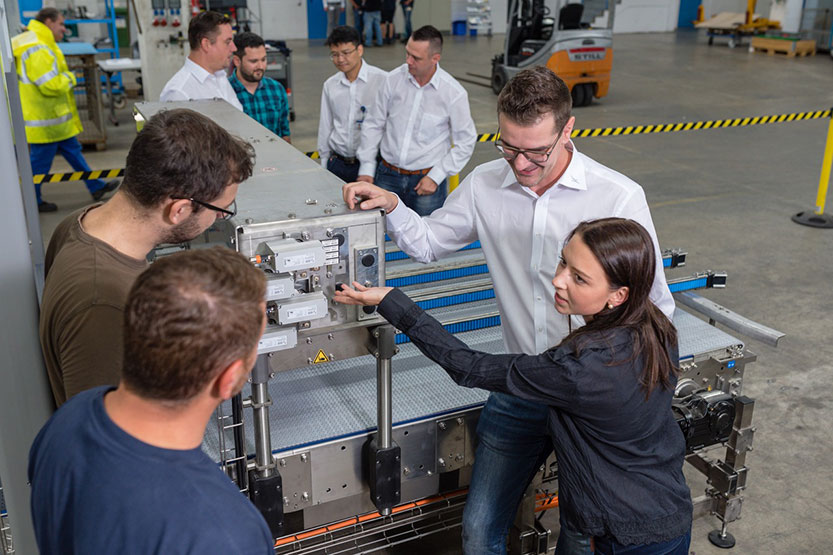 Number of employees up 4.9% to 17,353 worldwide; slight decrease in Germany
While Krones further added to its international workforce in 2019, the number of employees in Germany decreased. This reflected the strategic expansion of Krones' global footprint, which is essential for such a strongly export-oriented company. In total, the company employed 17,353 people worldwide at the end of 2019, 4.9% more than in the previous year. The number employed in Germany fell by 154 to 10,733. The workforce outside Germany expanded by 962 to 6,620 people. The share of employees outside Germany rose from 34.2% to 38.1% at the end of 2019.
Strong growth in emerging markets workforce
Significantly more than half of the workforce outside of Germany is now employed in emerging markets. Krones increased the number of employees in emerging market regions during the reporting period by 33.3% to 4,187. The bulk of the increase is due to acquisitions and to expansion of the Eastern European workforce for the new plant in Hungary.
Customised additional training for staff members and managers
The high qualification of our employees and managers is a decisive factor for the success of Krones. Therefore, the human resource development department is permanently keeping an eye on additional training and support for all employees.
Every employee has individual skills and areas for further skills developments. This is why the human resource development department is concentrating on measures that are customised precisely to the needs of the individual participants. The professional skills as well as the social skills and methodical skills are supported here. Altogether, the offered seminars comprise more than 450 topics. These topics include IT and language courses just as much as special field seminars as well as communications and method training. In addition to external specialists, also our employees carry out training sessions. Having internal knowledge, they can pass on this valuable know-how directly on other colleagues. In addition to the traditional training, we also offer eLearning modules thus providing the option of doing individual trainings without the pressure of time and location.