Solutions beyond tomorrow already today
"Solutions beyond tomorrow" - with this claim and the associated target image, Krones is taking a very clear path into the future. It's about tackling three of humanity's greatest challenges together: climate change, feeding the world's population, and responsible use of packaging materials.
These ambitious goals require innovative solutions that "go beyond tomorrow". Solutions that benefit humanity and our planet sustainably and in the long term. But solutions that also contribute to our customers' goals. In order to pursue this goal in a targeted manner, Krones' innovation work starts with the consumption of resources, with the reduction of waste and emissions, but also with the performance of our customers' production. The cornerstones of these innovations are, above all, digitalisation and the full support of our customers throughout the entire life cycle of their lines, for example by making machines even more efficient and economical through digital updates. Here you will find out more!
Please activate JavaScript to play this video.
Attractive and functional: sustainable packaging from Krones
With the sustainable LitePac Top Protect secondary packaging, 80 percent CO2 can be saved compared to conventional shrink-wrapped packs. LitePac Top and other conventional packaging types are processed at an output of up to 108,000 cans per hour.
Please activate JavaScript to play this video.
Sustainable packaging that stands out in a positive manner, does not require compromise on a functional level, meets legal requirements – and can be handled at high line speeds. A range of Krones solutions allows you to reach this target. We will be presenting some of them here for the first time over the coming weeks. And maybe we can already show you something now: For example, have you heard about our reference project for combining rPET and high speed? Are you prepared for upcoming EU regulations?
Reference project for combining rPET and high speed
Whitepaper – Tethered caps and use of recyclate – the situation in the EU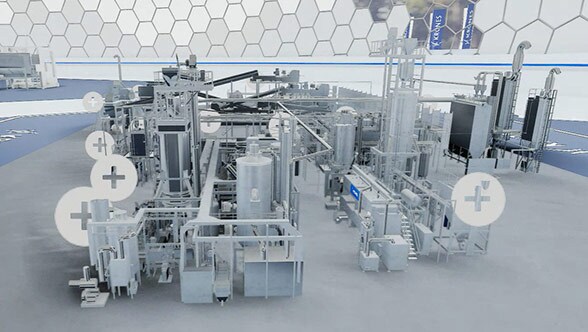 By the way: you can make an appointment to take a virtual tour through the MetaPure recycling system – for an experience that is even better than at a real exhibition.
Flexible and reliable: can lines from Krones
Please activate JavaScript to play this video.
The beverage can is currently on the up and up – no wonder as consumers appreciate its low space requirement, its ease of use and the always excellent product quality that it guarantees. Benefits that not only apply to the cans themselves, but also to the lines on which they are handled. And, as always, just when you think it cannot get any better, Krones goes one step further: with solutions for different output ranges and a real milestone when it comes to hygiene.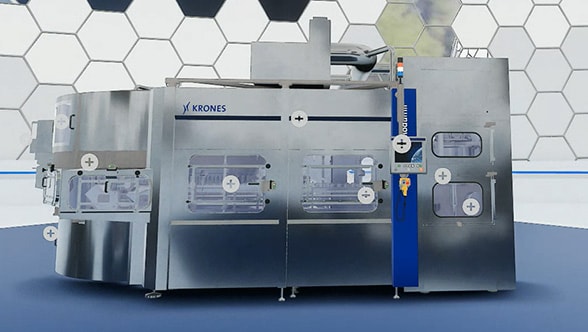 We will gladly illustrate a compact can solution for your production line in the Krones showroom – ask us for a personal consultation.
Lean and efficient: glass systems from Krones
Please activate JavaScript to play this video.
Even more compact, more efficient and more hygienic – beverage producers have numerous demands on the glass filling world of tomorrow. And Krones transforms them into concrete solutions. For we combine numerous innovations and improvements to individual machines to form one great unified collective: the glass line of the future. One of the highlights here is actually an old friend. The Dynafill celebrated its première at the drinktec back in 2017 – but, since then, Krones has continued developing it to create a pre-production filling system which has already accumulated a great deal of practical experience over the last four years.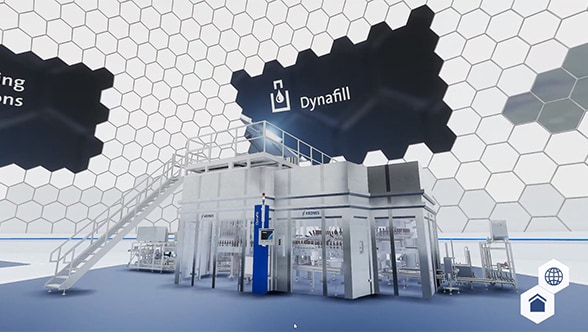 Do you have specific questions and would like to experience the Dynafill "live"? Then we look forward to showing you this solution during a personal consultation in the Krones showroom.
Nothing more than pure, unadulterated taste: advanced aseptics from Krones
An important contribution to climate protection: Switching from hotfill to aseptic saves up to 80 percent of the CO2 emissions generated during bottle production and filling. This is because aseptic lines also process bottles made of up to 100 percent rPET without any loss in terms of container quality and product safety.
Please activate JavaScript to play this video.
Whether fruit juices, dairy products, or plant-based milk-substitute drinks: sensitive beverages are just as diverse as the people that drink them. Yet they have one thing in common: The place where they feel most at ease. A place that protects them from external influences. And where they are treated in a way which is best for them. Where is that? A Krones aseptic line! In the next few weeks you will learn how we are improving our technology for sensitive beverages even further.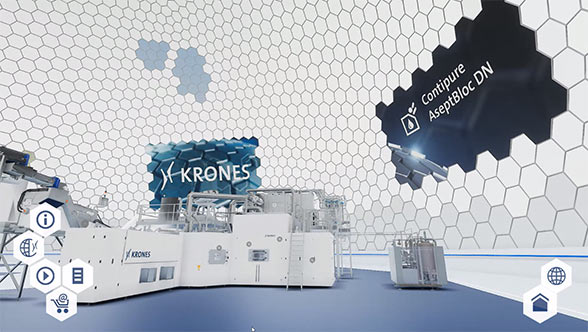 A lifelike, walk-through model of the Contipure AseptBloc is already waiting for you in our virtual showroom.
High speed and flexibility: Krones makes it possible to have both
Please activate JavaScript to play this video.
Either super fast or highly flexible? Why not have both? Whether it be water treatment, stretch blow-moulding technology or dry-end equipment: Clever automation solutions and systematically implemented robotics are the key to high-performance and simultaneously adaptable production technology. We will show you soon just how we implement these options and what use you may have for them in our innovation videos.
Increased efficiency: Production data with added value
Please activate JavaScript to play this video.
You were able to experience some of our digital solutions back in 2017 at the drinktec. These subjects have been used as a basis for what has since become an overall picture from which your production as a whole may benefit – ultimately through improved efficiency and lowered production costs. Over the next few weeks, you can experience here in detail how the further development of our IIoT platform enables crucial data-based improvements. Regardless of whether you require help analysing your production data or more efficiency in your cross-site process optimisation – with the Krones Ecosystem we will present you with the key to success.
Only the best for your product: Krones Group process technology
Please activate JavaScript to play this video.
Sustainability not only plays a key role in the filling and packing technology sector. In product manufacture there are a number of options available for saving water, energy or media. And the process technology experts from the Krones Group have dedicated themselves to discovering exactly this and translating it into suitable solutions. Whether you manufacture alcohol-free beverages or milk products, whether you are at home in Europe, North America or Asia, whether you are searching for a mere line solution or a partner for complete process technology integration – you are in good hands with Krones.