All-round partner for the beverage and liquid-food industry
Whether made out of glass, PET or aluminum – Krones machines and lines process millions of bottles, cans and specially shaped bottles each day. Our customers mainly comprise breweries, water, soft drink and juice manufacturers, as well as dairies and producers of wine, sparkling wine and spirits or companies from the liquid-food field.
Speaking of solutions – whereas Krones manufactured only labellers back in 1951, the year in which it was founded, its product range now extends far beyond conventional machine and line construction: As a systems supplier, we offer our customers all machines and lines, as well as components, intralogistics and IT solutions, that they need for their production.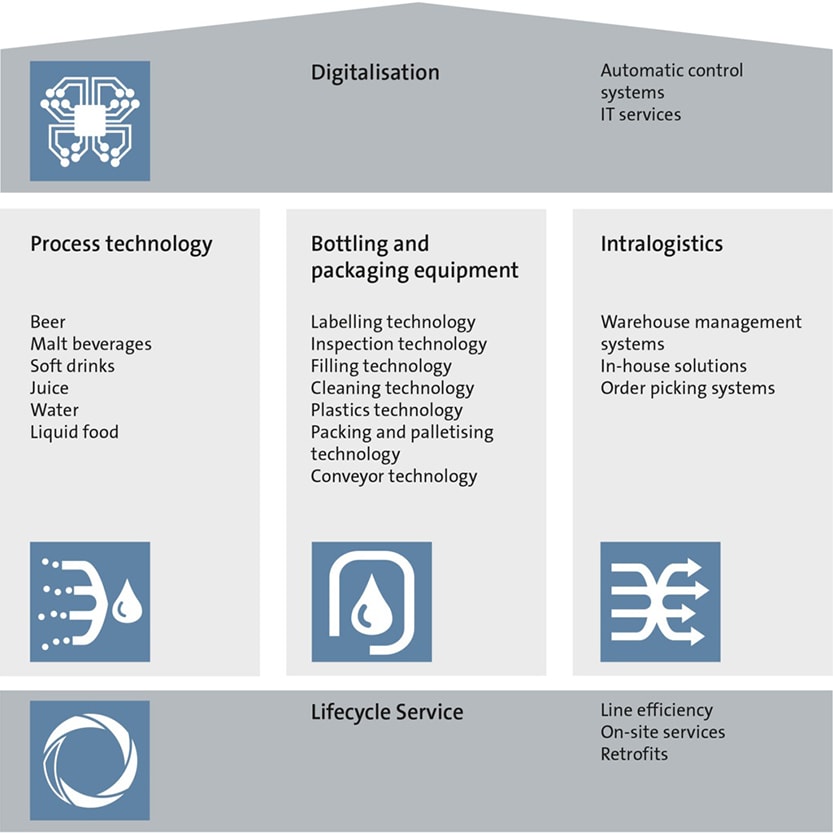 We not only plan, develop and manufacture all of the machines and complete lines for the sectors of process, filling and packaging technology, but have specialists in the Krones Group who can also provide each customer with a customised solution for the major topics of intralogistics and digitalization. Lifecycle Service creates the stable foundations here and makes sure that our customers know that their lines are still in good hands following the purchase of their new machine.
The main reason for this wide range is the strength of our corporate group. It comprises not only Krones AG with its headquarters in Neutraubling near Regensburg, but also a large number of subsidiaries all around the globe:
Digitalization
Process technology
Bottling and packaging equipment
Intralogistics
Lifecycle Service
Day after day, around 17.200 employees make every effort to serve Krones customers all over the world in the best and fastest possible way. This is achieved thanks to our strong international network which stands out with its more than 100 sites worldwide – and this large number of sites is also needed as around 90 percent of Krones solutions are in operation outside of Germany.
In addition to its strong global presence, Krones mainly impresses with its many decades of experience in mechanical engineering and in the customer segments, as well as through its highly qualified employees. In addition to the expertise provided by our customers, we also invest a great deal in our own production systems and in research and development. Around 6,400 registered patents and utility models demonstrate the company's innovation potential.
* As of: December 2022