The right solutions for your home and personal care products
Whether it's laundry detergents, disinfectants, personal care products, or cosmetics: Products we use on a daily basis occupy a special place in our lives. Which is why their production deserves particular attention and care.
With decades of experience in handling liquid products, Krones is the perfect partner. What has long generated the highest levels of customer satisfaction in the food and beverage industry can only benefit the processing of products in the Home & Personal Care sector as well. Field-proven methods and process technology expertise that ensure the quality that Krones is known for, combined with sophisticated technology – all perfectly matched to the specific requirements of household and personal care products.
Will it be glass bottles, containers made of PET or polyolefin, or cans? They'll need to be filled, labelled, and packed. Preferably all of the above and perfectly coordinated? Whether you need high-speed machines and lines from Krones or small-batch solutions from our subsidiary Kosme: The Krones Group offers a customised solution for every process step and every container type.
And it's no matter to us if you need a single, stand-alone machine or a turnkey line. Whether you're opening a new site or upgrading an existing factory, we'll support you every step of the way – from the initial proof of concept and planning the hall layout to optimising operator pathways and material flows all the way through to starting production. Krones offers more than just consulting. If you like, we'll take on full responsibility for execution of the entire project as general contractor.
We offer solutions for every stage of production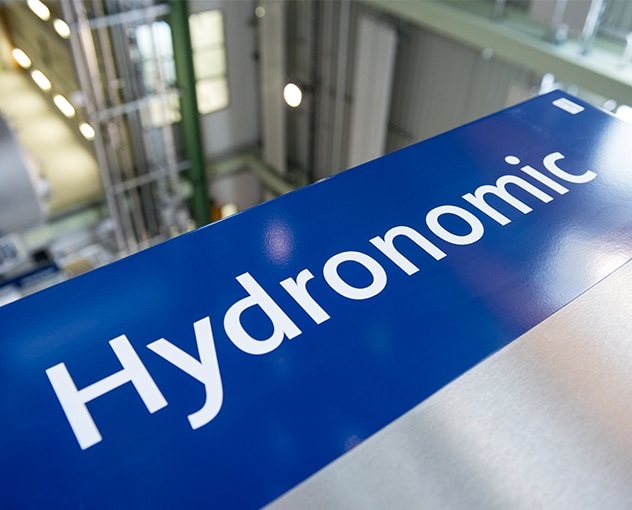 Water treatment for a product with character
To achieve the highest possible quality in detergents and disinfectants, the water used as the base of these products must also be free of contamination. Our Hydronomic water treatment system makes sure of that. We adapt the equipment for the individual processing steps to your specific financial and technological needs. Thanks to our modular system, we can always find the right solution – from the high end to the economical basic version.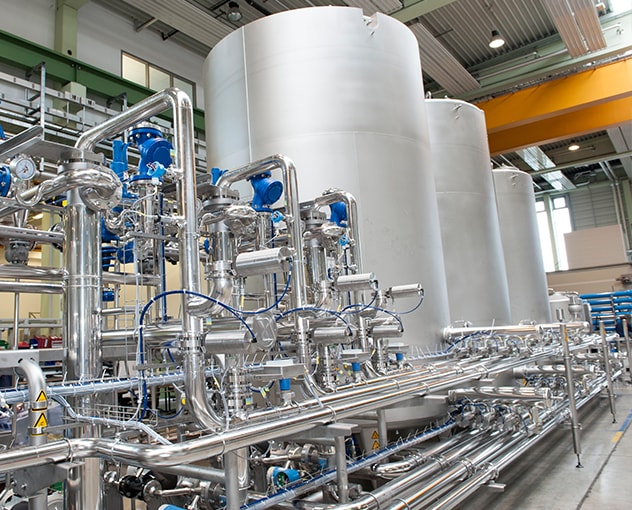 Krones VarioClean - the CIP system for microbiologically impeccable operation
The VarioClean CIP system offers coherent cleaning processes which ensure trouble-free and microbiologically safe operation of a production line – and thus also impeccable product quality. Whether manual or automatic, the cleaning concept is perfectly tailored to suit the line components to be cleaned or to the number of bottling lines.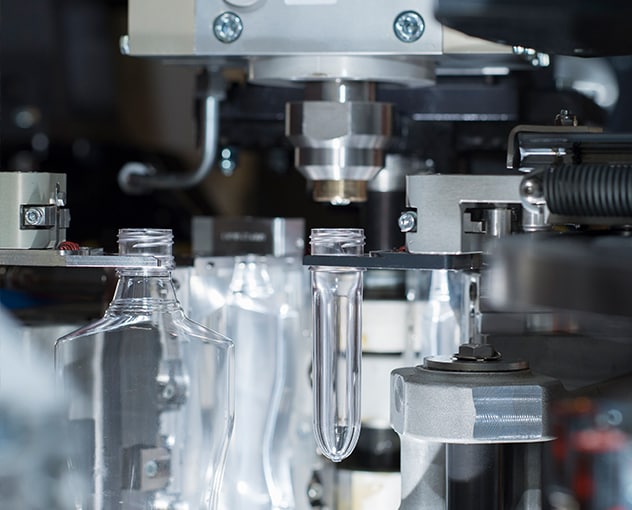 Getting your product in shape with our stretch blow-moulders
Do you want to produce oval or asymmetrical PET containers? On a Krones or Kosme stretch blow molder? And in flawless quality? PET is also becoming increasingly important in the HPC sector due to its very good material properties and good recyclability. With our stretch blow molders equipped for this purpose, it is possible to selectively temper preforms so that they can then be blown into perfectly shaped containers. And if you need absolutely reliably sterilized PET bottles, our Contipure will reliably meet your hygiene requirements. Kosme solutions are available to you for the low and medium output range.
For the low and medium power range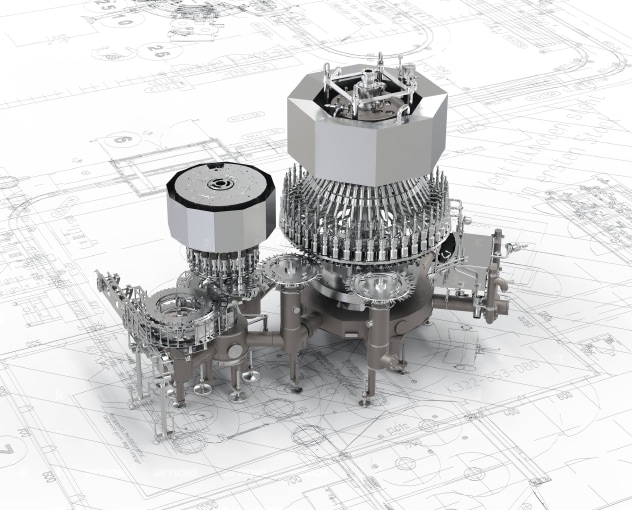 Precise, hygienic, flexible – the perfect filling system
When it comes to the hygiene of your products, do you demand an optimum balance between hygiene and product safety? When it comes to filling, do you expect precision and flexibility? Do you want to fill liquid or higher-viscosity products? You'll find the right technology among Krones' filling lines. From the filling method and output to the hygiene level or a so-called four-color filler, which can be used to dose different odor directions simultaneously in the case of disinfectant wipes, for example. Kosme solutions are available for the low and medium output range.
For the low and medium power range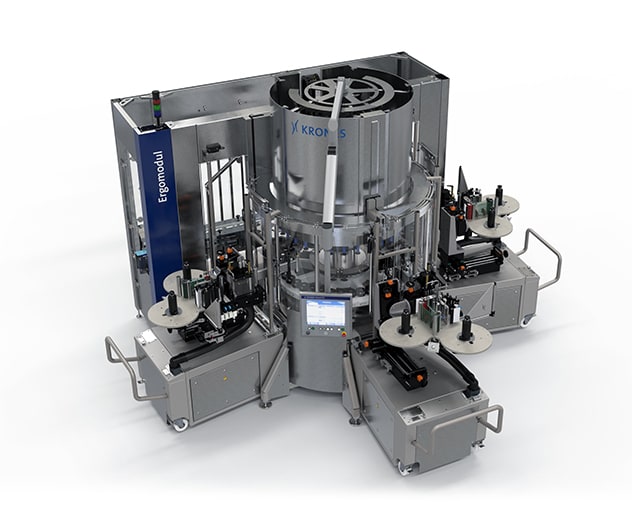 Make an excellent first impression with our labelling machines
Often, just the blink of an eye is enough - it's a split second in which consumers decide in favor of a product. With labeling machines from Krones, you can be sure that your product will impress at first glance. Whether hot glue, cold glue, self-adhesive labels or sleeves: our labeling technology easily masters every equipment variant - and if you wish, even all of them together on one machine. Kosme solutions are available for the low and medium output range.
For the low and medium power range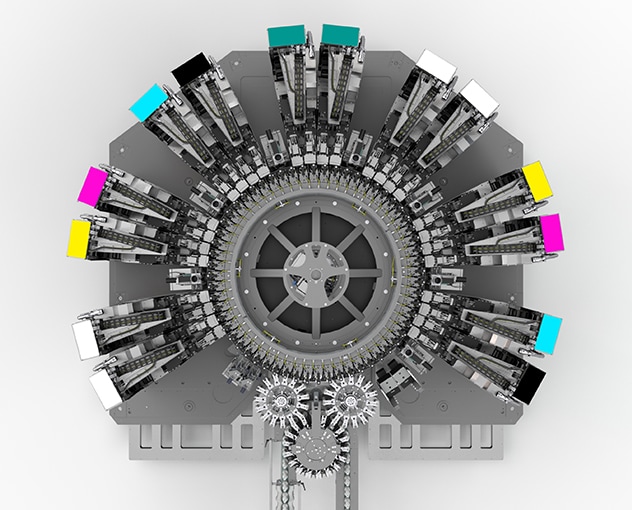 Look and feel – Digital container decoration from Dekron
Make your packaging into a work of art: Digital direct printing opens up a whole new world of possibilities for improving visibility on store shelves and winning over consumers. For example, by applying design elements to grooved or relief structures on containers – or even creating those tactile structures with digital embossing. Thanks to this technology's high degree of flexibility, limited-edition designs and small batches can be produced cost effectively.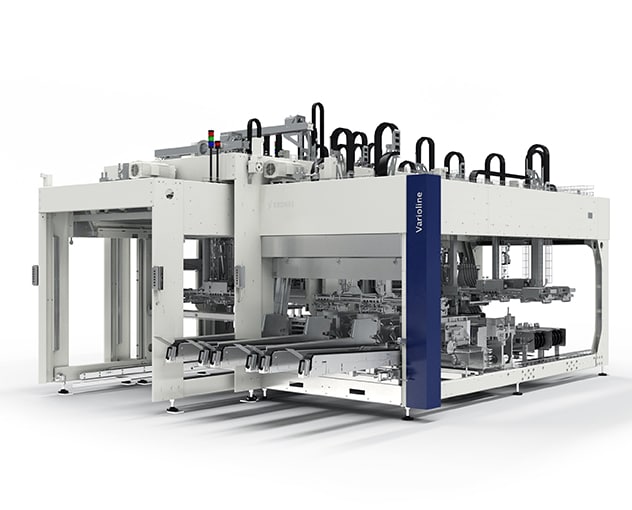 Always packaged just right
As a manufacturer of consumer goods, you know that there are infinite options for product packaging. Krones packaging systems master the vast range of primary and secondary packaging. And even systems that have been in use for many years can easily be retrofitted to handle additional packaging types – because we understand that new trends are cropping up all the time and changing the demands on the machines.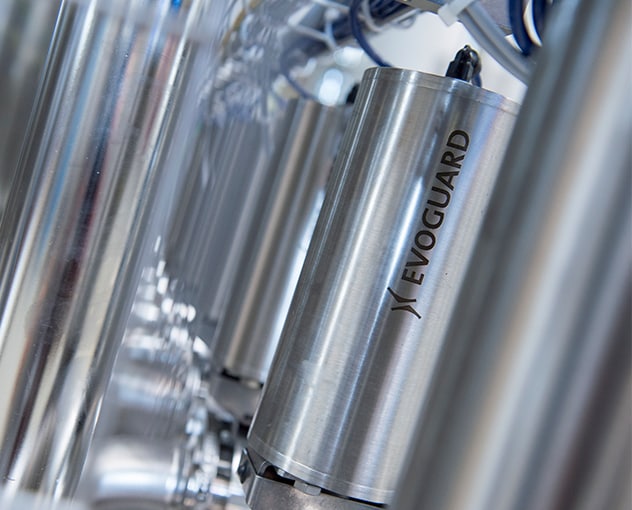 Valves and pumps from Evoguard – designed to meet your needs
Are you looking for shut-off, block, or regulation valves? For hygienic or aseptic applications? Do you want pump technology that's designed to perfectly suit your machines? Evoguard's range of valves and pumps comprises a modular system of components that contributes to high performance at every point along your production line.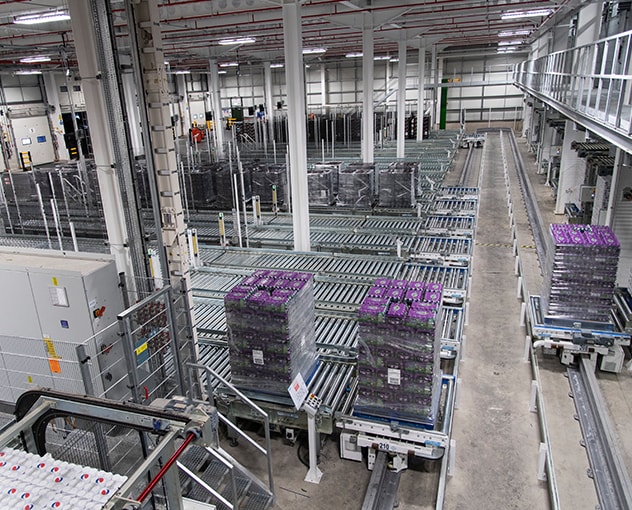 We keep things moving with our intralogistics solutions from System Logistics
System Logistics is the intralogistics specialist within the Krones Group – and uses the experience and strength of the entire group. Holistic intralogistics solutions combined with the associated IT infrastructure are tailored to your needs. The integration takes place along the entire value chain.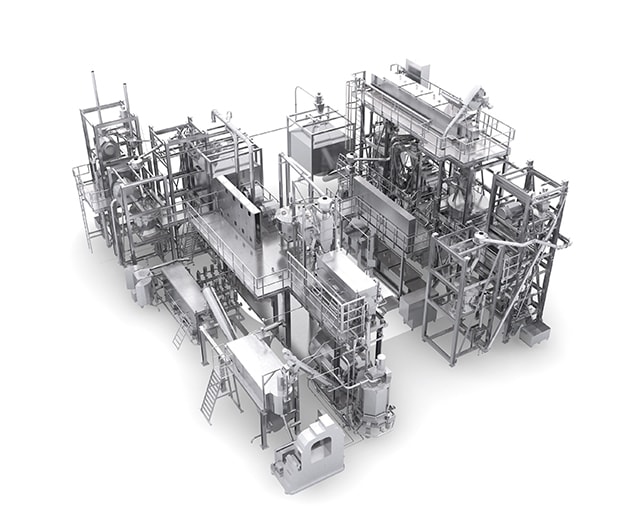 Your partner for turnkey recycling plants
From the consumer's perspective, the lifespan of a bottle made of PET or polyolefin (PO) may seem rather brief. But the materials that make up these containers are exceptionally well suited for recycling. And Krones recycling plants capitalise on that time and time again.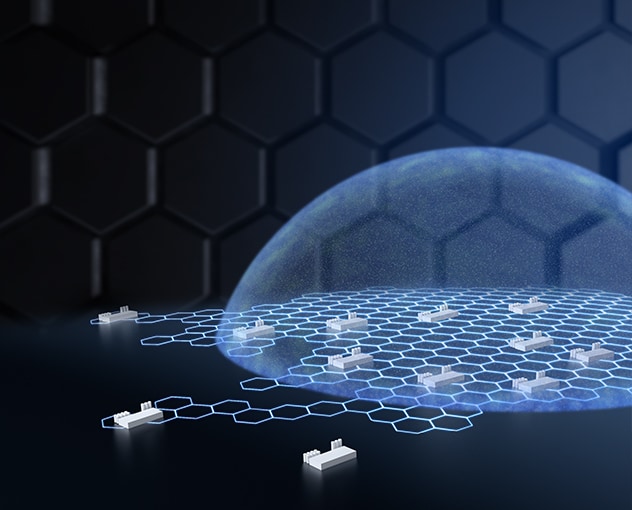 Krones Digital Services for more performance
You may have asked yourself – more than once – what digital technologies could do for your production. By monitoring your systems in real time and presenting the data in a clear overview, they give you meaningful information that you can use to unlock potential for improvement and generate accurate forecasts. As is fitting for a full-service partner, Krones delivers not only the theory but also practical applications, in the form of digital solutions for your entire production operation.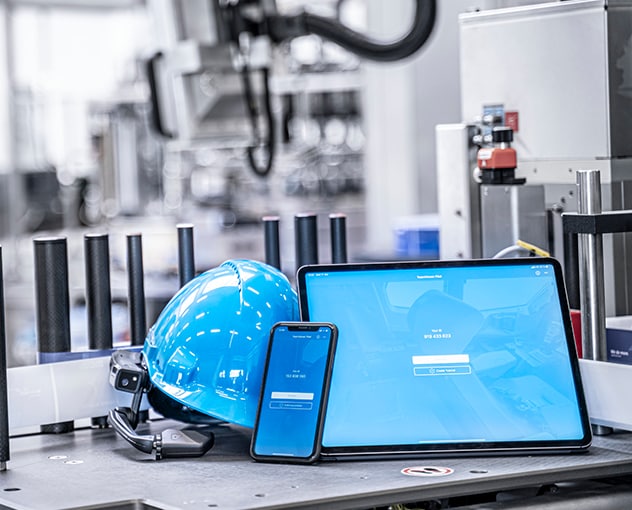 Krones Lifecycle Service for lasting performance
To maintain a high level of performance over the long term on complex, modern filling lines, you need a strong, well-conceived asset-management concept. Because maintenance today is more than simply swapping out worn parts. It is a continuous process. We offer products and services that are perfectly matched to your Krones machines and lines. Whether you need us to help ensure perfect line performance, organise your warehouse for optimal efficiency, or provide comprehensive after-sales consulting: our experts are always there for you.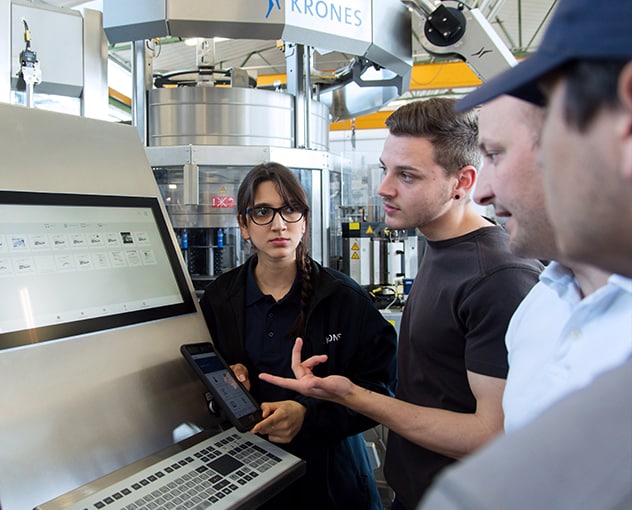 Krones Academy for better performance
Sharing experience and knowledge about Krones technology – around the globe and perfectly tailored to your needs and situation. That pretty well sums up our training concept. Our goal is always to work with you to take your line's performance to the next level.