Digitalisation at Krones
Krones is already in the middle of the future, which means that the digitalisation solutions of tomorrow are not simply vague theories for us, but common practice. The Krones Group accompanies customers from the beverage and liquid food industry on their path towards intelligent and networked production.
»Revolutionary products and solutions that inspire our customers«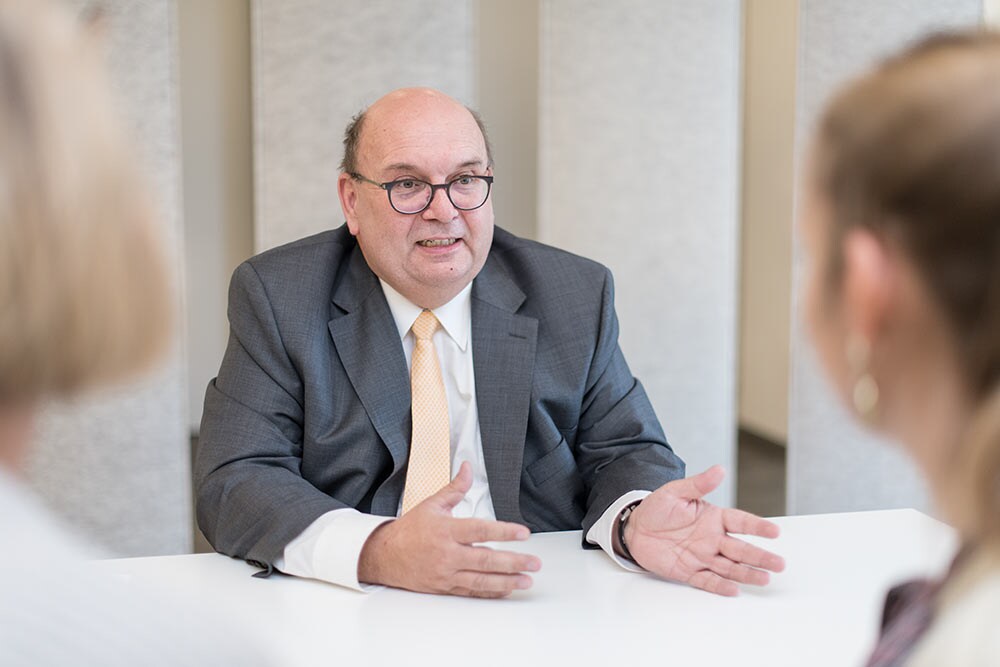 For manufacturing companies such as beverage and liquid-food manufacturers, digitalisation means a fundamental transformation process - and Krones accompanies them through the process. To this end, we have established a broad base when it comes to digitalisation. Prof. Dr. Peter Hofmann, Head of Corporate Research and Development, explains how we are exploiting the synergies of our House of Krones:
»On the one hand, we have our subsidiary Syskron, which uses the data of our customers and develops different solutions based on this. Although these data originate from Krones' lines, they are of little use without additional knowledge and must be expanded. And on the other hand, this is exactly where Krones and the know-how of our employees come into play. Because what is needed is the semantic knowledge of these data - and that's in the minds of those who have been working at Krones for decades. And when we finally bring together the know-how of the experts from the 3.0 world with the data that Syskron collects and makes usable, this results in revolutionary products and solutions that inspire our customers.«
Please activate JavaScript to play this video.
Those involved in manufacturing using different types of machines and systems are often missing out on decisive information. With Krones, you can bring all data to one and the same level, thereby gaining new insights.
Please activate JavaScript to play this video.
Those who want to operate in the digital world need suitably prepared information. Krones networks the production mode and converts data from production and processes across the entire value chain into the digital domain – from procurement of goods all the way to the final customer.
Please activate JavaScript to play this video.
Those seeking new opportunities for improvement must take a look behind the scenes at their production facility. Krones offers digital analyses and evaluations for the entire process sequence, thereby creating the basis for making correct decisions.
Please activate JavaScript to play this video.
Those who want to improve cooperation within their company need communication. Krones brings together the necessary expertise of employees and systems, thereby creating efficiency for everyday workflows.
Please activate JavaScript to play this video.
If you want 100 percent availability, you need reliable forecasts. Krones provides the best protection against failures as well as approaches for optimisation, thereby guaranteeing production reliability, flexibility and product diversity.