Online monitoring for valve seals
Up to now, continuous maintenance and inspection of the valves and their sealing elements in the beverage and food industry has been based on visual inspection. Or it is based on monitoring the operating hours and preventative maintenance. In the first case, leakage gives information about the condition of the seal. In the second case, the user is informed about the condition of the seal within due time, but possible production time is wasted.
Both cases are not satisfactory for a safe production process. In a pilot project, Evoguard is currently testing whether an intelligent valve can provide online information about the condition of the seal.
At a glance
Inspection process which detects the ageing and wear condition of an installed seal
Real time measurement of the seal condition with LED indication
Further improvement of product safety and line availability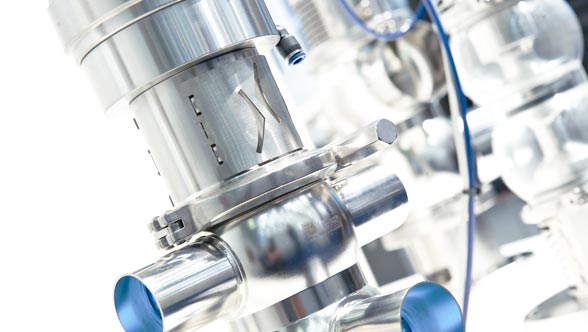 Download brochure Intelligent valve
1.76 MB, .pdf
Results of the pilot project
The "speaking valve" and the active measurement of the seal in real time can continuously monitor the condition of a seal.
This will result in a high safety for your products as leakages can always be excluded.
Maintenance is done within short time and only if required which will reduce the maintenance personnel's workload.
A longer seal service life will be realised as only faulty seals will be replaced. The line availability will increase.
Saved maintenance costs are also directly linked.
The maintenance schedules including spare parts ordering can exactly be planned.