Single-end bottle washers
Bottle washers for every situation
Whether for tight spaces, tricky cleaning tasks, as a multi-talented all-rounder or an inexpensive basic system: every Krones single-end bottle washer is an experienced specialist in its chosen field.
At a glance
Modular component system with freely combinable treatment units for a machine that is perfectly tailored to the cleaning task
Space-saving machine concept for smallest installation spaces
Main drives with servo controller
Economical consumption of resources through use of state-of-the-art technologies (improved CO2 footprint)
Highly efficient caustic flow for quick label detachment
Different pre-treatment options – including special solutions such as sand and glass fragment removal
Optimum accessibility thanks to user-friendly catwalk concept
Microfiltration in the main caustic
Process optimisation thanks to latest digital products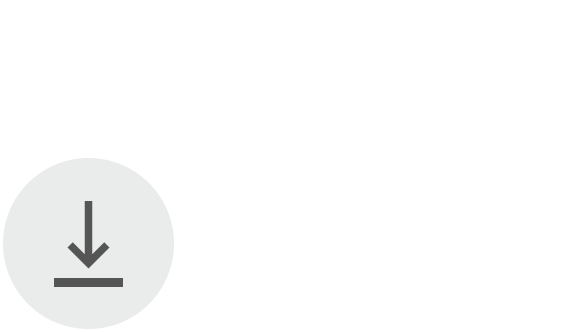 Brochure Krones Single-end bottle washer Lavatec E
0.81 MB, .pdf
Individual machine concept for every output range
From small to large: The single-end bottle washers in the Lavatec E series cover every output range. Depending on the output requirement and loop routing, the E2, E3 or E4 designs provide the appropriate machine concept for individual applications. The washers are provided with interfaces for a higher-level automation system and use the latest safety standards.
The "small" bottle washer with the advantages of its larger siblings
Up to 30,000 bottles per hour
Low space requirements
Clean Design version
The all-rounder for all output ranges
Output ranges from 5,000 to 135,000 bottles per hour
Classic caustic loop routing with label removal
Clean Design version
The specialist for tricky tasks
Medium output range of up to 70,000 bottles per hour
Modern loop routing with four label removal points
Clean Design version
Layout of a single-end bottle washer (E4)

Clean Design concept for the most stringent hygiene demands
To ensure that the bottle washer itself also sparkles with cleanliness, we use our revised Clean Design concept to ensure that even the most stringent quality and hygiene demands are met.
Automated post-treatment section
Self-cleaning filters
Short cleaning time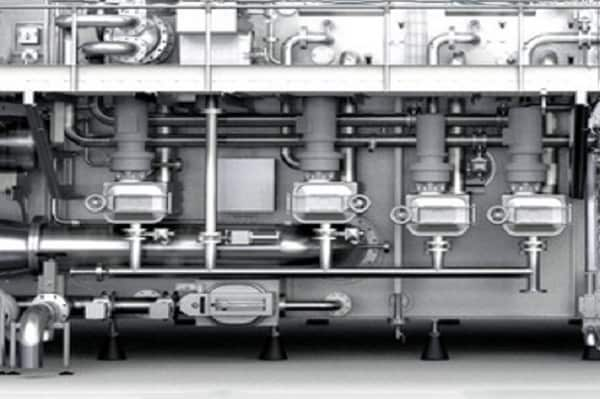 Optimum access
Reduced cleaning time
Thanks to the easy-to-open access points and the optional automatic lifting windows, personnel demands for cleaning are low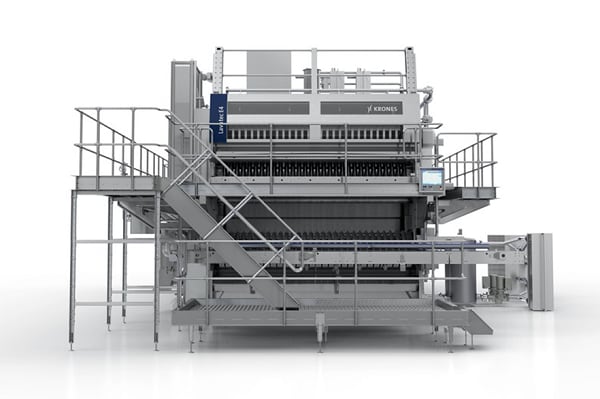 Simple and thorough cleaning
Easily accessible zones enable fast and intensive cleaning
Bottom troughs mounted with an incline
Pumps run until completely empty
Short drying times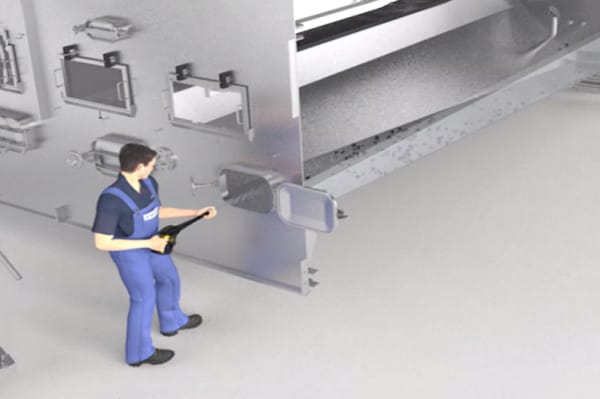 Benefits to you
Highest microbiological safety
The Lavatec series guarantees optimum hygiene in the machine thanks to its Clean Design water zones, self-cleaning pump sieves and innovative filtration concepts.
Compact machine with an individual design
The effective loop routing in the single-end machine concept and the modular layout of the machine sections combine to keep installation space requirements to a minimum. Thanks to the high-pressure pre-jetting, heat recovery and label removal, these systems can be perfectly tailored to individual cleaning requirements.
Efficient in terms of operating costs
The intelligent water management, separation of hot and cold zones by design and the individually configured additional equipment save both energy and resources.
Low cleaning requirements
With good accessibility, an open design and self-cleaning pump sieves for fully-automated removal of dirt, operating effort and cleaning requirements are both kept to a minimum.
Digitally up to date
The latest technology used on the touch-screen and in the PLC ideally equips our machines for the new age of digitalization. For this purpose, we offer a wide portfolio of digital products for the line and machine as well as individual setting options directly on the touch-screen.
This is why the Lavatec series is enviro-classified
Energy efficiency
Low consumption of thermal energy thanks to the use of insulation, regenerative heat exchangers and lattice or lightweight carriers
Economic water consumption thanks to optimised water routing, pressure regulation and fresh water cooling concepts
Environmental compatibility
Minimised water and lubricant consumption using innovative technologies