11. September 2017
ErgoBloc LM wet-end block
Block idea rigorously progressed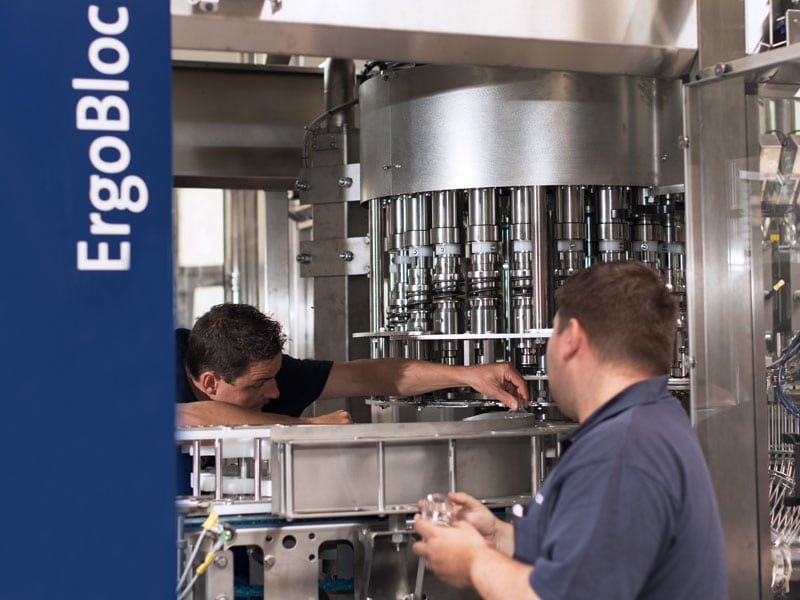 When is a block a block? With the ErgoBloc LM, the answer to this question could be changed for ever. Because the new product from Krones breaks with the hitherto adopted block formula: "You just take several individual machines and concatenate them". Instead, the design people at Krones adopted precisely the opposite approach: they conceived the ErgoBloc LM right from the start as a holistic organism – multifunctional, but coherently coordinated.
This new philosophy is most evidently manifested in essential functions like control, drive and operator interfacing, which for the ErgoBloc LM have been grouped together in a central unit. This not only reduces the capital investment costs and footprint for the block, but also significantly downsizes the workload involved in maintenance and operator control.
Option packages for price-aware individualists
The R&D people also chose a new approach for individualising the ErgoBloc LM: to enable a maximally large diversity of variants to be offered at minimised costs, the system is customised using predefined option packages. These include special features and upgrades designed to improve the block's level of hygiene, for example, or to downsize its energy and media consumption levels. 15 of these packages are planned in all, of which ten are meanwhile already completed and available.
Numerous high-end technologies are already standard features
Numerous technical highlights, however, are already included in the standard version of the ErgoBloc LM. The fully electronic filling valve, for example, which enables the filling process to be steplessly regulated. The same applies for selective labelling, which makes sure that in the event of gaps in the bottle flow neither glue nor a label is transferred, so that the block can run at rated output throughout.
In terms of functionality, the new block covers the entire wet end – from stretch blow-moulding and then labelling all the way through to filling and capping. With an output spectrum of up to 55,000 containers per hour, it's ideally suited for lines with medium output levels. The ErgoBloc LM exhibited at the drinktec has been developed specifically for bottling still water. An additional variant for CSD is currently being developed at Krones.
---