11. September 2017
Intralogistical competence at Krones
For perfectly organised merchandise flows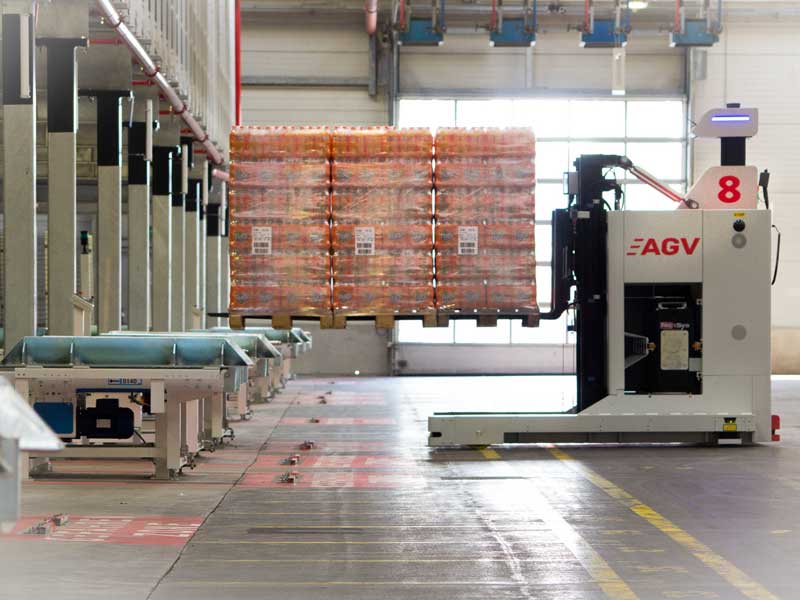 More diversity, more speed, more transparency: the ongoing market trends in the food and beverage industry have long since also been reflected in the production processes involved. A high diversity of articles and packages, in conjunction with frequent changes in the product assortment, entail a steady succession of increasingly tough challenges for logistical tasks in the companies concerned – and each beverage plant has its own particular requirements for its intralogistics.
This is why in the group's organisational matrix Krones has ensured that holistic systems can be created independently of the strategies in place for logistics and IT in the production facility concerned.
Customised solutions for each project
In order to meet and master these challenges to optimum effect, Krones has organised the group's corporate matrix to ensure that holistic systems can be created independently of the logistical and concomitant IT strategies used in its production operations. Together with its System Logistics and Syskron subsidiaries, responsively customised intralogistical solutions can be created. Depending on how the IT landscape in the company is designed, both SAP modules and Krones' own software applications developed in-house can be used. The corporate capabilities cover conception, planning and implementation all the way through to after-sales service support.
Fully automated pallet and product management
System Logistics is a leading vendor of innovative solutions for intralogistics, material flow technology and inventory management – and has since 2016 been a member of the Krones Group.
At the drinktec 2017, System Logistics will be showcasing two innovative solutions:
Automated Guided Vehicles (AGV):
the driverless transport systems convey pallets, plus steel, plastic or wooden containers in a huge range of different sizes – without needing an operator at the wheel. What's special about them? They are controlled using an innovative laser-based control system – this creates complete flexibility in terms of route configuration and planning, and obviates the need for any permanent infrastructure on the floor. This means the route can at any time be individually adapted and modified to suit the orders and the warehouse structures involved.
Modular Order Picking System (MOPS):
no matter whether it's food and beverage retailers or highly centralised distribution warehouses – MOPS knows every single element of a warehouse, and provides fully automated organisation, coordination and monitoring of orders and special wishes. A software solution developed specifically for this purpose optimises the volume and layer pattern on the load carrier and matches the pallet stack composition individually to the client's needs – for improved efficiency in the warehousing processes and for space-saving transport.
---