18. May 2020
Krones AG: First virtual annual general meeting approves dividend of €0.75 per share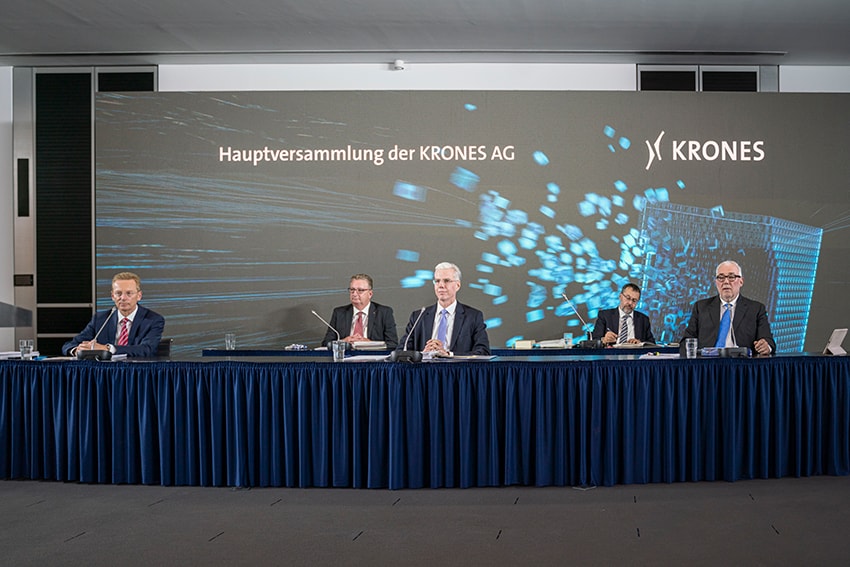 Krones AG shareholders' meeting held online for first time instead of face-to-face meeting.
All agenda items adopted with large majority.
Executive Board reported on 2019 financial year and provided detailed information on the current situation in the corona crisis. Measures for short and medium-term improvement in profitability also explained.
Dividend of €0.75 per share to be paid for 2019 financial year.
The 40th annual general meeting of Krones AG was held today for the first time as a virtual meeting due to the corona crisis. Executive Board members Christoph Klenk and Norbert Broger, together with Chairman of the Supervisory Board Volker Kronseder, used an online broadcast to address the shareholders who were originally to meet today in Neutraubling. Attendance – the proportion of the company's share capital represented at the online annual general meeting – was some 76,74%. Shareholders adopted all agenda items submitted for voting with a large majority.
Krones very well positioned financially
CFO Norbert Broger presented the figures for the 2019 financial year and the first quarter of 2020. The effects of the corona crisis were already clearly noticeable in March, resulting in lower revenue for the first three months. At the end of March 2020, Krones had access to agreed liquidity facilities totalling around €1 billion, meaning that it is very well positioned financially – even in times of crisis.
After a year of weak profitability in 2019, Krones' profitability improved in the first quarter of 2020. This shows that the measures to improve profitability launched in the second half of 2019 are working. CEO Christoph Klenk provided a detailed explanation of the adopted package of measures and possible further steps.
Current market situation and outlook
The CEO also described in detail how the Corona crisis is currently affecting the situation at Krones and its customers. Overall, the Executive Board expects that the global market for bottling and packaging equipment will decline sharply in the short term and customer investment will fall as a result.
Due to the global uncertainties, it is still not possible to provide reliable indications and guidance for revenue and earnings in the 2020 financial year. However, Krones' medium-term goals remain in focus. Krones expects here that, following the setback in 2020, markets will recover in the years ahead and settle down to a stable growth path.
As announced, shareholders receive stable dividend of €0.75 per share for 2019
Krones is holding to its dividend commitment despite the corona crisis and distributing €0.75 per share to shareholders for the past financial year. This corresponds to a total amount of €23.7 million, which with liquidity reserves currently exceeding €1 billion does not restrict Krones' financial latitude, even in the crisis induced by COVID-19. The distribution for 2019 is based on net income excluding the special charges incurred for structural measures in 2019.
---