#BrauBeviale
This was the BrauBeviale 2023
We are closing our doors and looking back on three great days at the BrauBeviale. Thank you for your visit at the Krones booth, for the valuable discussions and simply a good time in Nuremberg. And now, we invite you to review some of our favorite moments of the last few days.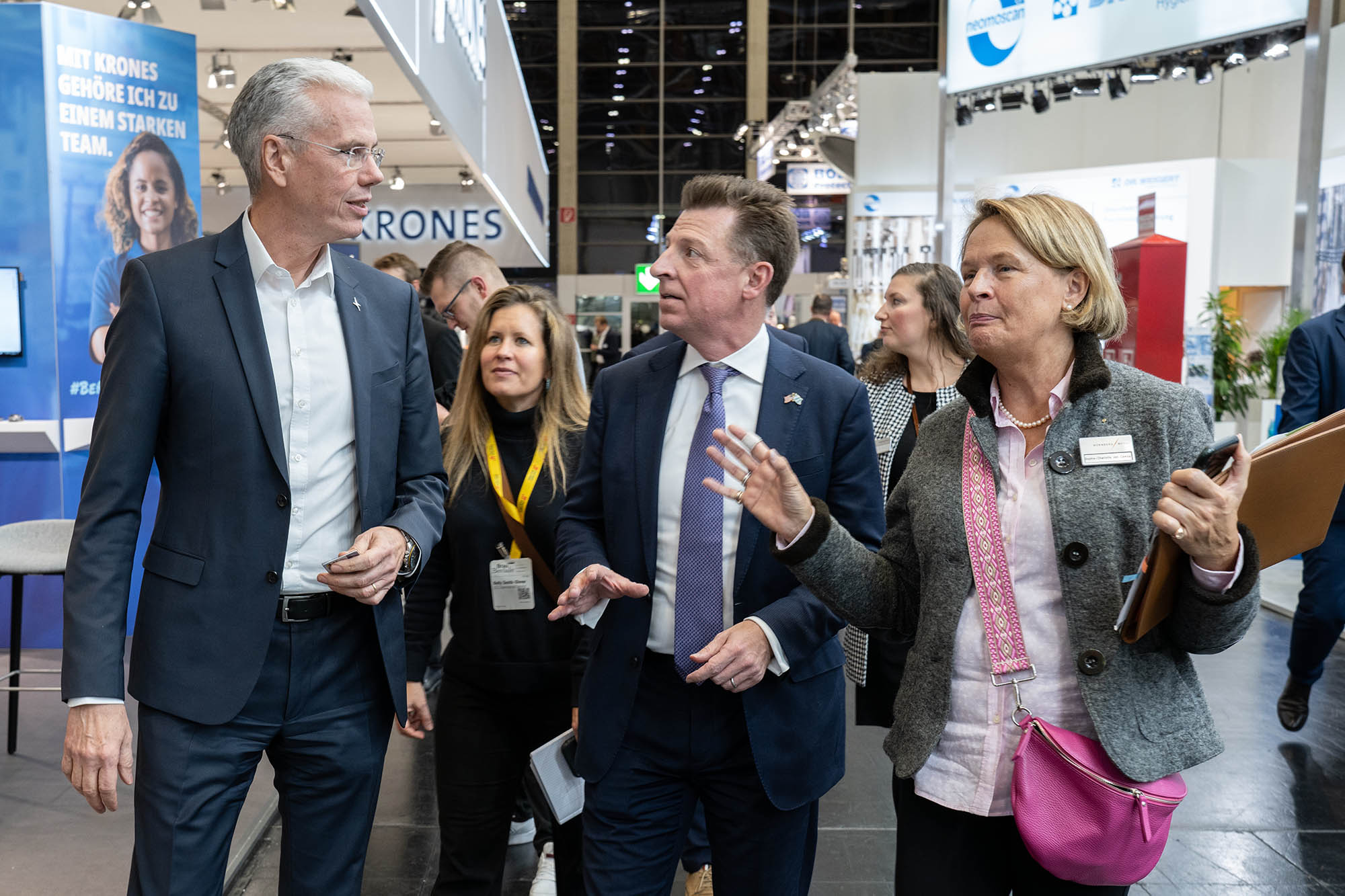 US Consul General visited the Krones booth
On the second day of the BrauBeviale, US Consul General Timothy Liston met our CEO Christoph Klenk at the Krones booth. In a lively conversation, Klenk gave him a quick tour and an insight into the Krones technologies. Liston was impressed by our solutions and presence in Nuremberg and he enjoyed his short visit to the Krones booth.
Total water consumption reduced by half
From 3.5 to 1.7 hectoliters – thanks to Steinecker's Water Sustainability Concept, the water consumption for a single hectoliter of saleable beer can be significantly reduced. The concept takes into account all process steps in production and CIP. The focus is on three essential pillars: saving water, re-using water within the processes and converting water, to return it in the processes. Many of the modules can be retrofitted individually, which enables a step-by-step development towards a final overall concept.
First Weihenstephan beer from kieselguhr-free filtration
A filter alternative to kieselguhr is becoming increasingly important, especially from a sustainability perspective.For this reason, Steinecker and Erbslöh GmbH signed a cooperation agreement at BrauBeviale: the two companies have joined forces to offer a sustainable alternative to kieselguhr with a combination of the Steinecker TFS filter and the VarioFluxx filter aid from Erbslöh.
You can read more about this here."
The Bayerische Staatsbrauerei Weihenstephan brewery proves that beer filtered in this way is in no way inferior to conventional beer: the Upper Bavarian brewery is the first customer to use the new process – with success, as Quality Manager Sina Fürlauf explains: "Our TFS filter from Steinecker was prepared in such a way that we can also use alternative filter aids. Together with Erbslöh and Steinecker, we have now carried out initial trials. The result – our first beer from kieselguhr-free filtration – will be available at BrauBeviale and we are satisfied with the quality." Visitors to the Steinecker bar are also delighted with the flavour of Weihenstephan's beer – taste test passed!
1st photo: From the left: Tobias Zollo, Sina Fürlauf and Gerd Abstreiter from the Bayerische Staatsbrauerei Weihenstephan brewery together with Matthias Pohl from Steinecker Sales (2nd from right)
2nd photo: Steinecker and Erbslöh signed a cooperation agreement at the BrauBeviale.
Beverage mixing system with integrated syrup supply tank
Here at the BrauBeviale, Krones is presenting the latest generation of the well-known Contiflow beverage mixing system. The revised machine design also includes an integrated syrup supply tank, which is of particular benefit to beverage producers where the line and syrup room are not located directly next to each other. The trade fair exhibit can achieve a line output of 30,000 litres of finished product per hour.