Cooling tower which is perfectly tailored to the specific requirements of the market
The energy required for cooling plays an important role in the beverages industry. This is why Krones has developed its own cooling tower in the form of the VapoChill cooling tower, which is perfectly tailored to the specific requirements of the market.
At a glance
Scalable design capable of covering cooling requirements from 50 to 2,000 kW
Designed based on cooling requirements and local climate conditions
Fast "plug and play" installation
Stainless steel housing and components with a long service life
Simple preparation of the foundations, with the load split over four individual points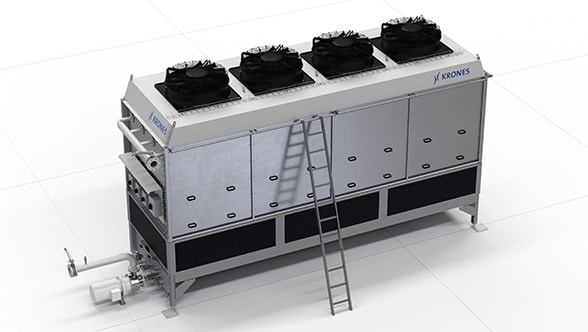 Download brochure Krones VapoChill
1.18 MB, .pdf
Benefits to you
Best hygiene conditions
The unit is designed in accordance with Clean Design principles to achieve the best possible cleaning results with minimal personnel effort and time. Optimum accessibility to e.g. the detachable sieves ensures that the filters can be checked and cleaned while operation is ongoing.
High resource efficiency
The special blower design employed in the Krones VapoChill reduces energy requirements by up to 85 percent in ongoing operation (compared to conventionally operated cooling towers). In combination with Krones pasteurisers, heat exchangers and many other machines, this can help achieve significant water and electricity savings.
Optimum integration
VapoChill cooling towers are connected to Krones machines and are integrated in their control systems with full networking, which makes operation significantly easier.
Maximum flexibility
Krones VapoChill can be used in any application where process water needs to be cooled efficiently. This can be both in combination with a Krones machine or with machines from other manufacturers –or for completely different applications requiring cooling water.