Cooling energy for all industrial sectors
Whether in the production of beverages or food, the processes in the chemicals or pharmaceuticals industry or in the operation of data centres: Almost every industrial sector needs cooling energy. And this is exactly what the Krones VapoChill cooling tower provides.
It combines the Krones know-how from plant engineering for the beverage industry with the knowledge of thermal processes. The result: a modular series which sets a new standard with regard to the efficiency of process water cooling. And compared to conventionally operated cooling towers, the VapoChill series saves a large amount of process water.
At a glance
Scalable design capable of covering cooling requirements from 50 to 2,000 kW
Design based on customer-specific cooling requirements and local climate conditions
Fast "plug and play" installation
Stainless steel housing and components with a long service life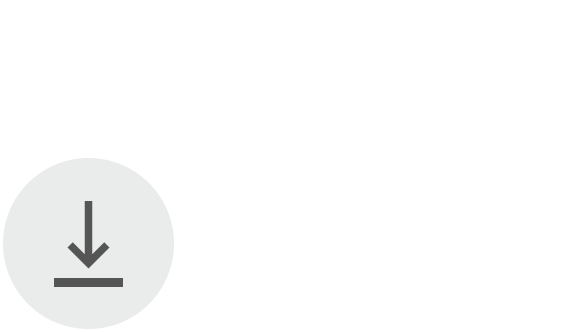 Brochure Krones VapoChill
0.75 MB, .pdf
The VapoChill series at a glance
The VapoChill benefits from Krones accumulated expertise in the field of engineering. Even though the method of operation is designed to precisely meet the requirements of the beverage industry, it can be easily transferred to other industries.
Method of operation: open-circuit cooling tower
The process water is cooled using ambient air: when the air and water come into contact with one another, a part of the water evaporates. This process takes energy from the rest of the water and cools it down.
High energy output in a small footprint
Low electric power
Eight different variants
Cover cooling capacities of between 50 and 2,000 kW
Dimensions:

Width: 1.2 to 2.1 metres
Length: 1.8 to 5.7 metres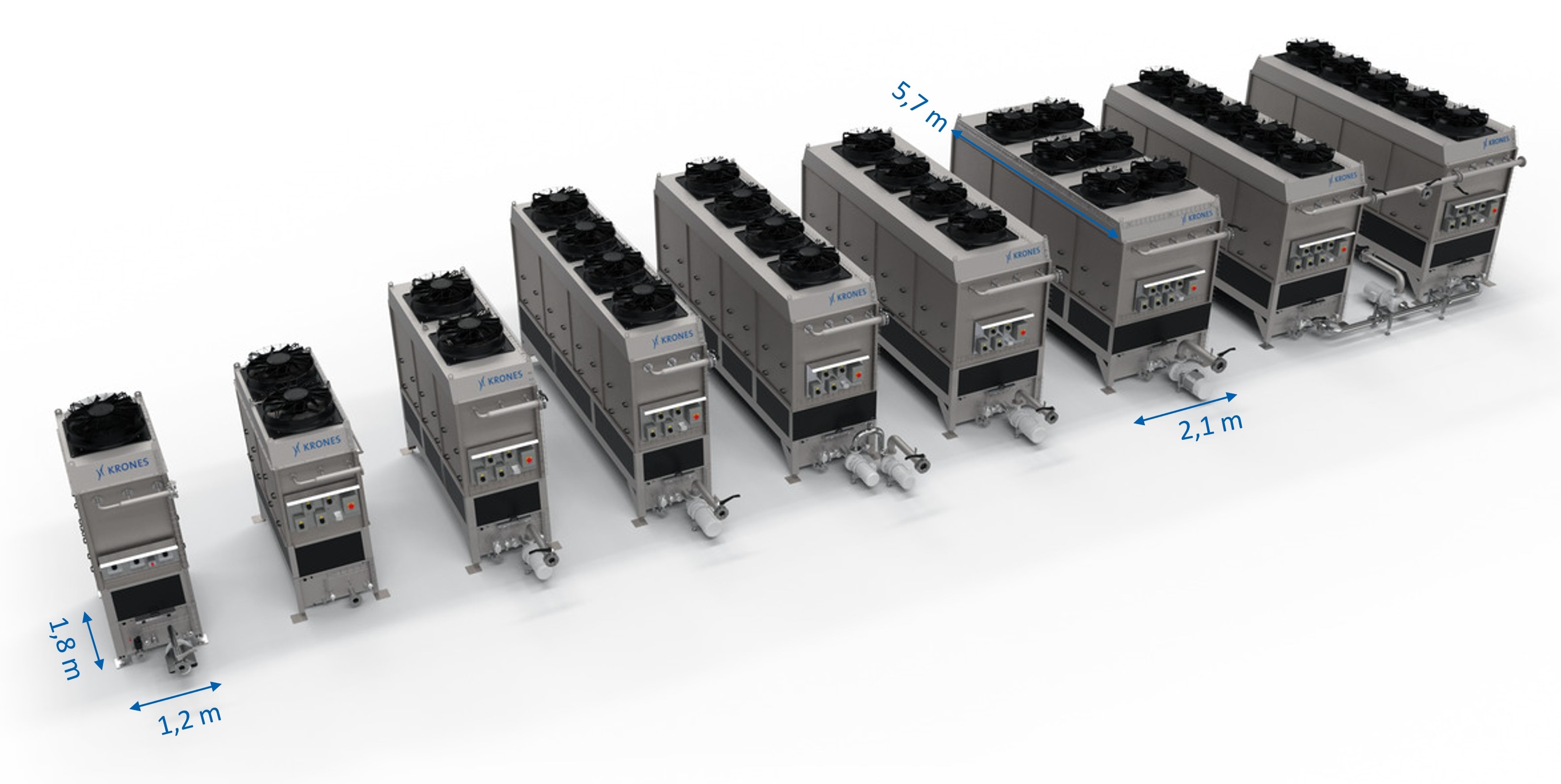 Structure of the cooling tower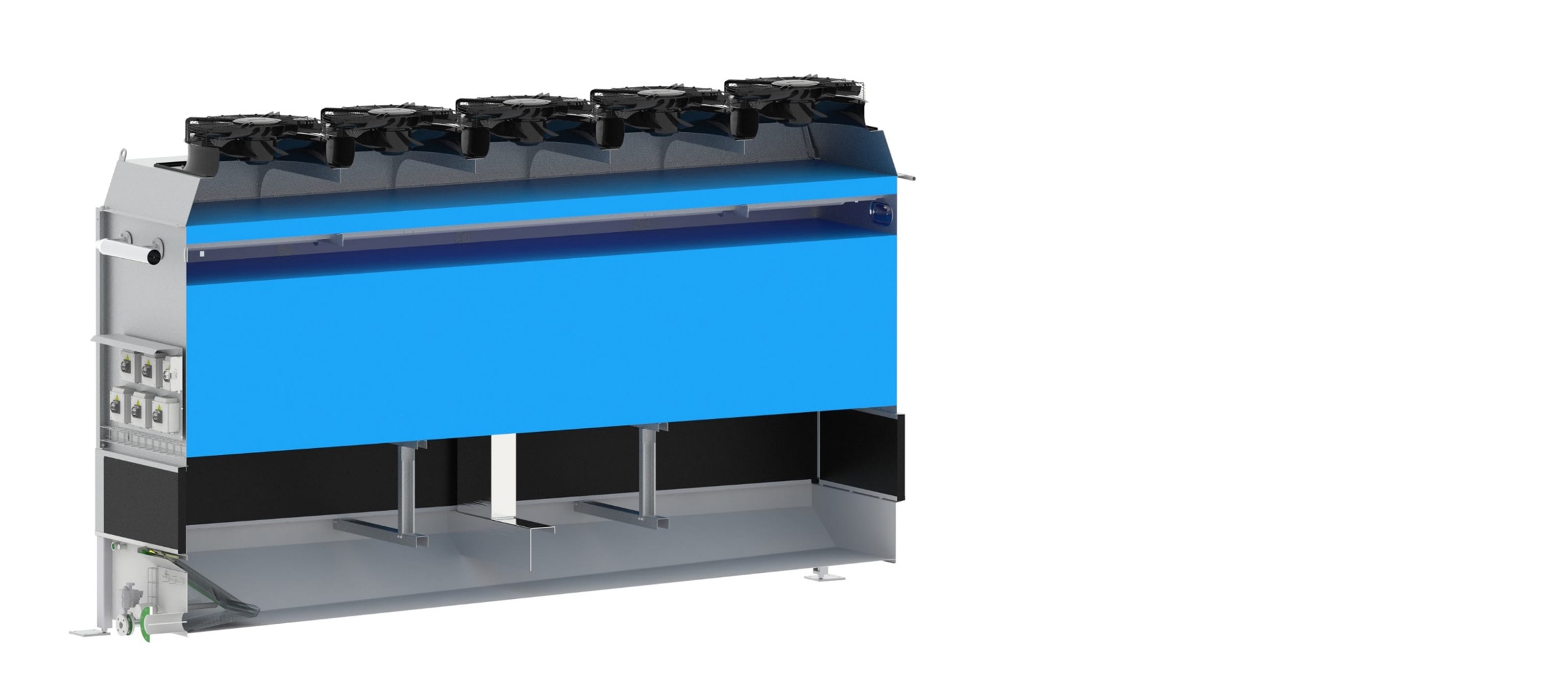 Flexible modular design
All sizes:
Are possible in AISI 304 or optionally in AISI 316L, stainless steel
Can be combined as multi-cell cooling towers, to also reach high outputs for example.
Are available in four different cross-fluted fill heights (0.6, 0.9, 1.2 and 1.5 metres)
Can be flexibly adapted through component selection (Nozzle selection, Numer of fans, ...)
Individual design entirely in line with your requirements
When designing your system, it goes without saying that we take your individual process requirements, as well as the climatic and geographical data of the cooling tower's future place of installation, into account – and thus adjust the VapoChill to precisely fulfil your needs.
Individual process and system parameters:
Cooling capacity
Cold and warm-water temperature
Installation surface footprint and weight of the cooling tower
Energy consumption
Noise emissions
Consideration of the investment costs and TCO
Climatic and geographical data:
Air pressure/altitude
Ambient air temperature
Wet bulb temperature (from databases, from the system operator and Krones internal data)
Benefits to you
Many-years of experience and turnkey expertise
As a systems supplier for the beverage industry, Krones has decades of experience in systems construction – and has now adapted it for its VapoChillseries. From Krones you will receive a customised complete package that, in addition to the cooling tower, can also include all of the other components and connections with quick availability.
High resource efficiency
Speed-controllable fans with optimised efficiency (ɳ > 50 %) are already included in the standard scope of supply. These make it possible to achieve energy savings of up to 85 percent during operation (compared to conventionally operated cooling towers with asynchronous drives at changing cooling capacities).
Best hygiene conditions
The unit is designed in accordance with "hygienic design" principles to achieve the best possible cleaning result with minimum staff requirements. The immersion pickled stainless steel housing also ensures that the cooling towers can be ideally installed outdoors. The AISI 316L variant can even be installed in coastal areas without further thought.
Low use of biocides
If cross-fluted fills with biocide are chosen, then the largest surface in the cooling tower will be protected against fouling because of microorganisms This option is also particularly characterised by its long operating times and lower biocide dosing quantities.
Efficient, reliable dispatch and prompt commissioning
No matter which size you choose: Krones cooling towers are always split up into four modules and fit into a standard container for dispatch. This not only saves on transport costs, its modular construction also saves on the time needed for commissioning.
Flexible during output adjustments
There are four different cross-fluted fill heights for each size. Benefits to you: If you wish to increase the cooling capacity, it may suffice to start by exchanging the cross-fluted fills instead of the entire cooling tower. This keeps the footprint and costs low while increasing the cooling capacity.