Krones Group Annual Report 2021
After showcasing six major strengths of Krones under the heading "Focus on strengths" in our 2020 Annual Report, this year we present two of those strengths in greater detail: sustainability and digitalisation.
Both of these play a major role for Krones' customers, who want to cut resource use and shrink their carbon footprint. Further digitalising beverage plants also enables customers to reduce production and labour costs and to increase production efficiency. This places a key focus on innovative products and services to enhance customer benefit in terms of both digitalisation and sustainability.
Under the heading of sustainable.digital in this Annual Report, we present examples of Krones' successful sustainability and digitalisation activities.

Sustainability
Krones contributes to the solution of three major challenges facing humanity
Sustainability is not only the responsible way forward. It is of existential importance. Enormous challenges confront the entire human race. The first priority is to combat climate change in order to avert irreversible harm. At the same time, an adequate food supply for the growing world population has to be ensured for the long term. Another global problem is plastic waste, which has severe impacts on our environment.
Krones has the technologies and knowhow to help meet these huge challenges. And it already has them today. We gained this head start as a result of our early commitment to sustainability.
---
Combating climate change
Krones climate targets focus on customer benefit
In its climate strategy, Krones has set ambitious targets for reducing the company's carbon footprint. By 2030, relative to the 2019 base year, we aim to reduce both Scope 1 and Scope 2 greenhouse gas emissions by 80%. These comprise all emissions generated by Krones itself – for example in production or from the consumption of purchased energy.
A particularly important emission category, however, consists of Scope 3 emissions. These make up about 98% of Krones' total carbon footprint. Scope 3 emissions mostly arise from the use of our products in customers' production facilities. We have already been able to cut these emissions significantly in recent years with our enviro sustainability programme. However, we will continue to identify ways of reducing them further so that our lines use even less energy and other media. Overall, we target up to a 25% reduction in Scope 3 greenhouse gas emissions by 2030. Our customers will benefit from this.
---
Combating climate change
Krones enviro – the industry standard for product sustainability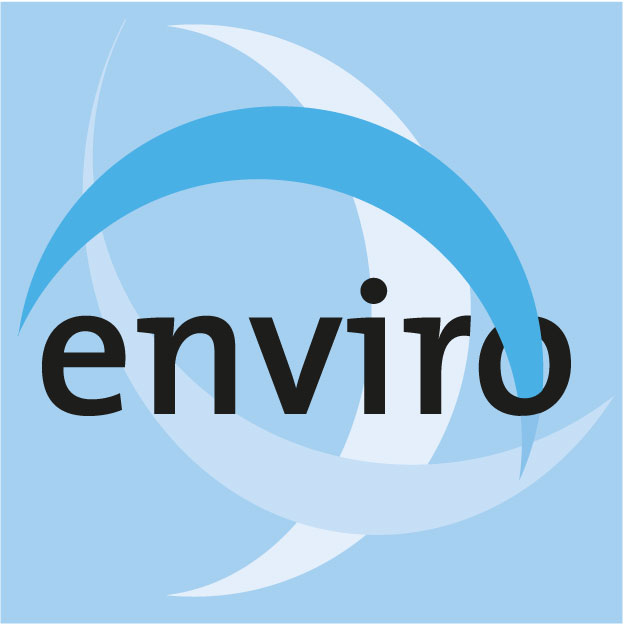 Many Krones customers have adopted ambitious sustainability targets. We help them achieve those targets. The key here is energy and resource-efficient machines and lines. The enviro sustainability ­programme has been a central element of product sustainability at ­Krones ever since 2008.
With enviro, we offer our customers real added value. Thanks to tech­nical innovations, enviro products consume significantly less energy, water and other operating materials than standard machines. Those savings are not achieved at the expense of performance. Beverage producers generate higher earnings over the entire line life cycle. In addition to the economic benefits, their lower resource consumption has a positive impact on customer's carbon and climate footprint.
Krones has continuously developed enviro over the years. Initially, only individual machines carried the enviro label. Today, entire systems are certified. Since 2019, in order to minimise the environmental impact of beverage and food packaging, Krones has also assessed innovative packaging solutions according to enviro criteria.
enviro as value driver in research and development
Development activities at Krones are aligned to specific value drivers. One such value driver is "environmentally friendly", targeting minimum consumption of energy and media, zero-waste production and sustainable packaging.
---
Combating climate change
Krones enviro in figures: major resource savings
Numerous enviro machines and lines are now in operation at our customers' production facilities. One example is a PET filling and packaging line for soft drinks that uses 22.5% less electricity and 50% less water than a standard line. Each of the various machines within the line uses all enviro options. The Contiform 3 Pro stretch blow-moulding machine, for example, saves a lot of energy due to the innovative heating chamber when inflating PET preforms.
---
Feeding the world
Feeding people sustainably with alternative proteins
The world's human population of around eight billion is matched many times over by the number of farm animals bred to feed them. These consume huge quantities of valuable resources such as feed and water. Livestock farming has a gigantic global carbon footprint. Providing people with alternative proteins is therefore a valuable contribution towards combating climate change. On the whole, plant proteins are still in their infancy, but technological progress is advancing at a rapid pace.
Yoghurt without milk, but with plenty of flavour
A flagship project for how Krones is positioning itself in the growth market for alternative proteins can be found in Russia. We supplied producer Sady Predonia with the entire process technology for the ­production of non-dairy yoghurt products.
Milk production generates substantial quantities of greenhouse gases. Available in a range of flavours, the oat yoghurt is a full substitute for dairy-based yoghurt. The line we installed at Sady Predonia incorporates the wide-ranging expertise of Krones subsidiary Milkron. All operations, including pretreatment and blending of ingredients, optimum heat treatment, automation and storage, are provided by Milkron.
---
Avoiding plastic waste
Avoiding plastic waste with recycling
Every year, eight million tonnes of plastic waste end up in the world's oceans. As a leading supplier of PET filling and packaging technology, Krones works together with customers to combat the problem of plastic waste. The key to success lies in a functioning circular economy. Krones has the right solutions on hand for this purpose, from material-saving packaging design and low-energy container production to recycling used plastics. Our MetaPure PET recycling system plays a key role here.
PET recycling increasing rapidly in importance
Inside MetaPure, used plastic bottles are first pre-sorted and reduced to flakes. After washing, the flakes pass through a decontamination module. The end product of the sophisticated process is food-grade recycled pet (rPET), which the beverage industry can use as the raw material for new ­bottles.
We expect rapidly growing customer demand for our MetaPure PET recycling line in the years ahead. Around 10% of the plastic bottles filled on Krones' new lines in 2021 were recycled in MetaPure. By 2023, we expect to see this rate almost double to over 18%.
---
---
Digitalisation
Krones.world – all digital services on a single platform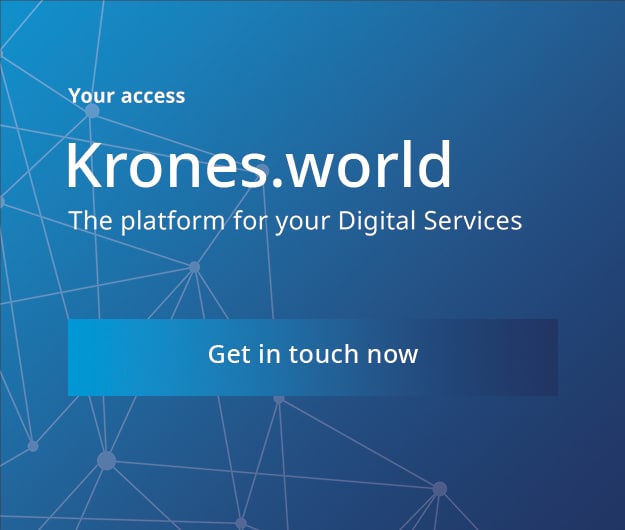 Our Krones.world portal gives plant operators one-stop access to all Krones digital services on the web, wherever they are and with any device. Customers' machines and lines just have to be set up to deliver ­digital data to the cloud (we call this Connected Line). For this purpose, Krones has incorporated the ReadyKit edge device into all new lines since 2020. Older lines can be retrofitted.
The central component of Krones.world is an Industrial Internet of Things (IIoT) platform. This collects all relevant machine and plant data, providing the basis for a wide variety of digital services, such as our Performance tool. Our customers also have access in Krones.world to Krones.shop and digital support.
By using the digital services, customers improve the efficiency of their machines and lines, and cut costs. This delivers reductions in total cost of ownership (TCO).
Krones' goal is to operate a line over its entire life cycle via digital service centres. This applies right from the start – even in configuration at the quote phase. On-site commissioning, too, can be done remotely online. During operation, it analyses the data, detects any ­anomalies and predicts problems. Based on this, we can send ­customers recommendations on what to do, thus enabling pro­active ­production planning. Krones provides this data-driven production optimisation on the basis of service-level agreements, with continuously ­increasing levels of automation.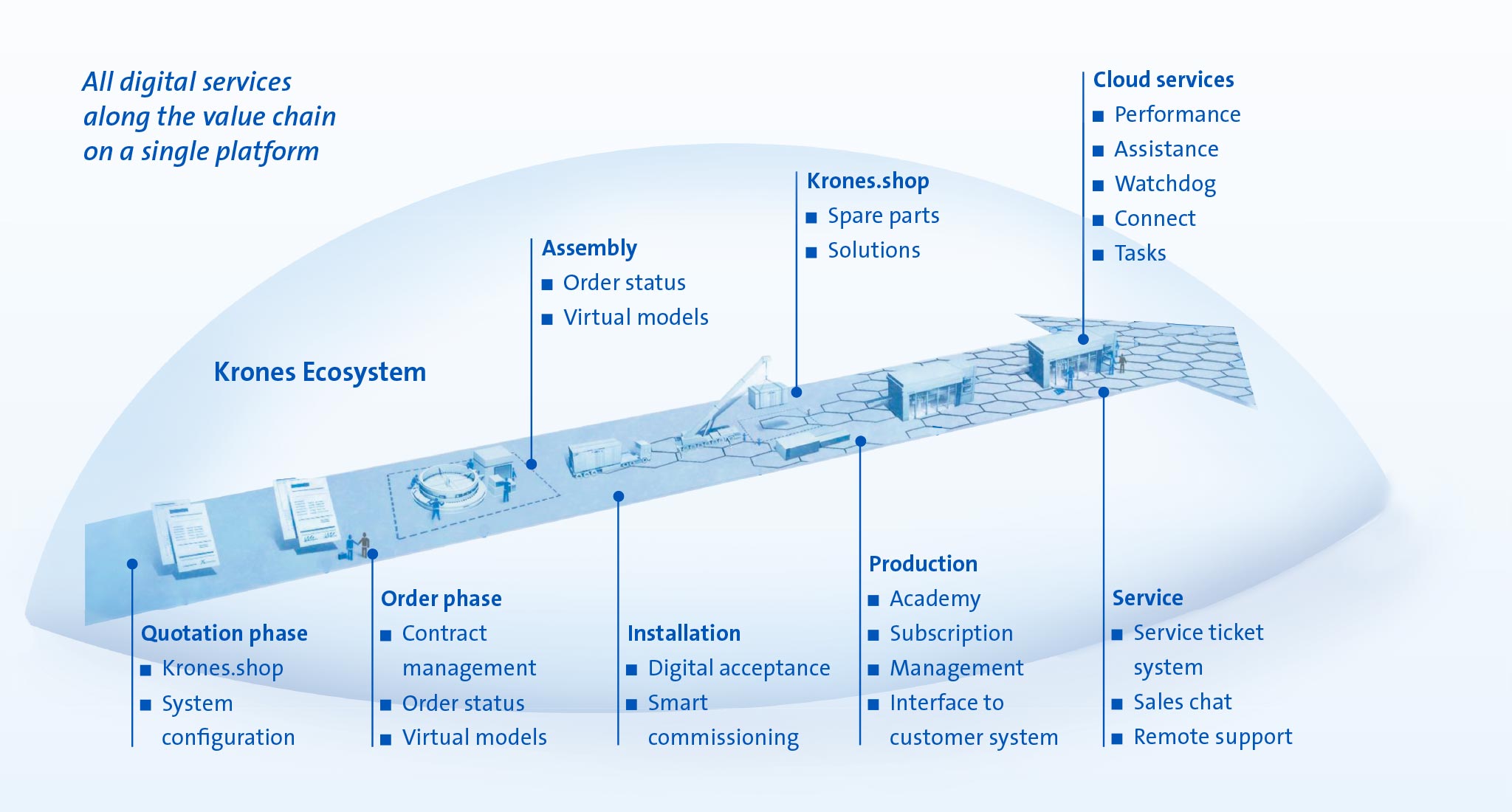 ---
Krones makes beverage plants more efficient with digital machine data
With the Krones Industrial Internet of Things (IIoT) platform, the company is once again setting standards in the beverage and liquid food industry. All data sent by the machines is stored in the cloud. Customers and – if they allow – Krones can securely access the data at any time, anywhere, and with any device.
Based on the collected data, Krones provides a range of applications or digital services on the platform. These give customers full realtime visibility of their production operations. The high level of transparency and smart data analysis make it possible to identify and act on any potential for improvement. That increases production quality and reduces operating costs.
We provide each customer with a custom-tailored range of digital ­services. The individual applications are functionally complementary, interoperate seamlessly and share information. This enables us to avoid presenting the same data multiple times.
Our digital services are under ongoing development with the rollout of new applications. An example is our Performance tool, which we briefly present on the next page.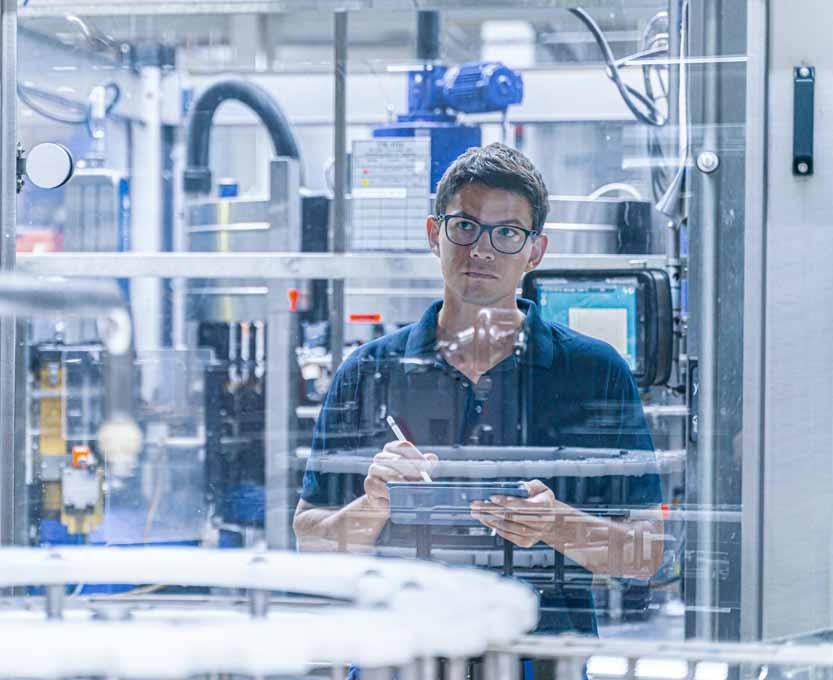 ---
Performance: all key data at a glance
The key role of the IIoT platform is our Performance application. This tool displays all key performance indicators (KPIs) in real time, including overall equipment effectiveness (OEE), units produced, malfunctions and speed losses. It also precisely identifies what parts of the system are ­causing downtime (timestealers). This makes for easier and faster trouble­shooting. Overall, the Performance tool delivers up to 10% less downtime and up to 5% higher efficiency.
---
Krones.shop: the leading online shop in the beverage and liquid food industry
Using Krones.shop, our customers can quickly and easily order spare parts, components and services for their machines and lines online. With the aid of personal user profiles, we proactively offer customers products and services that are precisely tailored to their machinery and equipment. That enhances customer loyalty and satisfaction.
Our now more than 25,000 registered users can choose from around six million products. Alongside spare parts, Krones also sells a wide range of LCS products via the online platform, including upgrades, inventory packages and training. The company already conducts over 15% of its LCS business through Krones.shop.
Krones.shop also offers interesting solutions regarding sustainability. As well as physical shipment, spare parts ordered from Krones.shop can be delivered in digital form. Krones sends a digital blueprint for the client to produce the required part right there on a 3D printer. That saves not only money, but also transportation and so cuts carbon emissions.
What Krones.shop has to offer:
Over six million parts
LCS products (upgrades, storage packages, training, etc.)
Downloads for 3D printing of spare parts
Over 25,000 registered users
Available in 181 countries (more than Amazon)
Over 30,000 visits per month
Over 15% of the LCS business is handled via Krones.shop
---
Digital Services: from "Built by Krones" to "Managed by Krones"
With the IIoT platform and Krones.shop, Krones.world provides the basis for aligning Krones products and services more closely to a service-based business model. Krones' goal is to evolve from a machine and line manufacturer to a manager of beverage plants – from "Built by Krones" to "Managed by Krones". The company aims to implement this by way of service level agreements (SLAs). Under an SLA, Krones undertakes to provide a plant operator with specified services according to customer needs. In return, Krones receives a fixed monthly or annual service fee. This has the great advantage that both the customer and Krones can reliably plan ahead – the customer with regard to service costs and Krones in terms of income.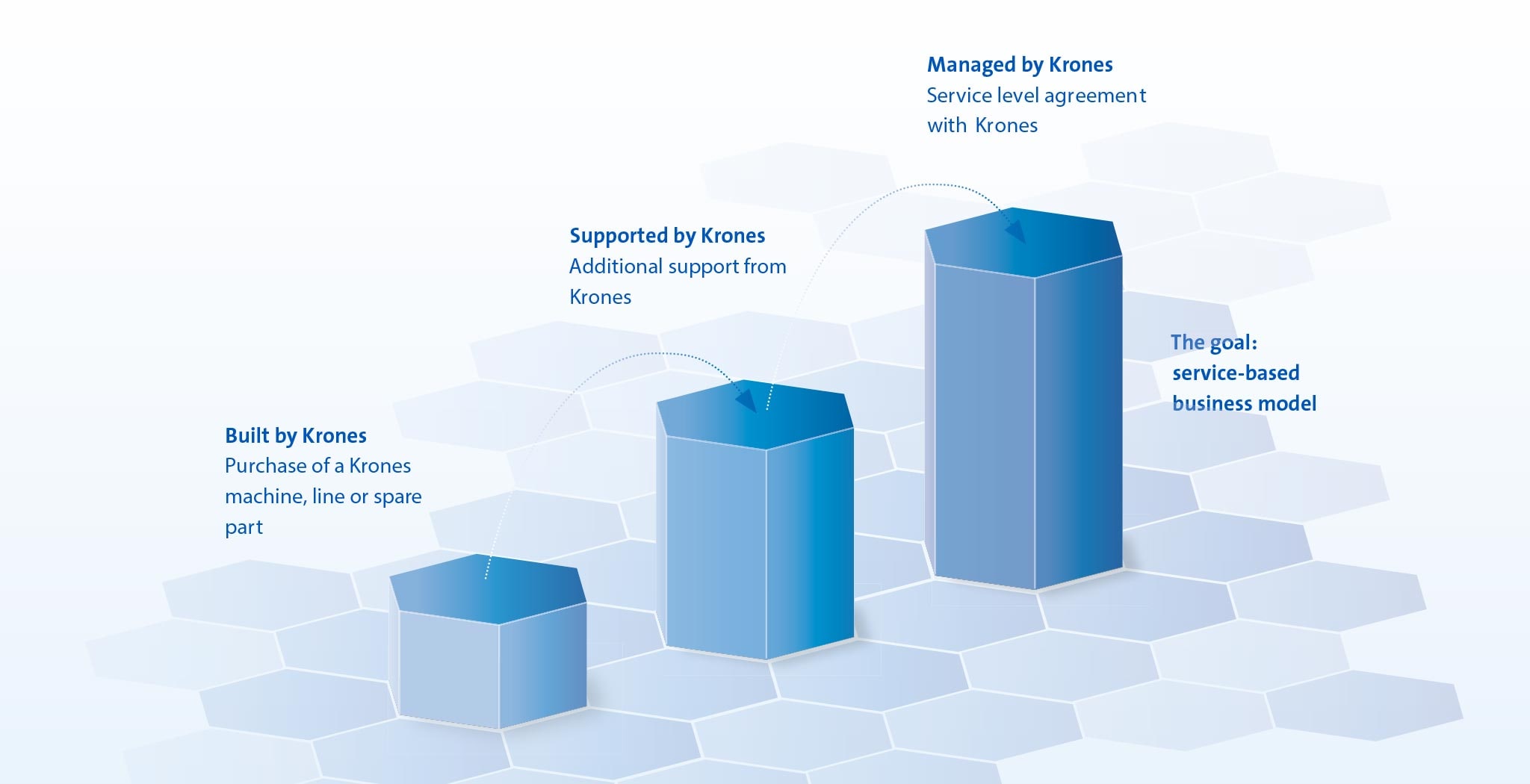 ---
Digital services + Krones service network = unbeatable customer benefit
Our approximately 3,000 local service staff around the world continue to play a key role in the practical delivery of digital services. More than 100 service companies in over 70 countries provide customers with support and advice, remotely or in person. Plant operators therefore benefit not only from our digital knowhow, but also from our many years of cross-sectoral experience and line expertise worldwide: an ideal combination.
Key facts:
Over 100 subsidiaries and branches
In over 70 countries
Some 3,000 service staff worldwide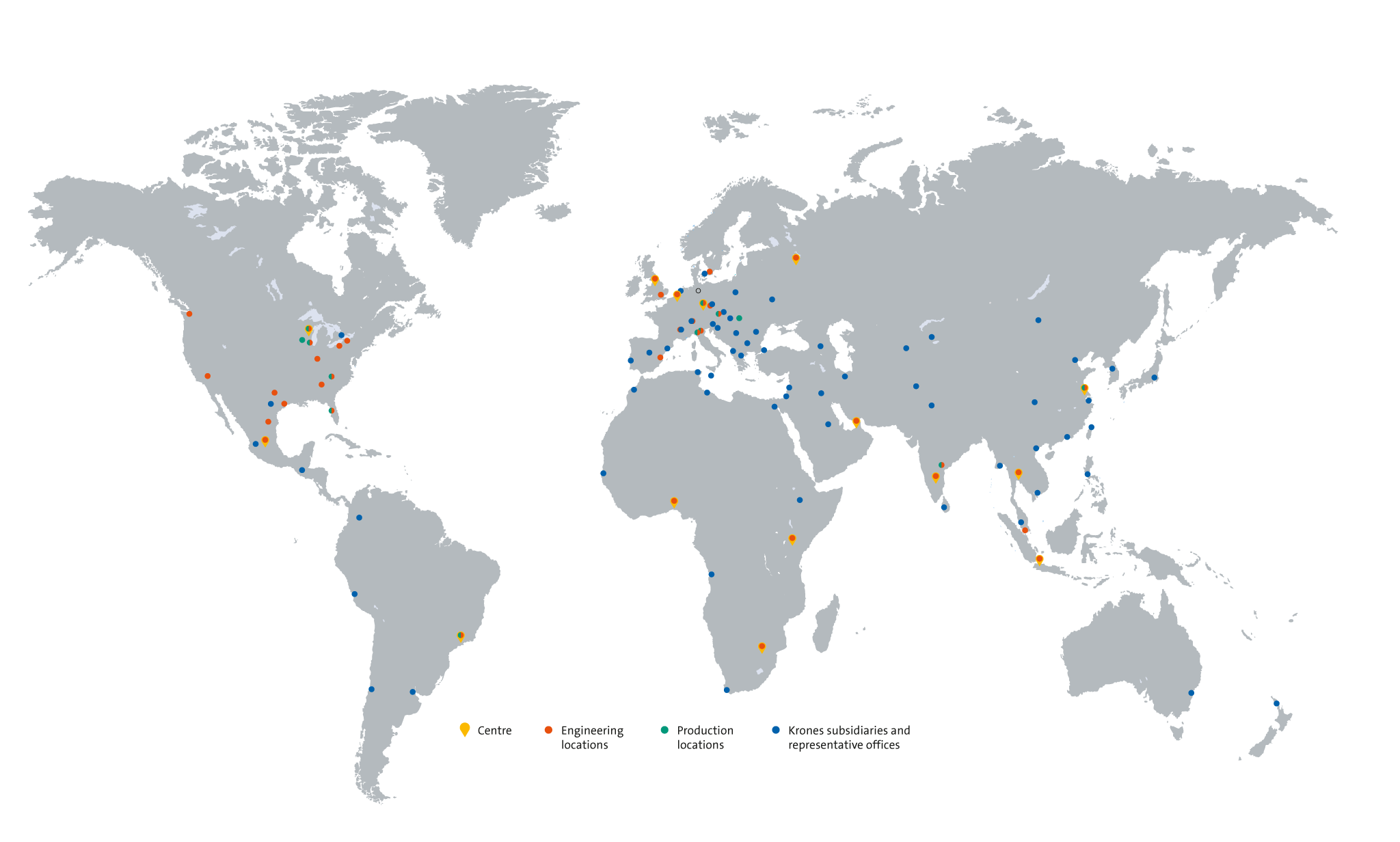 ---