Krones Group Annual Report 2022
"The Krones team ended the 2022 financial year successfully despite all the challenges. With our new target picture, 'Solutions beyond tomorrow', we have set ourselves ambitious targets for the future.", Christoph Klenk, CEO
Letter from the Executive Board
Dear shareholders and friends of Krones,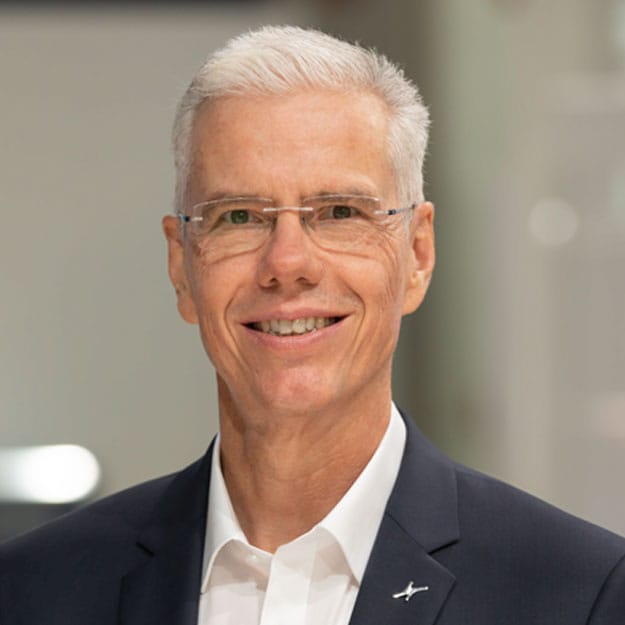 The entire Krones team can look back with pride on a very successful 2022 financial year. We mastered the challenges well, including the economic consequences of the Russia-Ukraine conflict, resource shortages, sharply rising material and energy prices and the continuing negative impact of the Covid pandemic. For the first time in the company's history, Krones generated revenue of over €4 billion in 2022. All other financial key performance indicators also improved significantly.
Very positive figures in 2022 financial year
Demand for our products and services remained very strong, despite the economic uncertainties and our price increases. Krones benefited from our innovative strength and our very good standing with customers. We have improved this standing even further since the pandemic by continuing to keep our promises to customers even in these difficult times.
Order intake reached the highest level in our corporate history at €5.78 billion (up 34%), as did the order backlog at €3.47 billion (up 83%). As we maintained relatively good production capacity utilisation by successfully managing the resource constraints, we were able to increase revenue in 2022 by 15.8% to €4.21 billion. This increase also exceeded our upgraded October 2022 guidance of 10% to 12% revenue growth.
We also improved profitability, despite rising costs. This shows that the strategic measures we have initiated in recent years to reduce costs and increase efficiency are taking effect. Krones improved profitability, as measured by the EBITDA margin, to 8.9% in the reporting period (previous year adjusted: 8.1%). Our third financial target, return on capital employed (ROCE), went up from 10.0% to 14.1%.
Free cash flow also developed positively in 2022. Influenced significantly by the high order intake and the resulting advance payments from customers, this was exceptionally high at €371 million (2021: €203 million) and contributed to the significant increase in net cash to €670 million at the end of 2022.
Shareholders to benefit from the company's success with dividend of €1.75 per share
Our shareholders will also benefit from the good results of the reporting period. In line with its dividend policy, Krones will therefore pay out a significantly higher dividend of €1.75 per share to shareholders for the 2022 financial year, an increase of 25% over the previous year's €1.40 per share.
drinktec global trade fair a great success
The corporate highlight of the year was drinktec, the world's leading trade fair for the beverage and liquid food industry, which was held in September 2022. For Krones, drinktec 2022 was a complete success. We received great positive feedback from customers. Just as important to us, however, was the input we received in direct communication with our customers.
Shaping the future with the new target picture, "Solutions beyond tomorrow"
Also at drinktec 2022, we presented our new target picture, "Solutions beyond tomorrow". Especially in times of constant change, it is important to have a clear, shared and ambitious goal. Only then can the company continue to ­develop and remain successful.
Our new target picture, "Solutions beyond tomorrow", reflects this ambition. With the new slogan, we show what goals the company is pursuing in the long term. Krones will be making a contribution to overcoming three major challenges facing humanity: combating climate change, feeding the world and responsible use of packaging materials.
This slogan, which is also the title of our 2022 Annual Report, provides Krones with support and orientation on the road to a successful future. In all three business segments, our strategic focus is on sustainability, service quality, and digitalisation. You can find detailed information on "Solutions beyond tomorrow" on pages 5 to 24 of this Annual Report.
Many challenges remain in 2023
The positive business results for 2022 do not mean that we can ignore the ­continuing very strong political and economic uncertainties. Already, the Russia-Ukraine conflict and the higher interest rates due to high inflation have led to a cooling of the global economy. The experts at the International Monetary Fund now expect growth of only 2.9% for the current year (previous year: 3.4%). This is well below the long-term average of 3.8%.
At the same time, the situation remains tight in global supply chains and ­procurement markets. A major challenge in 2023 will continue to be the timely procurement of sufficient materials and supplier parts to maintain good production capacity utilisation. The ongoing path of the Covid-19 pandemic also remains a source of uncertainty.
Executive Board forecasts higher revenue and increasing profitability for 2023
Despite major challenges, there are good reasons to be optimistic for the 2023 financial year and beyond. We started the year with a very high order backlog and demand for our products and services is also at a high level. In addition, we expect that the situation on the procurement markets relevant to Krones may ease slightly in the second half of the year. Based on the positive market trend and Krones' strong position, the Executive Board expects consolidated revenue in 2023 to be between 8% and 11% higher than last year.
Krones is aiming for a further improvement in profitability this year compared to 2022. In addition to revenue growth, the ongoing implementation of the cost optimisation measures will also contribute here. Thanks to the company's innovative solutions and good project work with customers, Krones succeeded in implementing price increases in 2022. The higher prices will enable the company to offset future cost increases. Stable capacity utilisation, ensured by our flexible production and intelligent procurement management, will also improve profitability. At group level, we forecast an EBITDA margin of 9% to 10% for 2023. For the third performance target, ROCE, Krones expects an increase this year to between 15% and 17%.
Krones well on the way to achieving its targets by 2025
Krones continues to aim for profitable growth in the medium term. By 2025, we want to achieve revenue of at least €5 billion. In addition to organic growth of 5% per year, this will also include growth through acquisitions. We expanded our capabilities in the growing pharmaceutical market in 2022 with the acquisition of R+D Custom Automation in the US. Acquisitions of medium-sized, profitable companies continue to be part of our growth strategy.
The medium-term target for the EBITDA margin is between 10% and 13%. For ROCE, we are aiming for at least 20% by 2025. Following the positive business performance in 2022, and despite all the challenges, Krones currently sees more opportunities than risks for achieving our medium-term targets.
Uta Anders CFO at Krones since beginning of year
Uta Anders has been a member of the Executive Board and Chief Financial Officer (CFO) since 1 January 2023. She thus succeeds Norbert Broger, who stepped down from the Executive Board of Krones at his own request when his contract ended on 31 December 2022. The transition was smooth and harmonious as the changeover had already been decided at the end of March 2022 and Uta Anders has been working at Krones in a senior position since 2020. On behalf of the full Executive Board, I would like to thank Norbert Broger for his good, committed and successful work.
Flexible, creative and motivated team the basis for sustained success
The key to our good customer relationships is timely and high-quality project delivery. This is and remains possible only thanks to the great flexibility of our company and the enormous creativity and motivation of our employees.
On behalf of the entire Executive Board, I would like to take this opportunity to thank all employees for their outstanding commitment in the 2022 financial year. They, too, live and breathe our new, ambitious target picture, "Solutions beyond tomorrow" every day, so that we can realise our shared vision and achieve our long-term corporate targets.
Christoph Klenk
CEO