Sustainable actions need a strong foundation
Our customers around the world are primarily from the food and beverage (liquid food) industry. Our customers' satisfaction is our highest priority. We supply them with the best machines, lines and systems, including all services and innovative IT solutions, and this on a global level.
Sharing values – creating values together
To consolidate our position, we will profitably grow stronger than the market (peer group) in every segment and continue to advance our technological leadership and competitive standing – with innovative strength, a willingness to change and consistent commitment. We listen to our customers, develop our products to suit their needs and expand on them with new technologies. Our lines and complete solutions provide the highest level of efficiency at competitive prices. Our global network enables us to provide fast, cost-effective, high-quality service – anytime and anywhere.
All strategic decisions are aimed at ensuring the company's sustainable development. Even when optimising profits and cash flow in the short term, we still keep sustainability clearly in our sights. This makes Krones a dependable partner for our customers, employees, shareholders and suppliers. Our financial strength gives us independence. We use resources wisely in order to safeguard this freedom for the long term.
Our sites around the world form a global value chain that creates the very foundation of our success. Our global production is outstandingly efficient. Our value creation concept is differentiated in accordance with our types of business. Krones offers attractive working conditions, sustainable jobs and room for individual developments on a global level. Our corporate culture is characterised by transparent hierarchies, appreciative leadership and clearly communicated goals. To stay agile and competitive in the future, we keep our structures lean and efficient.
We are a multinational corporation where a diversity of cultures, languages, and lifestyles come together on an equal footing. We treat each other fairly and openly, take on responsibility and make decisions. All of our actions are characterised by honesty and transparency. We are interested in the thoughts and opinions of our employees and partners and are willing to learn from others. We are proud of our products.
We are Krones – we do more.
Sustainability Management
As a systems supplier to the food and beverage industry, the Krones Group has committed to delivering efficient, environmentally friendly technologies for producing safe, high-quality beverages. Consumers are making sustainability part of their buying choices more than ever before, and so our customers depend on us to provide sustainable solutions for their production operations.
We are a machinery and equipment manufacturing group focused on innovative solutions and high-performance technologies. We work continuously to improve the efficiency, longevity, and eco-friendliness of our products and services. We are also increasing the sustainability of our own operations and value creation processes. We firmly believe that a consistent approach to sustainability will help us leverage new opportunities for growth.
Sustainability Goals 2030
Analogous to the material sustainability topics, Krones developed and adopted goals for the company's sustainable development through 2030. Unless noted otherwise, the new goals use the year 2020 as a baseline and apply across the group.
The United Nations Sustainable Development Goals (SDGs) are considered the most important set of global targets for sustainable development. The 17 goals were published in September 2015 as part of the UN's 2030 Agenda. They articulate the key challenges and resolutions of a global sustainability policy and thus serve as a guide for the sustainable development of society, culture, and economy.
Because it is part of global value chains, the Krones Group also influences economic, environmental, and social developments – sometimes directly and materially and sometimes only indirectly and to a small extent. We held a stakeholder workshop with representatives from administration, trade associations, academia, and our employees in which we discussed the global SDGs on which the Krones Group is already having an impact and which ones will need to be addressed in the future. The results of the workshop were part of our materiality analysis and have also been incorporated into our strategic planning of sustainability-related activities.
Global Compact
Krones joined the UN Global Compact in 2012. Krones Group is committed to its ten principles in the areas of human rights, labour, environment, and anti-corruption. We are taking an active role to ensure that these standards are adhered to in all of our business processes and demand the same of our suppliers.
Human rights
Principle 1: Businesses should support and respect the protection of internationally proclaimed human rights; and
Principle 2: make sure that they are not complicit in human rights abuses.
Labour
Principle 3: Businesses should uphold the freedom of association and the effective recognition of the right to collective bargaining.
Principle 4: Businesses should support the elimination of all forms of forced and compulsory labour.
Principle 5: Businesses should support the effective abolition of child labour.
Principle 6: Businesses should support the elimination of discrimination in respect of employment and occupation.
Environment
Principle 7: Businesses should support a precautionary approach to environmental challenges.
Principle 8: Businesses should undertake initiatives to promote greater environmental responsibility.
Principle 9: Businesses should encourage the development and diffusion of environmentally friendly technologies.
Anti-corruption
Principle 10: Businesses should work against corruption in all its forms, including extortion and bribery.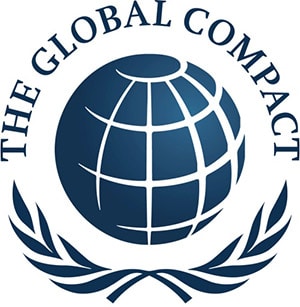 Blue Competence
We are Alliance Member of the Sustainability Initiative Blue Competence.
Blue Competence is an initiative of the VDMA for promoting and communication of sustainable solutions for the Mechanical Engineering Industry. By using the trademark "Blue Competence", we commit ourselves to the twelve Sustainability Guidelines of the Mechanical Engineering Industry.
PREAMBLE
Our comprehension of trendsetting sustainability is based on the principles of economic success, fairness, respect & responsibility and includes the dimensions of society, ecology & economy. We comprehend sustainable action in terms of the definition of the Brundtland-report1 and the definitions of the German "Rat für Nachhaltige Entwicklung".
STRATEGICAL:
1. Sustainability is a crucial part of our company strategy.
2. We create solid business schemes with sustainable values and secure entrepreneurial success.
3. Our technologies and solutions promote worldwide sustainable developments.
OPERATIVE:
4. Sustainable thinking and action are represented in our processes and products.
5. We act with consideration of resources and stand up for climate protection.
6. Our staff is our most valuable asset. We promote engagement and participation.
7. We stand up for keeping the human rights.
CULTURAL:
8. Our company is a habitat.
9. We take responsibility in our region.
10. We do, what we promise!
COMMUNICATIVE:
11. We actively cultivate the network with all participants.
12. We transparently communicate our sustainable action.