Aseptic system with H₂O₂ bottle sterilisation
Compact and completely dry
PET-Asept D takes the consistent road from the very beginning. The system relies one hundred percent on a dry sterilising medium and germs are not given a chance.
In its latest version, PET-Asept D offers a lot of additional advantages: it requires, for instance, a significantly reduced floorspace and takes only 150 minutes for cleaning between two production cycles.
At a glance
Aseptic filling of low and high-acid products
Suitable for all bottle shapes
Bottle sterilisation by means of hydrogen peroxide (H2O2)
Output range from 12,000 to 48,000 bottles per hour*
Particle filling of up to 10x10x10 millimetres possible
Also available as PET-AseptBloc D with blow moulder
D = Dry
*Basis: 500 ml bottle
Download brochure Krones PET-Asept D
1.39 MB, .pdf
Microbiological sensitivity of beverages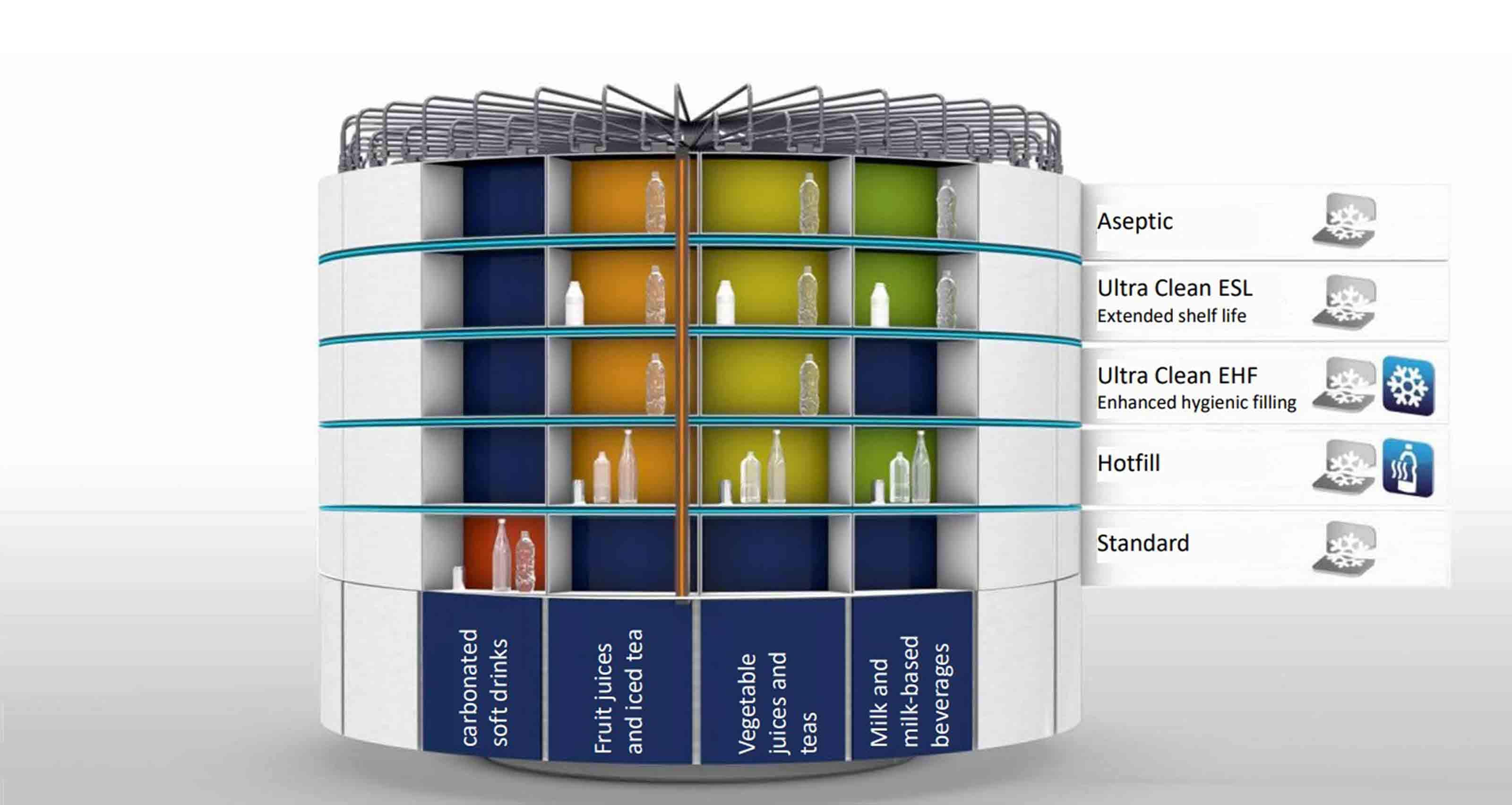 Benefits to you
No water, high microbiological safety
During production, the entire system consumes not a single drop of liquid. This reduces the water consumption and, at the same time, enhances the microbiological safety.
Efficient container sterilisation
Other H2O2 systems heat the containers in order to activate the sterilisation agent, which exposes them to even greater stress. PET-Asept D, on the other hand, brings the medium into the already warm container in gaseous form. This prevents the medium from condensing, reduces contact time and minimises the formation of residues.
Spot landing with regard to materials consumption
From the amount of product still to be filled, the system calculates the precise number of caps it will need, and so sterilises exactly the quantity that it actually needs.
Product change-over within 150 minutes
With the PET-Asept D, the sterilisation of the product route and clean room takes place in parallel. This means that the system is up and ready for the next round just 150 minutes after the last bottle.
Tethered caps: Get ready!
---
Selected references