Request a non-binding support contract offer now in the Krones.shop or view the information on your current support contract.
Configure contract
Fast help thanks to support contract
Wherever you are in the world: one call is sufficient and Krones will help you with all questions about your machines – seven days a week, 24 hours a day. The support contract is even more convenient and faster: your requests will be processed more quickly and you will receive feedback from a Krones Service Line employee within an hour at lower package prices. The administration effort is also reduced, as all relevant data is already stored at Krones. So you don't have to waste time and can fully focus on getting your production up and running again.
In addition to the known services, Krones now offers Augmented Reality Support Argos. This means that with the aid of smart glasses you can receive immediate assistance from a Krones support specialist on your very own machine – as if he were right next to you on site.
Benefits to you:
24-hour availability: per phone, via Remote Service or by means of Augmented Reality Support
Faster reaction possible as customer data is already stored
Cost savings through lower package prices
Augmented Reality Support Argos: increased performance and faster problem solution by immediately checking the success of the activities performed
Secure remote service worldwide – Krones GRS platform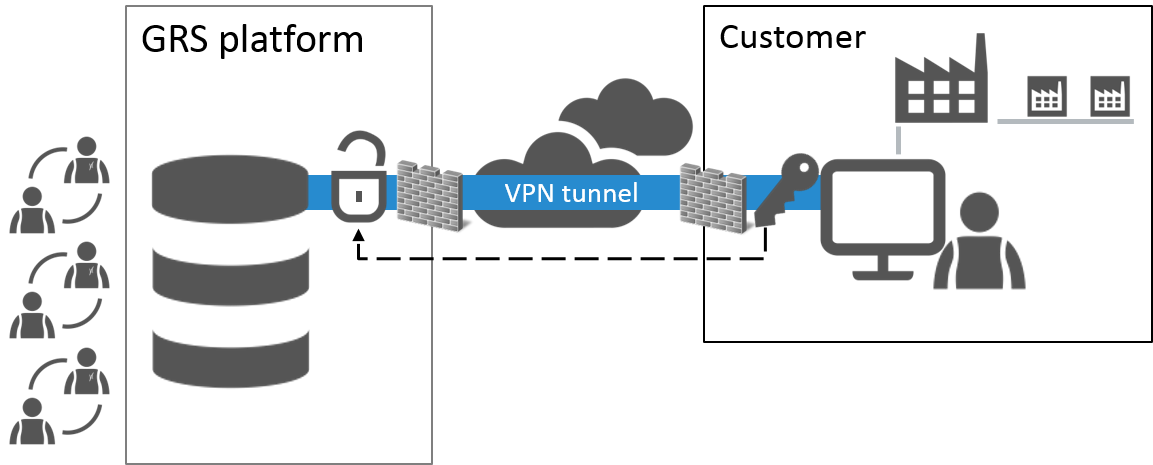 The remote service platform (Global Remote Service) is a holistic state-of-the-art solution centrally managed by Krones. It forms the basis for remote monitoring and maintenance of Krones machines and lines all over the world - which of course complies with the highest safety standards. The GRS platform not only enables secure, fast and documented communication with all lines, but also includes comprehensive functions for remote services and interactions.
Benefits to you
Fine-grained access control with regard to the machines or services required in each case
Traceability of all accesses: Logging of all connections and link to the respective support ticket
Secure dual-factor authentication for the technician's login on the platform: Release of connections via the customer (opt-in procedure)
Professional operation and trained technicians - certified in accordance with ISO/IEC 27001