Globalisation, digitalisation, rising costs and demographic change present businesses with diverse challenges. Successfully shaping the future of Krones needs foresighted action and courage.
The opportunities are huge. Exploiting them Krones has to invest significant in all areas. We will invest substantially in expanding our global footprint, but we will also strengthen our base in Germany. At the same time, we are going to continue the development of ­innovative products and services. This involves substantial investment in the digitalisation of beverage plants. Most of all, however, we will continue to invest in employee training and development, because our workforce is the foundation of our business.
All investments by Krones have a single goal: satisfied customers.
Investments require capital. This makes it all the more ­important for Krones to attain its medium-term financial targets. Self-generated funding increases the headroom for capital expenditure and enables us to be independent of lenders. The Krones team can shape its own future.
250th Ergo Bloc L shipped to Mexico
Krones unveiled a groundbreaking innovation at drinktec in 2009: A system that made it possible to produce, label and fill PET bottles on a single line. ErgoBloc L was a rapid hit with the beverage -industry. Now, about nine years later, Krones has shipped the 250th machine in the series to Niagara Bottling in Mexico.
Niagara found the system compelling from the -outset and bought the first such machine back in 2011. In the meantime it has ordered dozens. This ErgoBloc L is the first ever to produce all formats from 0.236 to 1.5 litres with a capacity of up to 84,000 containers per hour. That makes it the -fastest PET line of its kind in the world.
Success in the craft beer scene
Craft beer is beer made by traditional methods in small breweries, and demand is booming. Krones identified the trend early on and developed innovative products for this market segment. Like our Craftmate can filler, launched in autumn 2015. With a capacity of 4,800 to 19,200 cans per hour, Craftmate is specially adapted to the needs of smaller brewers.
It is highly versatile, filling cans from 0.25 to 1.0 litres. The machine has a compact form and -offers rapid changeover times. And Craftmate does not compromise on quality and hygiene compared with bigger machines in the Modulfill family. Our customers appreciate its many advantages. Krones has already sold its 50th Craftmate, just three years after market launch.
PET capabilities expanded
In the fourth quarter of 2018, Krones acquired MHT Holding AG. Based in Hochheim am Main, Germany and employing 125 people, MHT Holding supplies preform moulds and services for the PET industry. With this investment, we filled a gap in our product and service portfolio for PET applications.
Krones is now able to close the entire PET cycle, providing integrated PET solutions for customers in the beverage industry. Our portfolio includes bottle design services, injection moulding tools for the manufacture of PET preforms and machinery to blow preforms into bottles. We also provide -recycling systems that process used PET bottles into bottle-grade resin.
Rapid changeover, maximum customer benefit
Frankenmarkt in Upper Austria is home to one of the most advanced PET filling lines in the world, which we built for Starzinger, a tradition-rich company from the region. As well as the high quality of the filling line, our longstanding customer is particularly pleased with the line's great flexibility. Its distinguishing feature is that it is the first to be fully integrated with the Krones LineXpress system.
LineXpress is a range of individual automation -components that enable very fast automated changeover. This is a crucial feature for Starzinger, which has a broad product range and sometimes has to produce in small batches. Consequently, the line frequently has to be switched over to different beverages or bottle shapes and sizes. LineXpress significantly cuts downtime and overall system productivity is about 20% higher than with manual changeovers.
PET recycling – tomorrow's technology today
Used PET bottles are not waste plastic, they are a valuable raw material. We have developed the innovative MetaPure recycling system, which processes used PET bottles into foodgrade recycled resin – the raw material for new plastic bottles. This is an investment we are certain will pay off. Krones systems are already in operation in Europe, Asia and Africa.
In California, US company rPlanet Earth has installed one of North America's largest plants for recycling used PET bottles. This will enable the production of some 36,000 tons of new preforms, containers and extruded film per year. The technology for washing and decontaminating the flakes obtained from used bottles that forms the heart of the system was supplied by Krones. This was the largest PET recycling project in our corporate history to date.
Expanding our global footprint
We are expanding our global footprint and -increasing international value creation.
A key step in this is the investment in our new -production location in Debrecen, Hungary. At this new production plant, Krones will employ some 500 people. The focus in the decision in favour of the Debrecen location was not only on outstanding connections for logistics and up-to-date infrastructure, but also on access to a skilled workforce. We train future employees and prepare them for their specific task areas before they start work. They will make a valuable contribution in further enhancing customer satisfaction.
We are investing heavily in capacity expansion in China, notably at our Taicang location. Our aim is to serve Chinese customers increasingly with products assembled and in some cases also manufactured in China.
Krones launches innovation network at TechCampus Regensburg
Krones plans to set up an innovation network on the TechCampus in Regensburg, Germany and will be having a new building erected there for the purpose in 2019. The aim is to develop market-ready digitalization, IT and IoT solutions for the beverage industry. Product innovations are no longer created in isolation inside development departments, but in open networks incorporating expertise from other -industries and disciplines.
Krones intends to make greater use of this type of collaboration in future. We already pursue this approach with our Innovation Lab, which is likewise located on the TechCampus. Digitalisation and IT will have a major impact on business outcomes for our customers going forward. This is why we are systematically investing in these areas through our subsidiary Syskron.
Investment in Krones' own research brewery
At its Steinecker facility in Freising, Krones -inaugurated the Steinecker Brew Center on 19 June 2018. This research brewery incorporates Krones' entire process technology knowhow. In liaison with subsidiary Syskron – the Group's IT and digitalisation specialists – Krones has created the world's most sophisticated research brewery.
With a capacity of five hectolitres, the brewhouse is relatively small but has a lot to offer. In the Steinecker Brew Center, customers can experience digitalisation in the brewing process first-hand. The system is highly flexible. It can be used to -reproduce a wide range of internationally deployed brewing methods. Customers from all over the world work with Krones at Steinecker Brew Center on testing new technologies, produce special beers and train employees – an invaluable service.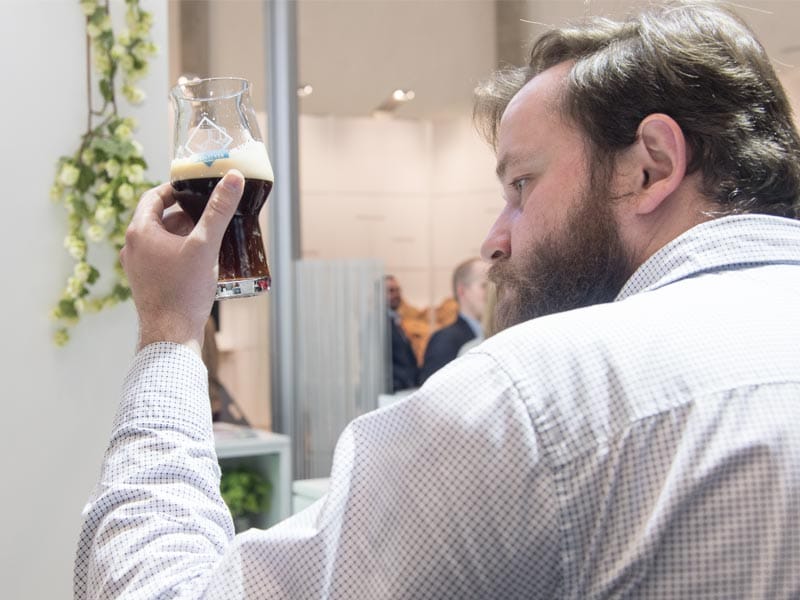 Expanding training capacity at Krones
Krones invests heavily in infrastructure at -existing locations in order to exploit growth opportunities in our market. At our headquarters in Neutraubling, for example, we are investing some €5 million in the expansion of the Krones Academy. The Academy keeps customers and our workforce up to date with the latest technology.
To serve the North America region better than ever, we continue to develop our US subsidiary Krones Inc. The company is currently building a 3,700 square metre training and technology centre straight across the road from its headquarters in Franklin, Wisconsin. The new centre includes training rooms for customers and employees together with plastics laboratories.
New development and design building for Konplan
Konplan has provided engineering services since 2007, focusing on mechanical and electrical design, software development and rollout. The company has a philosophy of providing a modern working environment with plenty of scope for creativity, and professional development for employees.
As part of ongoing activities for this purpose, Konplan is now constructing a new development and design building in the immediate vicinity of the University of West Bohemia, Pilsen, Czech Republic.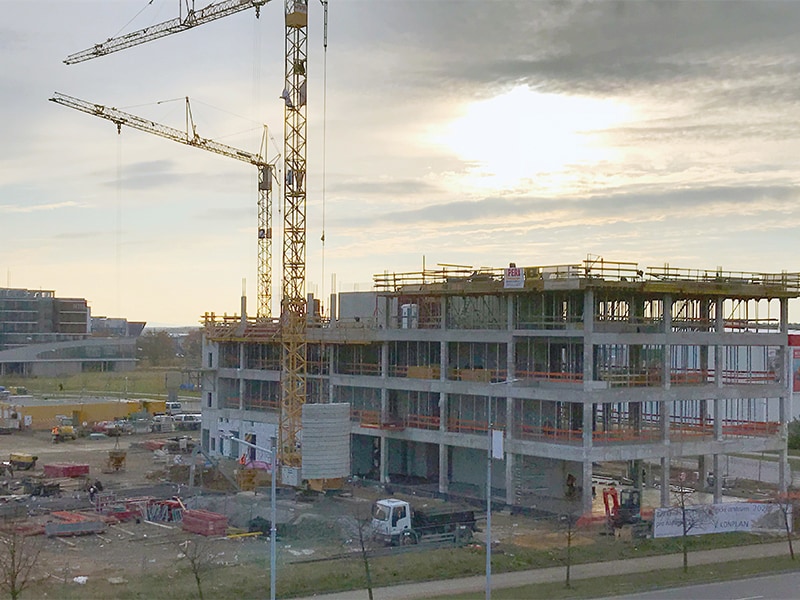 Sprinkman acquisition strengthens Krones in US process technology
In process technology, a local presence with proximity to customer projects is a key success factor. Krones made a substantial addition to its process technology business in North America with the -acquisition of US-based W.M. Sprinkman in 2018. Sprinkman's 125-strong workforce manufacture food and beverage processing equipment. The focus is on the dairy and brewing industries.
Krones' US acquisition has a broad customer base ranging from microbreweries to large multi-national food and beverage producers. Sprinkman is an ideal addition to our House of Krones product portfolio in North America. Together with our own activities and earlier acquisitions such as Trans-Market and Javlyn, Sprinkman plays a major part in enabling us to deliver customer projects in North America cost-efficiently, reliably and to Krones' accustomed high quality standards.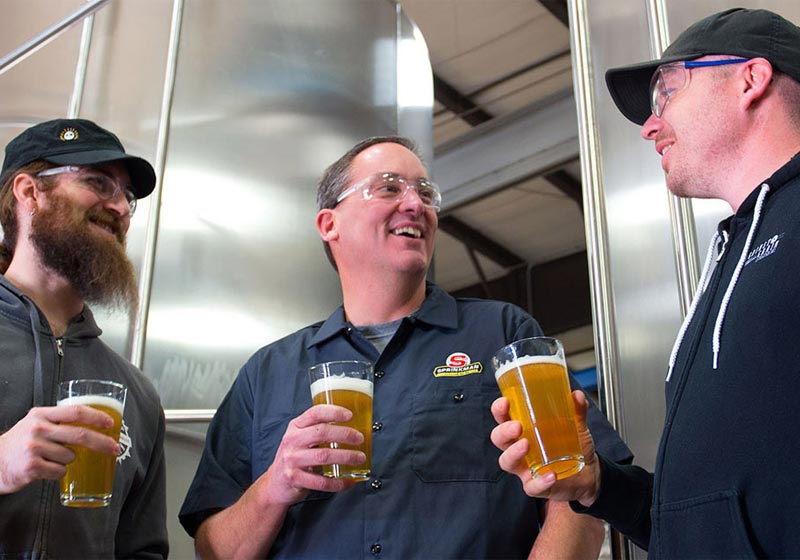 Major step forward for Krones in China
With effect from 1 September 2018, Krones acquired the business activities and assets of Shanghai Xiantong Equipment Installation. We have been fabricating and installing process technology equipment together with Xiantong for 20 years. Among other things, Xiantong fabricated and assembled the first MicroCube compact brewhouse. For Krones, the acquisition of this longstanding partner was a logical step in its internationalization strategy for the process technology business.
In consequence, Krones now has a production location of its own for brewery equipment and other process technology products in China. The acquisition supports Krones in serving the growing demand for customer-specific solutions. With a total workforce of some 170 employees, we are now able to cover the entire value chain locally, from -engineering and fabrication to installation and commissioning.
Krones now has a base in the south of Shanghai.
New dairy draws on wide range of Krones capabilities
TINE SA is Norway's biggest producer and exporter of dairy products. The company has over 30 production locations across Norway. Krones secured the contract to design and supply the entire process technology for a new dairy. The factory in Bergen will produce fresh milk, cream and fruit juices. It is dimensioned for an average throughput of 150,000 litres of fresh milk per day.
Milkron, a Krones subsidiary, is the vendor -responsible for supplying the technology, which includes all systems from milk reception and -treatment to storage of the finished products and supplying fillers. Krones is also providing the dairy's energy supply. State-of-the-art technologies like heat pumps make for highly energy-efficient dairy operation The dairy's entire control equipment is being handled by Krones subsidiary Syskron. In this way, the customer benefits from a team effort involving multiple Krones units.
First Tech Day a resounding success
Krones subsidiary Syskron staged its first Tech Day in Munich at the end of June. Some 100 guests from the beverage and IT industries took up the invitation and were richly rewarded with new input on topics such as value chain digitalisation, artificial intelligence and cloud security. Participants attended practice-focused presentations by experts in their field.
The main focus of the Tech Day, however, is as an opportunity for everyone to exchange views. We aim to bring together specialists from the beverage and IT industries to collectively address the challenges of digitalisation. With this successful kick-off event, Syskron has taken the first step towards building a tech community. We will continue to build and extend this network in the years ahead.
Direct printing under a single roof
Digital direct printing has huge potential. It has the great advantage of being far more flexible than conventional labelling techniques. With small batches especially, direct printing is much more economical than, say, paper labels. Using digital printing, each individual bottle can feature a different design. Krones has already invested heavily and attained initial successes with the technology.
In 2014, we took a majority stake in digital printing technology provider Till. We have acquired the -remaining ownership interests in 2018. To further enhance our impact in digital direct printing, Krones has brought its entire digital printing -activities under Till and renamed the company Dekron GmbH. Dekron now combines, under a -single roof, the -largest pool of expertise in digital printing technology in the industry.
Side by side with global partners at Hanover Industrial Fair
April saw Krones at Hanover Industrial Fair, the global hotspot for Industry 4.0. Rather than on a booth of our own, we presented Krones in partnership with digitalisation pioneers Amazon and SAP. The centrepiece of the booth presented by software giant SAP was Bottling on Demand, a proof of concept study by Krones. Based on this digitalised and highly flexible solution, Krones and SAP jointly demonstrated what the future could look like for the beverage industry: profitable production with a batch size of just one single unit.
The Amazon Web Services (AWS) booth featured Syskron X, with our subsidiary Syskron presenting its ReadyKit product. Using ReadyKit, machines can be linked into a central data acquisition system, thus laying the basis for digital processes such as predictive maintenance. The presentation at the AWS trade fair booth was a great opportunity for Syskron X to show this innovative solution to a large audience.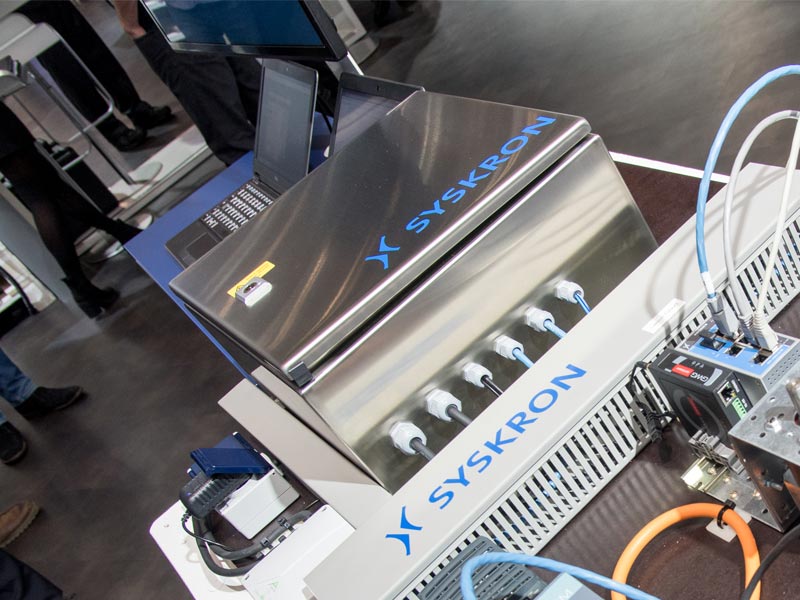 Operating sustainably and delivering on our corporate social responsibility have always been very important to Krones. Our customers, too, aim to produce cost-efficiently while setting themselves demanding sustainability targets, which our high-quality, sustainable machines and services -enable them to attain this even more rapidly and -effectively.
Krones made the decision to introduce the enviro sustainability programme as early as 2008. This puts the spotlight on the eco-efficiency of the Krones product portfolio. A TÜV SÜD-certified management system, enviro is an integral part of the product development process at Krones. It is this which enables us to meet our own ambition of providing the food and beverage industry with trail-blazing technology for year upon year of high-output yet resource-efficient production.