The MosMedynagroprom plant in Medyn near Kaluga, Russia, was built ten years ago to supply schools in Moscow with UHT milk and cheese, but it never reached capacity. EkoNiva took over the plant in 2017 and has been updating its technology and hygiene to the latest state of the art. "The plant originally produced up to 90 percent of its output volume as UHT milk products. Now we are switching production over to a traditional range of pasteurized products: milk, fermented dairy products, cottage cheese, yoghurt smoothies," explains Vadim Shevelev, project manager for EkoNiva.
Please activate JavaScript to play this video.
To do that, the company first dismantled one of the plant's three carton filling lines, replacing it with the new Krones PET line. It also installed a line for filling into a different type of laminated paperboard packaging. "This combination, especially with the PET line, enables us to increase the plant's capacity to 300 metric tons of raw milk per day," explains Vadim Shevelev.
The new Krones line for non-returnable PET containers fills milk into 1.0-liter PET bottles and yoghurt drinks into 0.3-liter PET containers. It runs 12,000 containers per hour, and consists of the following components:
From farmer to processor
German-born Stefan Dürr is the owner of EkoNiva, one of the most successful raw milk producers in Russia – and thus perhaps the country's best-known farmer. When he first visited Russia in 1989 as an intern while studying agricultural sciences at the German University of Bayreuth, he could hardly have imagined that 30 years later he and his company EkoNiva would be the nation's leading milk producer.
Today, his company employs 11,400 people and is Russia's leading dairy farming operation with 72,000 dairy cows. EkoNiva produces 1,850 metric tons of raw milk each day, making the company Russia's number one producer of raw milk and putting it among the top 10 worldwide.
Krones magazine met with EkoNiva's German-Russian founder, majority shareholder, and president, Stephan Dürr, in Moscow.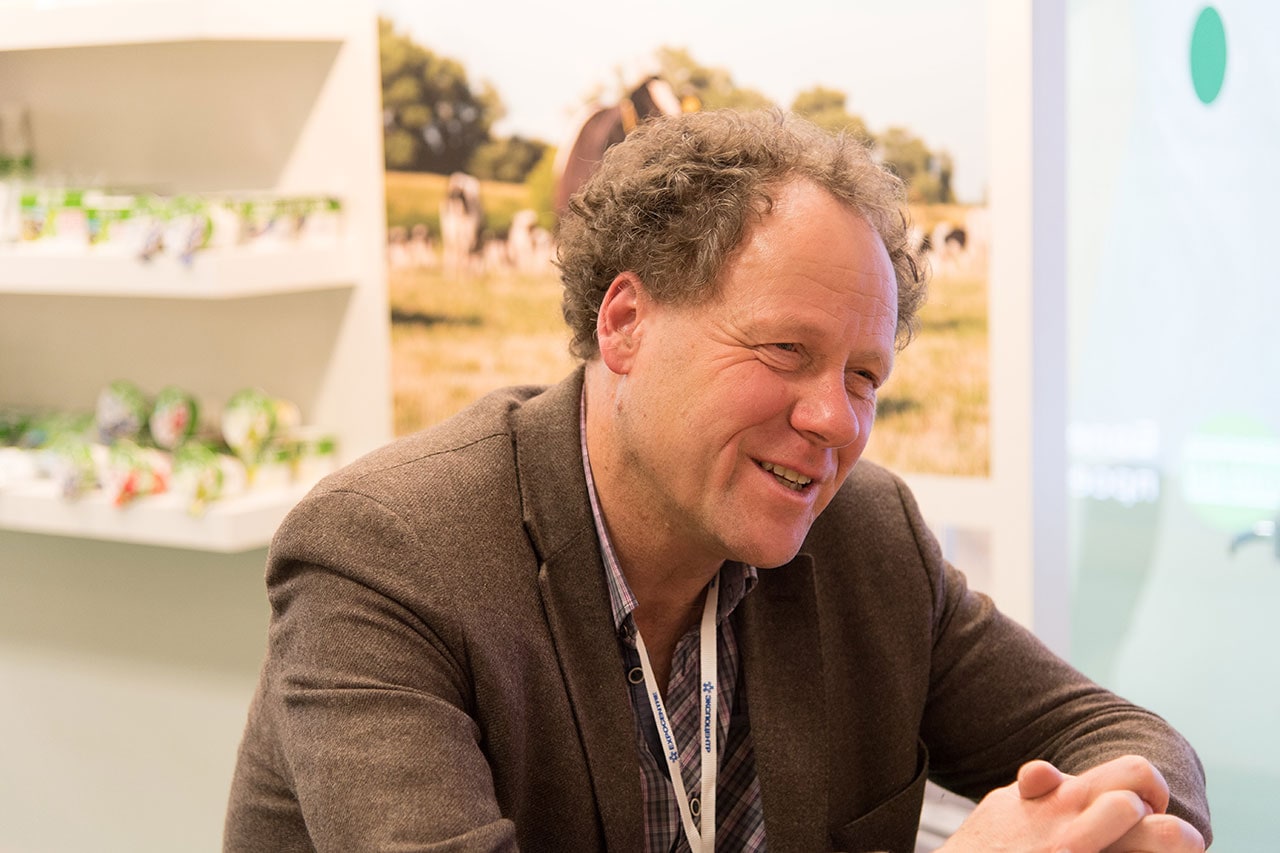 Your company started processing its own milk on a small scale back in 2013. And now you want to take it to the next level?
Yes. Right now, we are making dairy products from about ten percent of our raw milk. Our goal is to eventually process all of the milk we produce. We believe that will enable us to generate more value on our raw milk and produce truly natural, high-quality dairy products.
How do you plan to get there?
First, in 2013 and 2016, we built two dairies in Novosibirsk und Voronezh for 10 and 30 metric tons per day. In 2017, we took over two existing dairy operations: in Anninsky in the Voronezh region with a capacity of 320 metric tons per day and another one in Medyn in the Kaluga region with a capacity of 300 metric tons per day. We are currently building a new plant in the Novosibirsk region that will be able to process more than 1,150 tons of raw milk daily. Two more dairies – near Moscow and Voronezh – are in the planning stages.
How do you market your products?
We launched our own dairy brand, EkoNiva, at the end of 2018. We currently sell over 25 different products under that brand, from milk to kefir to sweet and sour cream, butter, cottage cheese, yoghurt with fruit added, and functional foods like yoghurt smoothies with less sugar and added protein. Right now, we produce them in our three plants in Kaluga and Voronezh, which have a combined daily capacity of 650 metric tons of raw milk.
We started marketing our products in the greater Moscow area, which has a population of around 30 million people, and in the Voronezh region. We plan to expand distribution across all of Russia. Five years from now, we want EkoNiva to be the leading dairy and cheese brand in Russia in terms of both quality and quantity.
Do your plans extend beyond Russia's borders?
They do. In 2019, we became one of ten Russian dairies to be granted export licenses for China. By the end of this year, we will start shipping shelf-stable products like UHT milk and cheeses to China. Our easternmost neighbor offers huge potential for sales.
What role do PET containers play in marketing dairy products in Russia?
I personally prefer cartons for milk. But consumers have the last word, and my marketing people have convinced me that PET containers are the way of the future in milk. So, that's where we're going. PET is extremely popular in Russia. Sales are higher on products packaged in PET, even though prices are different. PET containers are convenient for consumers. They're easy to put in the refrigerator. They feel good in the hand, and you can see what's inside – Russian consumers like to see what they're buying. We plan to bottle not only milk but also kefir, yoghurt smoothies, and another product that I won't reveal just yet in PET containers.
You have put your first PET line from Krones into operation. What made you choose Krones?
I was not personally involved in the decision-making. My technology people wanted the best technology, and my finance team wanted the cheapest deal. In the end, the technology folks won and they chose Krones.
Are you happy with their choice?
Our first order with Krones went very well. I heard no complaints, and that is always a good sign. It means everything is going as it should. And I think things will continue to go well in the future. We have big plans, and I am certain that our partnership with Krones will be a good and lasting one.
---
Selected machines and solutions