Pepsi Bottling Ventures (PBV) is the largest privately held bottler of PepsiCo products in North America. It is a joint venture owned by PepsiCo and Suntory. As Sabri Kundakcioglu, Vice President of Engineering, explains, the company's membership in the Japanese Suntory Group means that it also follows the group's philosophy: "Our corporate vision statement is 'Mizu To Ikiru', which literally translates to 'bringing water to life'. It is meant to remind us that water is the source of all life on Earth. Water is also the most essential ingredient in all of our products, and therefore crucial to a successful, sustainable business."
Please activate JavaScript to play this video.
A year ago, PBV was still using its WOW (Western Optimized Warehouse) plant in Winston-Salem, North Carolina, exclusively as a warehouse and distribution center. The company then decided to dedicate part of the factory space to a new water bottling line. "Aquafina is one of our most popular and fastest-growing brands. So a couple of years ago we ran into the problem that demand was exceeding capacities at our manufacturing plant," explains Sabri Kundakcioglu – and he had very specific expectations of the new line's performance: "We wanted equipment that would deliver sustainability, productivity, and quality."
PBV found what they were looking for in Krones – the ErgoBloc L checked all those boxes. "The combination of a stretch blow-molder, labeler, and filler has a smaller footprint than other line designs and requires less energy, water, and people to operate. Features like mass flow metered filling, sophisticated quality inspection, smooth bottle transfer, and soft case handling with robotic palletizing protect the brand and customer satisfaction," says Sabri about the benefits of the line as a whole.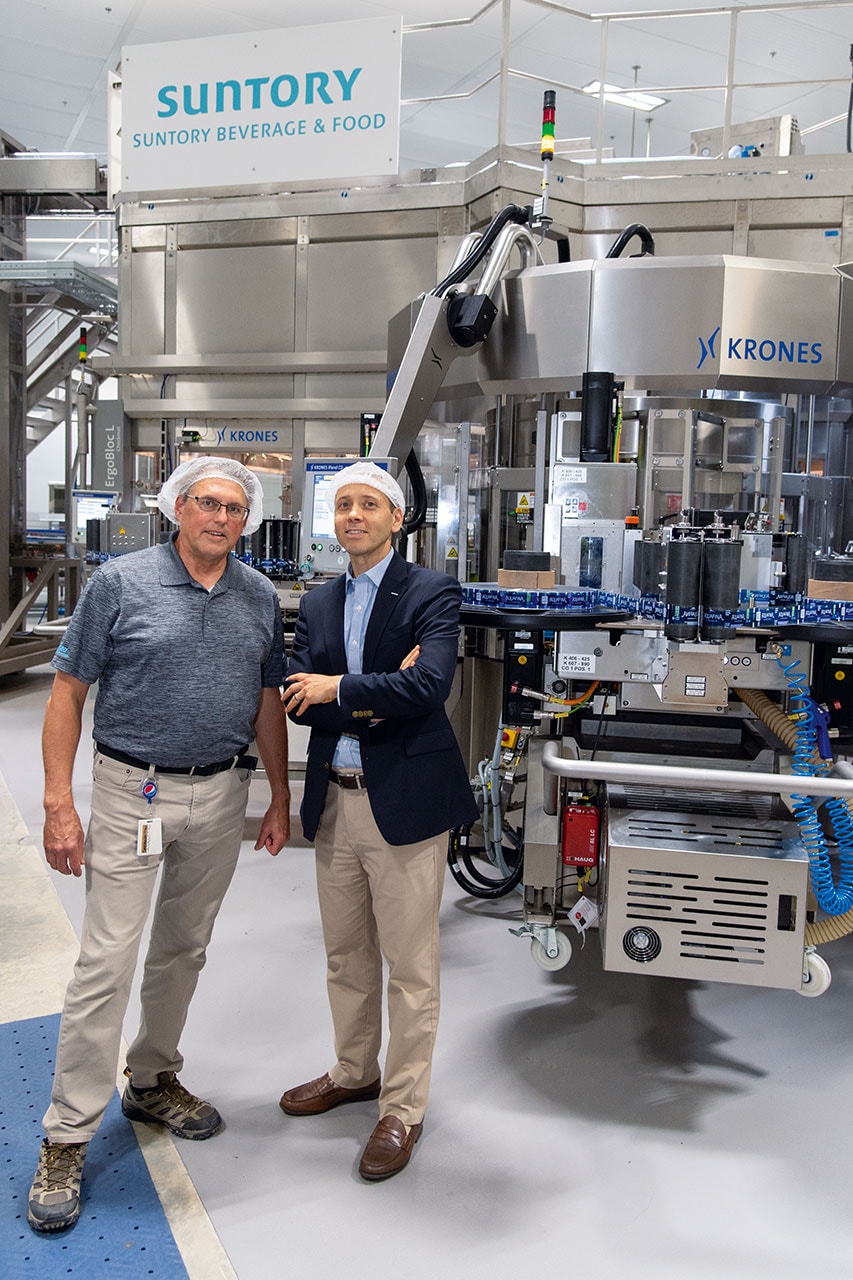 Fewer operators, more efficiency
Dale Stein, Production Engineering Manager, is particularly pleased with the consistent, reliable production flows: "The layout and the way the individual machines work together make it possible for a single employee to operate and monitor all of the systems, from stretch blow-molding to packing. And if there is a hiccup somewhere along the line, we have enough accumulation to be able to quickly troubleshoot that machine without stopping the entire line."
After the PET bottles are produced, labeled, and filled in the ErgoBloc L, they are transferred to a Variopac Pro packer, where they are combined into shrink packs of 24 or 32 bottles each. The cases then leave the separate production area. The Robobox grouping system and the Modulpal 2A palletizer are both located in the main bay of the factory, adjacent to the warehouse, so that the full pallets can be readied for delivery by Laser Guided Vehicles.
Long-standing partnership
Krones has been a dependable partner to Pepsi Bottling Ventures for many years. As Sabri tells it, "The relationship between the two companies is similar to two connected gears that fit and work well together. It's based on confidence, credibility, and mutual benefits. When Pepsi Bottling Ventures converted to self-manufacturing PET bottles in 2011, we were the first ones using Krones' third-generation Contiform blow-molders. When mass-flow meters became available and affordable for filler valves, we were the first ones for Krones in the US."
And PBV is leading the way once again, collaborating with Syskron to develop and implement a predictive maintenance system for the new line. "It was an important initiative toward building a smarter, digitalized factory," says Sabri. "Predictive maintenance is the new paradigm. We try to predict when a failure may occur, and take action to prevent it. We expect to reduce unscheduled downtime and further increase OEE (overall equipment effectiveness) and line efficiency."
The relationship between Pepsi Bottling Ventures and Krones is similar to two connected gears that fit and work well together.
Sabri Kundakcioglu
First turnkey project in the company's history
The new line with an ErgoBloc L was another first for Pepsi Bottling Ventures. "Krones is the first supplier with which we have done a turnkey project," says Dale. "All in all, it went very smoothly. Of course, there were a lot of meetings and discussions, but in the end it went really well. The entire Krones team is very supportive. They've always worked well with us, and someone was always immediately available when we had issues. That's a big part of a partnership." Sabri also appreciates Krones' support: "On a project like this, good project management, after-sales support, service, and communication are crucial. We appreciate the efforts of the Krones teams in the US and Germany to meet our demands and exceed our expectations."
Pepsi Bottling Ventures has very concrete goals for the future as well: "With PepsiCo and Suntory, we have the backing of two very strong parent companies that will drive continued innovation and growth. New product categories and our own strategies around environmental sustainability will break the old ways of bottling and packaging. We will see more automation, more robotics, and more digitalization across our industry," says Sabri. "Companies have to invest in technologies in order to be able to respond to trends and ultimately succeed on the markets."
Krones is the first supplier with which we have done a turnkey project.
Dale Stein
New rinser-filler block
Besides the WOW plant, PBV has a second production site in Winston-Salem for a variety of PepsiCo brands. In 2017, the company decided to replace a 37-year-old filler with a new rinser-filler block from Krones. The company's aims were clear: "The old machine was the bottleneck on this line. Replacement parts were no longer available and the quality of containers produced on the line didn't meet our expectations," explains Plant Engineer Tim Gartley. "For the new filler, we wanted a machine that would not only deliver impeccable quality but also significantly reduce energy and CO2 consumption and help us lift the line's efficiency."
If we compare the new figures against the old, it is clear that the rinser-filler block from Krones was a worthwhile investment.
Filling temperature: 58 degrees Fahrenheit (previously 34)
Energy consumption: 14.5 amperes (previously 37.5)
OEE: 96.9 percent (previously 82.8)
Filler yield: 99.8 percent (previously 98.1)
---
Selected machines and solutions