The versatile one among the direct printing systems
Product decoration in the digital age
Please activate JavaScript to play this video.
Digital direct print provides you with completely new opportunities to excite your consumers. Unlike as with conventional labels, direct print allows you to systematically apply reliefs and structures in order to create striking combinations of optics and feel. Sounds like a great production effort? Absolutely not! With the Dekron all-around package, you start by simply pressing a button: just select the artwork you want, print just in time, and presto -your wow effect is ready.
At a glance
For specially shaped containers and cylindrical containers
Substrates: PET, HDPE, glass
Brilliant colours in the CMYK colour space
Output ranging from 5,000 to 36,000 containers per hour
Print area on the container:

Front and back side on specially-shaped containers
360-degree printing on cylindrical containers
Structured surfaces
Areas which cannot be labelled
Printing height of up to 205 millimetres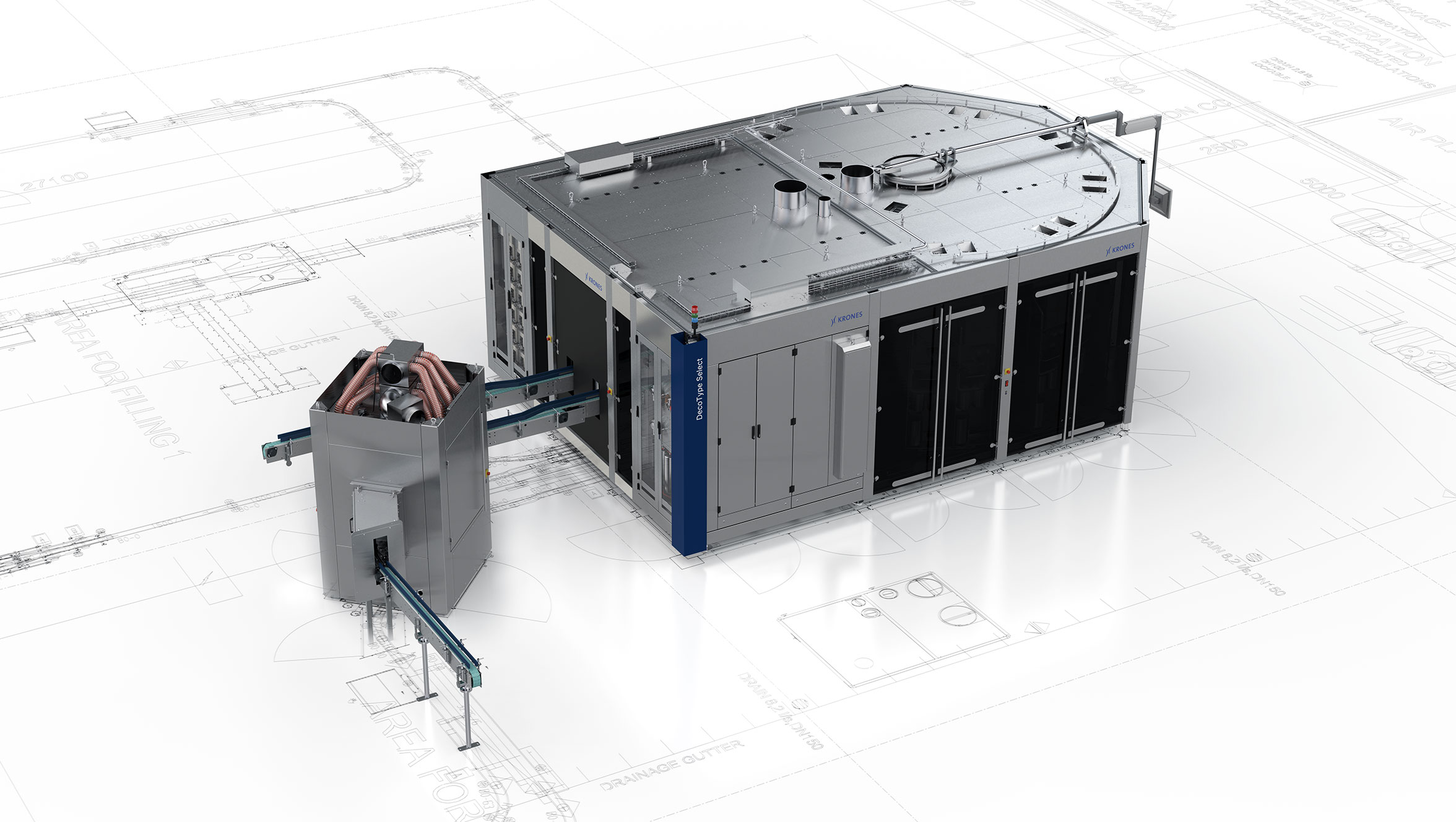 Download brochure Dekron DecoType Select
2,18 MB, .pdf
Why go for direct print? There are three good reasons!
Reason number 1: Innovative packaging designs
Printing onto grooves and raised spots
Targeted decoration of embossings or debossings
Creating exciting 3D-effects
Merging optics and feel to a multi-sensory experience
Realising individual artwork
Reason number 2: More production flexibility
No purchase or storing of labels
Just-in-time production of the container decoration

Economic production of small batches
Immediate reaction to changes on the market
Very fast time to market
Quick implementation of special editions
Easy testing of new design ideas and packaging variants
Reason number 3: Increased options for container decoration
Tolerant printing height of up to 205 mm
Personalised and localised products
Implementation of interactive elements

QR codes
Social media
Augmented reality
The design: machine layout

Benefits to you
Innovative packaging for your products
Contrary to conventional labels, the targeted application of the direct print grooved and relief structures is possible. This provides entirely new chances for consumer products which make them stand out from the mass of competitive products.
Large decoration surface
Even with very complex designs, the printing height of 205 millimetres leaves much space for a lot of text information on the packaging.
Easy start
In addition to machine and colour, the Dekron all-around package also includes set-up of the entire work flow on site. This way, you can use the new technology immediately and profitably –at the push of a button and in all its facets.
Less logistics, more flexibility
No labels, no stock keeping: DecoType Select creates the decoration directly at the line, and during the production process it is adjusted within seconds to the new artwork.
High OEE at small batches
Due to just-in-time production of the artwork, small batches can be produced flexibly and economically –for example, for testing different design variants on the market or to individualise your packaging.