Mike Stevens and Dave Engbers found that their day jobs left them dissatisfied, so the two home brewers decided to turn their pipe dream of brewing beer for a living into a reality.
Mike Stevens and Dave Engbers found that their day jobs left them dissatisfied, so the two home brewers decided to turn their pipe dream of brewing beer for a living into a reality. In 1997, they formed Founders Brewing Company in Grand Rapids, Michigan. The business got off to a rather rocky start, but today, 15 years later, the brewery is standing firmly on its own two feet. In 2011, Founders increased its capacity, starting with a new Krones bottling line, then by expanding its fermentation and storage cellars, and finally by installing, in the autumn of 2011, America 's first Steinecker CombiCube B brewhouse. This brought Founders closer to meeting the ever-growing demand for their beers, but they have plenty more initiatives up their sleeves: they are in the planning stages of expanding this modularised brewhouse.
Please activate JavaScript to play this video.
We don't brew beer for the masses. Instead, our beers are crafted for a chosen few, a small cadre of renegades and rebels who enjoy a beer that pushes the limits of what is commonly accepted as taste. In short, we make beer for people like us." This is how Founders Brewing Company confidently describes its philosophy of brewing. The "Founders Family", as the around 100-strong workforce have dubbed themselves, is a group of passionate beer buffs, with quite a few musicians on the staff. With its approximately 15 regularly packaged unfiltered beer varieties, Founders Brewing Company is one of the most popular craft breweries in the United States, repeatedly winning medals at national competitions.
The two founders recruited Alec Mull as Director of Brewing Operations. Alec had already clocked up ten years of experience in the brewpub and the micro brewery segment, including time as the chief-brewer at Bell's Brewery in Kalamazoo, where he'd been working with a Steinecker brewhouse. His primary responsibility at Founders was to progress technical expansion, because, you see, demand had really started to pick up. In 2009, Founders' output came to 13,000 hectolitres (11,000 barrels), it rose to 24,000 hectolitres (20,000 barrels) in 2010 and climbed to 52,000 hectolitres (43,000 barrels) in 2011.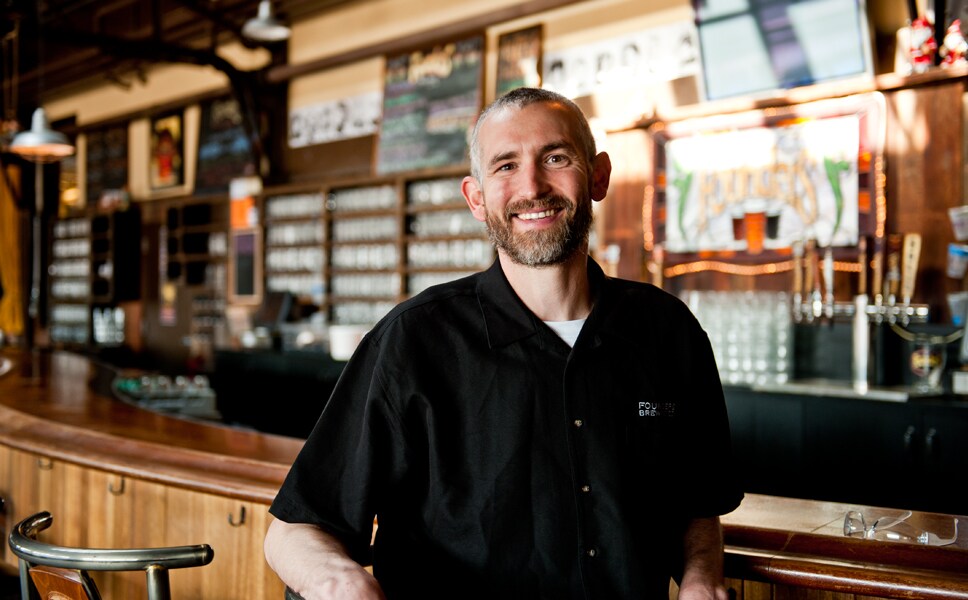 Pneumatic short-tube filler was "the biggest quality enhancement for Founders"
In early 2011, Founders modernized its filling operation and its fermentation and storage cellars. For bottling its beers, the brewery had until then been using a small filler from a German manufacturer with nine valves, a long-tube filler without pre-evacuation—not the optimum tool for bottling beer with a low oxygen pick-up. The oxygen content of the bottled beers was running at 0.5 to one milligram per litre, though this is a relatively normal figure for craft breweries. Founders opted for a pneumatic Mecafill VKPV filler from Krones with 32 valves, a short-tube filler with double pre-evacuation. Alec Mull was reluctant to have a pneumatic filler for a while because he wanted to stick with the mechanical variant: "I was nervous at first, but I was eventually persuaded by Krones. Now, though, I'm a fan. This investment was the biggest quality enhancement for Founders…The filler has been running just fine since February 2011. The biggest advantage is that we no longer have to worry about the quality of the bottled beers. An oxygen content of 0.35 milligrams per litre is good, but we're achieving 0.1 milligrams per litre. This extends the shelf-life from its previous five or six months to one year now and helps us to expand our market." So far, Founders' beers are being distributed in 23 states of the U.S., mainly in the midwest and on the east coast. From here, the craft brewery is looking to fill in holes in its current footprint as well as expand markets into the southern and western states in the U.S..
CombiCube B: three vessels for the brewing process
The second major expansion step for the brewery was to install the first CombiCube B brewhouse on American soil. Founders was brewing in an older brewhouse with a cast wort quantity of 36 hectolitres (30 barrels), which produced three to four brews a day – not enough for achieving the 90,000 hectolitres (75,000 barrels) output targeted for 2012. That's why, in August 2011, installation work began on the new CombiCube B brewhouse, which was completed just six short weeks later. In the first week of October, the first brew was completed. The vessels feature technological developments already familiar from the large-size vessels designed by Steinecker. CombiCube B for breweries with an output of 40 to 100 hectolitres of cast wort – this design advance at Krones means that mid-tier breweries, too, can now benefit from "technology made by Steinecker". Crucial factors shaping this newly developed brewhouse were the requirements posed by small and mid-tier breweries, such as one-person operation, or non-continuous production rhythms, plus the need to be able to cover demand peaks during the main season effortlessly.
Founders' staff are musicians
The brewery even has a band of its own: "The FBC All-Stars," whose members all work for the company, like the lead guitarist and Head Brewer Jeremy Kosmicki, who discovered his love of beer as a home brewer, continued educating himself on his own time, and has now been with Founders for twelve years. Almost all the staff are committed musicians. "The craft brewers in the U.S. are very passionate about their products. This attracts creative people, like musicians, for instance", Alec Mull explains.
"The craft brewing scene in the U.S. is flourishing vigorously and is still growing," he adds. "In America, there's a movement towards tastier foods and beverages, and a more diversified choice. It's consumer wishes like these that the craft breweries meet, by firstly producing top-quality beers and secondly always searching for something new. Craft brewing in America stands for quality and creativity."
---
Selected machines and solutions