Since Coca-Cola HBC Polska's Radzymin plant fills two products with an entirely different dress configuration on a single line, the company is one of the first beverage bottlers to use a high-speed block comprising both a sleeving labeller and a wrap-around labeller.
In Radzymin, the largest of Coca-Cola HBC Polska's three facilities, six bottling lines are up and running, producing the entire Coca-Cola portfolio. Especially for making sensitive beverages without preservatives, two of these have been designed as aseptic lines, each rated at 36,000 containers an hour. One fills the isotonic sports-drink brand Powerade and – since the beginning of this year – the ready-to-drink tea Fuzetea.
The containers for Fuzetea are dressed in part-sleeves, and those for Powerade usually in full-length sleeves, also for special editions, like the World Cup, in wrap-around labels as well. This is why Krones has replaced the existing wrap-around labeller from another manufacturer with its own block solution comprising two machines – and this on the same footprint. The block consists of a Contiroll wrap-around labeller and a Sleevematic TS sleeving machine. "Changing over from one to the other system does not take longer than the time anyway required for product change-over," says Szymon Matulka, Country Engineering Manager Poland & Baltics.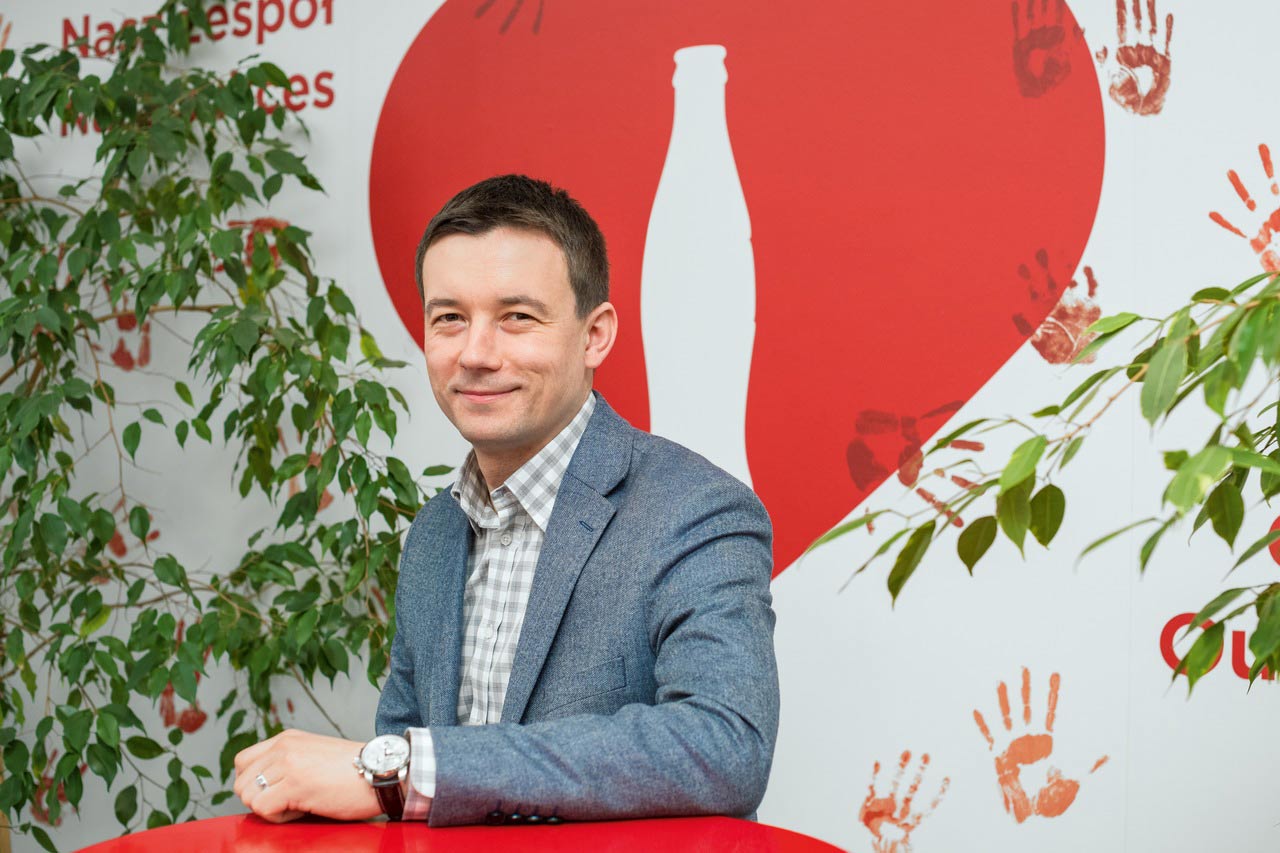 The "TS" in the Sleevematic's type designation stands for top speed – which is reflected in the fact that the system handles 36,000 containers per hour on just one unit. This is achieved by its entirely new type of processing: the labeller does not, as is customary, cut off the individual sleeves but provides the tubular film with a micro-perforation, and uses this to tear the sleeves off the film reel in a rotational ripping movement – independently of the format being handled. This means that in contrast to other sleeving machines the Sleevematic works in continuous, and not in intermittent (stop-and-go) mode.
Sleevematic also as stand-alone solution
The second aseptic line, a complete Krones line, fills the Cappy fruit juice, and likewise the Fuzetea RTD beverage. The line had already incorporated a Contiroll wrap-around labeller for dressing the Cappy containers. For dressing the Fuzetea containers in half-sleeves, Krones in late 2017 additionally installed a Sleevematic TS. But no block solution was required here, since firstly the line already incorporated a Krones Contiroll, and secondly more space was available, thanks to incorporation of an intermediate level. The sleeving technology used in the stand-alone machine does not differ from that in the block-synchronised machine, because both of them feature the same labelling station.
"We couldn't draw upon any previous experience with sleeving technology whatsoever," explains Szymon Matulka, "but we were very happy with CCHBC's decision to opt for Krones technology here – after all, the name of Krones is synonymous in the sector with excellent labellers. And this is what they turned out to be in daily operation. Despite the space constraints, machine installation was completed in two and three weeks respectively, with efficiency levels of over 99 per cent achieved in the acceptance test."
Meanwhile, the Radzymin Plant produces the tea beverage not only for Poland but for the Baltic countries, Slovakia and Czechia as well. "With our own brand Fuzetea, we are now independent, the container shape and dress are very attractive, and we're offering a multiplicity of different flavours," says a gratified Szymon Matulka, reflecting on the successful change-over. Happy End for the Fuzetea brand: during the first few weeks, Coca-Cola HBC Polska had already been able to produce comparatively more of Fuzetea on the Polish market than of the RTD brand produced previously.
The name of Krones is synonymous in the sector with excellent labellers.
Szymon Matulka
The orders kept coming
The first order was for a Krones water line in the Coca-Cola HBC Polska's Tylicz Plant, which started operation in 2005 and with which – according to Szymon Matulka – the company was "extremely satisfied".
In 2011, Coca-Cola HBC Polska replaced an existing labeller by a new one from Krones in Radzymin.
In 2012, the company installed a complete non-returnable-PET CSD line from Krones, rated at 36,000 containers an hour with reference to the 2.0-litre bottle.
So as to optimise goods flows, Coca-Cola HBC Polska in 2013 placed an order with Krones for converting and automating the existing warehouse in Radzymin. It now possesses 30,000 pallet slots on six levels, designed as a multi-deep system with twelve pallets in a row for a storage/retrieval capability of max. 350 pallets per hour. It was expanded from originally 150 to what are meanwhile more than 300 SKUs (Stock Keeping Units).
Likewise in 2014, Coca-Cola with Krones support relocated a complete aseptic line, rated at 36,000 0.5-litre containers an hour, from Coca-Cola HBC Schweiz AG to Radzymin.
In 2017, CCHBC opted for new high-speed sleeving labellers – two of them installed in Radzymin – so as to fill Fuzetea at its European facilities in future.
---
Selected machines and solutions