"When everybody is doing what he can do well, then it's good to join each person's contribution together, like in a jigsaw," says Father Johannes, cellarer and Managing Director of the monastic enterprise Ettaler Klosterbetriebe GmbH and the Benedictine Abbey Ettal.
Ettaler Klosterbrauerei and Krones joined forces to translate the new brewhouse into tangible reality. To suit their output, the monastic brewery installed a CombiCube compact brewery from Krones with a brew size of 25 hectolitres. And the targeted successes were not slow in coming, especially in regard to more flexible and more energy-economical brewing operations and improved taste stability.
Right in the heart of the Ammergau Alps, Bavaria's largest nature reserve, and nestling picturesquely between mountains, meadows and lakes, lies Ettal Abbey. Every year, around 500,000 guests visit the generously dimensioned monastic premises with their unique rococo basilica. In the associated Ettaler Klosterbrauerei, beer has been brewed for more than 400 years without any interruptions. And the present-day generation of Benedictine monks intend to keep up this tradition. "In order to succeed in today's era of concentration and surplus capacities in the brewing industry, it's important to find your niche – especially when you're one of the small players on the board. And even if we don't want to beat this kind of score: I mean, monastic breweries have for centuries been craft brewers in the truest sense of the word," says Father Johannes, the cellarer.
Overall package proved persuasive
With over 50 years under its belt, the old brewhouse had well and truly done its duty. The monastic brewery had obtained quotations for a new one from seven different manufacturers and in the final analysis opted for the CombiCube compact brewery from Krones.
The old two-vessel brewhouse from the 1960s had still been dimensioned for a brew size of 60 hectolitres, "and was therefore not flexible – we did not have an option for brewing smaller batches," says brewmaster Florian Huber. "What's more, brew quality was increasingly fluctuating, energy consumption horrific, and wear and tear was enormous." High time for a new system. "Krones' overall package, first and foremost technology and price, proved persuasive for us," explains Florian Huber. The abbey erected a glass-encased add-on for the new brewhouse, directly adjacent to the existing brewery in the middle of the abbey's grounds.
In Ettal itself, the monastic brewery fills about two-thirds of its production output in kegs. It leaves bottling (0.5-litre NRW bottles) to a regional contract-filling brewery. Special containers, like one-litre bottles, swing-stopper bottles and 5-litre cans for sale in the monastic shops are filled by the brewery's own staff manually.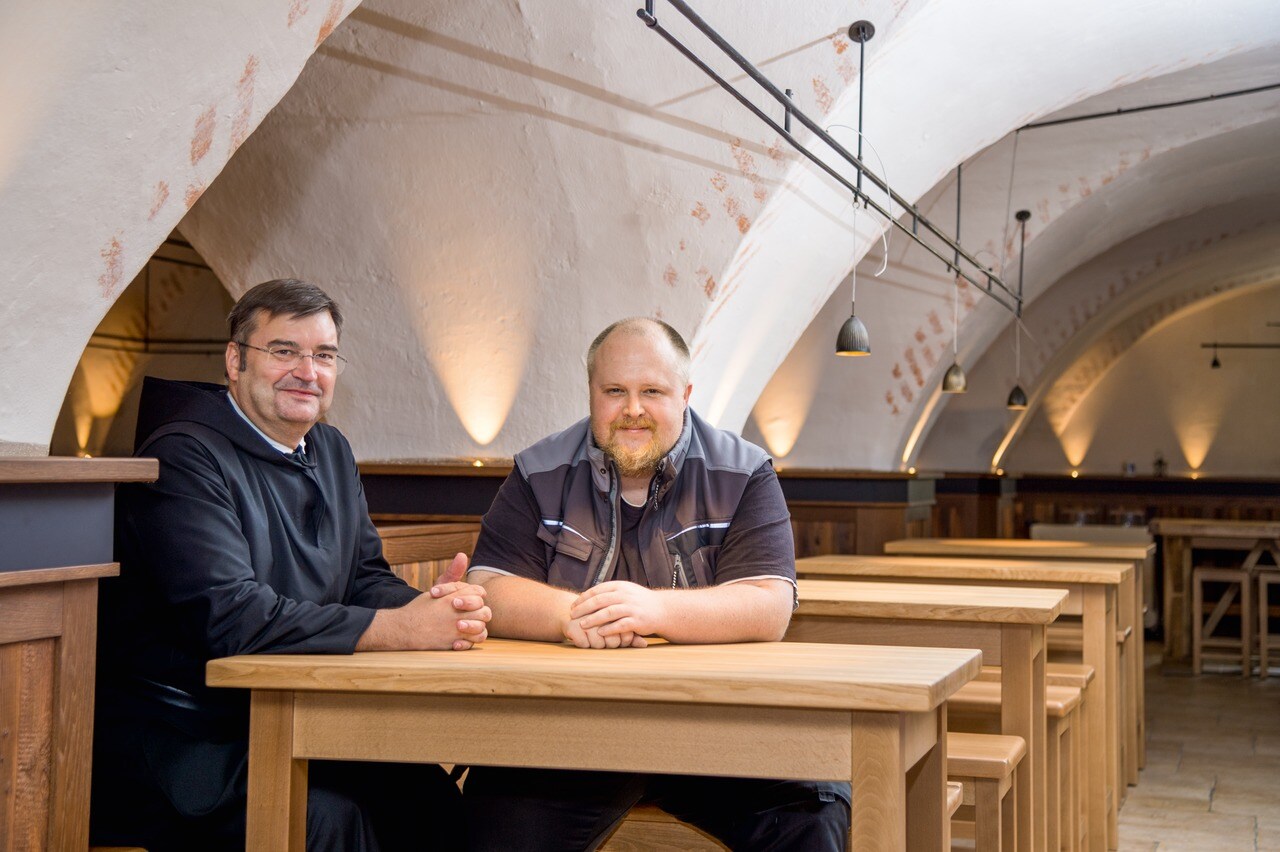 Two brews a day
What the brewmaster wanted for the new brewhouse were smaller brewing containers that nevertheless matched the sizes of the existing fermentation and storage tanks. It was for him to choose: either a two-vessel brewing line with an output of 30 hectolitres, or a three-vessel brewing line with only 20 hectolitres of brew size. He opted for the latter – however with a nominal batch size of 25 hectolitres. And: "For our pale beer, and the dark as well, the CombiCube also enables us to brew 30 hectolitres per brew without any problems. The false-floor loading in the lauter tun delivers that," explains Florian Huber. In normal operation, the monastic brewery produces two brews a day with one brewer. Thanks to the brewhouse being automated, the brewer can now, in addition to his supervisory tasks in the brewhouse, likewise look after other sections and help out with filling the casks, for instance. The first brew is produced automatically as early as four o'clock in the morning. With the CombiCube, a maximum of six brews a day is possible. "We would then achieve the same daily output as with the three 60-hectolitre brews of the old brewing line," calculates the brewmaster. This makes for a theoretical annual output of 50,000 hectolitres.
Simpler correction of the malting barley's quality
Using the CombiCube, however, has significantly enhanced flexibility levels. "If we want, we can produce a brew of just twelve hectolitres," emphasises the brewmaster. "Furthermore, we have a choice of either using the infusion or the decoction process, and depending on what's currently needed, we can employ one-mash, two-mash or three-mash decoction."
As far as fluctuating qualities of the raw materials are concerned, Florian Huber sees the CombiCube as highly advantageous. "The area used for growing malting barley is steadily decreasing. And if then bad weather hits the crops, this will show up in the quality," he explains. "With our relatively small brewhouse, we are in a position to correct the brewing barley's quality to a certain extent, by appropriately varying the mashing and boiling parameters involved."
Better brew quality, lower energy consumption
The improved brew quality is yet another important plus for him: "This can actually be quantified by means of the boiling parameters, like coagulable nitrogen, thermal stress or a higher yield, up by 2.5 per cent," says Florian Huber.
And one more advantage: the energy savings. The CombiCube has drastically reduced the evaporation rate, from its previous 14 to a mere four per cent. In addition, the vapour condenser installed recovers thermal energy. The overall result: energy consumption has been downsized by about nine kilowatt-hours per hectolitre, or by 40 per cent as compared to the previous figure.
A fantastic system
Florian Huber is downright enthusiastic: the Stromboli external boiler, he says, stands for a very gentle boiling process, the ShakesBeer mash kettle offers optimum breakdown – as evidenced by good iodine figures – and he has nothing but praise for the Pegasus lauter tun, calling it "sensational". This vessel, he says, is hard-wearing and the lautering principle employed a fantastic system, highly commended by fellow-brewers. Installation went "practically without a hitch". To quote the brewmaster: "Nice to have it, the CombiCube. It's a source of quite a few ideas for new types of beer."
"When the brewmaster is satisfied, then we are as well," adds Managing Director Father Johannes. "You see, the brewhouse is the heart of any brewery. We're very grateful that we can cooperate with Krones. I think that it was somehow virgin territory for Krones as well, operating in this order of magnitude. The monastic enterprises at Ettal now intend to further upgrade marketing activities for their beers while also spotlighting 'the glass-encased brewhouse' to better effect," says Father Johannes.
"Sometimes you only know what you were looking for when you've found it," is a slogan used by the Benediktiner Weissbräu GmbH company for advertising its wheat beer. This is presumptively what happened to the Ettaler Klosterbrauerei with its CombiCube.
---
Selected machines and solutions