The Petrópolis Group builds two new breweries in Brazil, with a capacity of twelve million hectolitres.
Grupo Petrópolis, Brazil's second-largest brewing conglomerate, with a market share of around twelve per cent and a production output of 16 million hectolitres, plus growth rates of 18 per cent (2011), has between 2013 and 2014 inaugurated two new complete breweries, each with a capacity of six million hectolitres and each including two filling lines. The first of these facilities is located in Alagoinhas near Salvador de Bahia, the second in Itapissuma near Recife. Both projects were identical in design, completed with a time offset of around eight months, and were each ordered in their entirety from Krones AG. With these new breweries, Grupo Petrópolis is causing quite a stir on Brazil's beer market. The company is privately owned by Walter Faria, who has been a client of Krones ever since 2001.
Please activate JavaScript to play this video.
The Petrópolis Group can look back on continuous growth in the past, and operates in the following segments: beer, alcoholic beverages and soft drinks. The group produces the Crystal, Lokal, Itaipava, Black Princess, Petra and Weltenburger beer brands, die two energy drinks TNT Energy Drink und Magneto, the isotonic drink Ironage, the vodkas Blue Spirit and Nordka, and the water brand Petra. It is represented in more than 20 of the country's states, with at least two distribution centres in each of them, either as an exclusive arrangement or involving third parties.
There are more than 22,000 people working in the six plants of the Petrópolis Group (Boituva, Petrópolis, Teresópolis, Rondonópolis, Alagoinhas and Itapissuma). The group operates eleven lines form Krones in all at these production facilities.
Long-standing partnership
The privately owned company has built the two new breweries, each with a capacity of six million hectolitres, in conjunction with Krones AG, who won the turnkey orders for the two facilities. "Our partnership with Krones has been flourishing for many years now, and we repeatedly opt for Krones, due to the firm's innovative vigour and the efficiency of its machines. In addition, the capabilities of the after-sales service are crucial," explains Walter Faria. The first of the two production facilities had already started operation in late July 2013 in Alagoinhas near Salvador de Bahia, following about a year of construction work. In the second brewery, 750 kilometres further north in Itapissuma near Recife in Pernambuco State, the first brew was run at the beginning of April 2014. So the group is expanding massively in the north of Brazil.
Leading-edge technology for the process kit
The process sections of the two new facilities in Alagoinhas and Itapissuma were designed to feature Steinecker's latest solutions for producing beer. Each of these brewing facilities has been dimensioned for a final capacity of six million hectolitres, which in the process section is achieved in each facility by two identical brewing lines arranged in parallel. The two brewing lines operate with high gravity at 18.5 degrees Plato, and produce 16 brews a day, each comprising 1,100 hectolitres of cold wort.
Returnable-glass line for 62,000 bottles per hour
Each of the breweries features a returnable-glass line rated at 62,000 bottles per hour, designed to handle three formats: 1.0 litres, 600 millilitres, and 300 millilitres at an agreed minimum efficiency of 90 per cent. Highlights here include the Lavatec bottle washer from the latest generation, with a minimised consumption of water and chemicals, plus two Solomodul labellers at each facility, equipped to handle different modes of labelling. For each of the labellers, a container inspection capability is provided, featuring a Checkmat FEM-G. The line also features a Checkmat FM-G container inspector downstream of the filler, an empties inspector, plus a Checkmat crate inspector. Besides the Mecafill VKP-V filler with its 176 filling valves, and the Lavatec bottle washer, the wet end likewise includes a pack cleaning machine and a SHIELD tunnel pasteuriser. In the dry end, the line features a Modulpal depalletiser. The crates of empties are then unpacked by a Smartpac.
Presorting the bottles
One of the line's most distinctive features is that the bottles are presorted by means of two Sekamat sorters, which are installed directly at the conveyor, and identify the passing bottles in non-contact mode against their individually specific criteria. This ensures that all foreign bottles are rejected.
128,000 cans per hour: Krones' fastest canning lines
Each of the two breweries has likewise been equipped with a canning line rated at 128,000 cans per hour, designed to handle four formats: 269 millilitres, 350 millilitres for 211-type cans, 350 millilitres for 201-type cans, and 473 millilitres. The minimum efficiency agreed for the acceptance test was 92 per cent. These are the fastest canning lines Krones has ever built, managing with just a single volumetric filler, a Volumetic VOC, combined with a Ferrum seamer. With the exception of the filler and the SHIELD tunnel pasteuriser all the other machines in the canning line are installed in pairs, so as to assure the high output of 128,000 cans per hour. The hygiene seals for the pull-tabs are applied by no fewer than three Taxomatic labellers. "Yes, we're very satisfied with the efficiency of the Krones lines," says Walter Faria. "Our efficiency levels are all within the range of the der global benchmarks."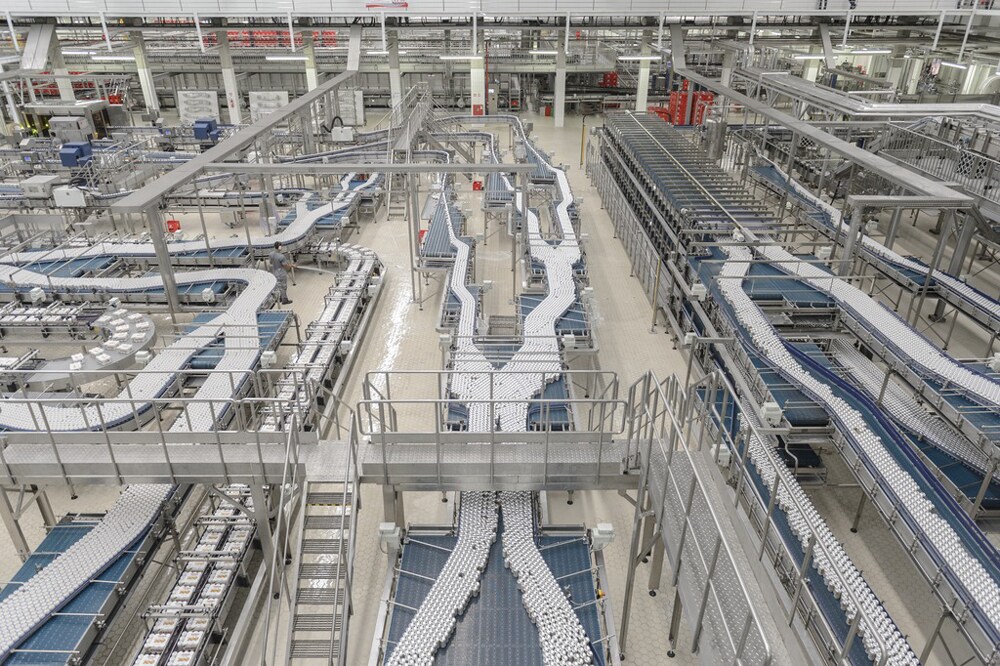 ---
Selected machines and solutions