Aseptics for mineral water and spritzers
The family-run company VILSA ranks among Germany's leading mineral water bottlers, and as such specifies maximised quality standards for its drinks. In order to meet these in its production operation, VILSA has now invested in a new filling line to handle primarily bottles made of 100 per cent recycled PET (rPET). And they've chosen to rely on aseptics technology from Krones.

The special feature here: The wet-aseptic line will in future fill the firm's portfolio of mineral waters and spritzers into bottles made of 100 per cent recycled PET (rPET). "We want to set new standards in our category as far as our natural-product philosophy is concerned. Here at VILSA, we place huge emphasis on top-quality drinks coupled with sustainable and resource-economical packaging solutions," to quote Henning Rodekohr, chairman of the management team at VILSA-BRUNNEN.
The Krones concept really won us over and is for us just another investment in our brands.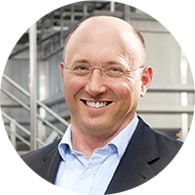 Henning RodekohrChairman of the management team at VILSA-BRUNNEN