What do you get when a mid-tier German dairy company, an international vendor of branded NFC juices (not-from-concentrate juices) and a regional fruit-juice producer enter into a cooperative alliance?
Under certain circumstances a new bottling plant – as indeed happened in the alliance comprising Gropper, Innocent and Dreher. In Stockach on the shores of Lake Constance, two Krones filling lines featuring the UltraClean process are now bottling the most upmarket of juices under maximally safe microbiological conditions.
Please activate JavaScript to play this video.
In Stockach, the Gropper dairy had in mid-2015 opened its second facility, which fills only NFC juices in PET containers. Two can-do alliances were instrumental in achieving this: one of them is a cooperative arrangement with the English vendor of smoothies and NFC juices, Innocent, and the second is with Dreher Spirit of Fruits, a company producing NFC juices, purees and concentrates in Stockach. Dreher has been a long-standing supplier of NFC juices for Gropper and Innocent.
Buoyant growth over recent years was the reason why Gropper had come up against the limits of its capacities at headquarters in Bissingen. The obvious option was to erect a new filling plant right next to the Dreher facility, one for whose operation Gropper bears sole responsibility – with Innocent as a long-term partner for contract-bottling, and with Dreher as the NFC-juice supplier right next door, so to speak.
In order to be able to offer the products in the right packaging for every target group, Gropper has purposefully expanded its technical capabilities in the Bissingen plant. In addition to the kit for filling a most varied range of tubs and gable-top cartons, it was primarily the PET lines that were upgraded.
In 2004, Gropper for the first time invested in a dry-aseptic line, most of it supplied by Krones.
In 2005, this was followed by the second PET line, for the first time including a four-colour aseptic weighing filler, and this time supplied by Krones in its entirety.
Subsequently, the company likewise installed a linear aseptic line for small containers.
In 2013, Gropper then commissioned a Krones aseptic line once again, this time featuring a volumetric filler with a four-colour capability in a PET-Asept D block.
Together with Krones, the dealer's-brands specialist at the same time also expanded its high-bay warehouse for refrigerated products.
Growth strategy in the NFC-juice segment
Despite having upsized its kit for NFC juices, just two short years later Gropper had again come up against the limits of its capacities. The second new facility in Stockach thus did not mean relocating the juice production operation from Bissingen, it was rather more of a complement.
The production operation in Stockach is focussed on cooperation with Innocent, a British producer of juices and smoothies. The plan is that in future Gropper will here be filling the vast majority of refrigerated NFC juices of the Innocent brand for continental Europe, but no smoothies. In Stockach, Gropper fills NFC juices for which cooling is mandatory not only in this strategic alliance but also for customers from the retailing trade. The fresh juices from Innocent, first and foremost NFC apple juices, but also various blends like apple-mango, apple-berry or apple-peach-pear juices, are delivered by the neighbour Dreher – through a pipeline.
Dreher has been Innocent's supplier of NFC apple juice for ten years. The blends are new additions to the delivery portfolio. Thanks to the short distance involved, heating up the juices a second time can now be dispensed with. That sort of flash pasteurisation had hitherto been necessary following tanker-truck transit. Meanwhile, the interface is located directly in the filling line. This is also the reason why Gropper does not need its own process technology for juices in Stockach.
Two filling lines featuring the UltraClean process
So Gropper had to build a bottling hall "merely" 2,500 square metres in size, plus an adjacent warehouse for coolants, raw, processing and operating materials. For this purpose, the newly founded company Gropper Fruchtsaft GmbH has invested around 30 million euros, 20 million euros of this in new machinery alone. The cold-storage warehouse, cooled down to three to six degrees Celsius and equipped with automated narrow-aisle forklift trucks, serves as a buffer store. The finished products are kept here for one to two days at most. This fast turnover rate, however, also increases the pressure on the filling operation to provide a sufficient number of packaged products at any given time.
For its filling operation, Gropper opted for two lines installed in parallel, each rated at 25,000 1.0-litre containers an hour, which are largely identical in their layouts.
"Top-down approach for that reassuring feeling"
Each of the lines features an identical Contiform Bloc, which in this configuration permits filling with the UltraClean process. This is the major difference as compared to the PET-Asept D block with H₂O₂ decontamination in use at the Bissingen plant. "I like Krones' top-down approach to the filling of sensitive beverages. It means that the aseptic machine is matched to the UltraClean process, and not the other way round. In the final analysis, we're running an aseptic line here, only it isn't called that, but it invariably gives us that reassuring feeling of being on the safe side", explains Berthold Burgmeier, Technical Manager at Gropper.
"When it came to dimensioning the Contiform stretch blow-moulder, Krones was performatively out in front. In contrast to one competitor, who intended to use 16 blow-moulding stations, Krones makes do with just twelve of these for an output of 25,000 containers an hour. This reduces not only the investment costs incurred for machine and moulds but also makes for substantially lower energy consumption," says Berthold Burgmeier.
After the square containers have been stretch-blow-moulded, they are orientated by magnetically spring-loaded fingers. This is necessary in order to ensure dependable closing of the containers later on. The Modulfill VFJ machine fills the products volumetrically in full-jet mode by means of an inductive flow meter, which is very product-friendly and guarantees a high degree of microbiological safety and accurate fill quantities. In order to ensure optimum protection for its kit, Gropper purchases lubricants from KIC Krones.
Minimised energy consumption data
Why did Gropper opt for a block configuration? Firstly because of its small footprint, and secondly in view of its low energy consumption. Moreover, it is easy to integrate the complex closer into the block.
"The labelling kit scored highly by virtue of its reproducible modularity and its small footprint," says Gerd Schanzenbach, Plant Manager in Stockach.
Gropper deploys three operators per shift for each of the two lines. "We had our operating staff trained by the Krones Academy in Neutraubling", explains Gerd Schanzenbach. The Plant Manager is above all delighted with the overall package provided: "What I found particularly fascinating was the installation of the line, which went like clockwork, thanks to the totally committed Krones staff. Needless to say, the machines' ultra-high degree of flexibility makes our daily work a whole lot easier."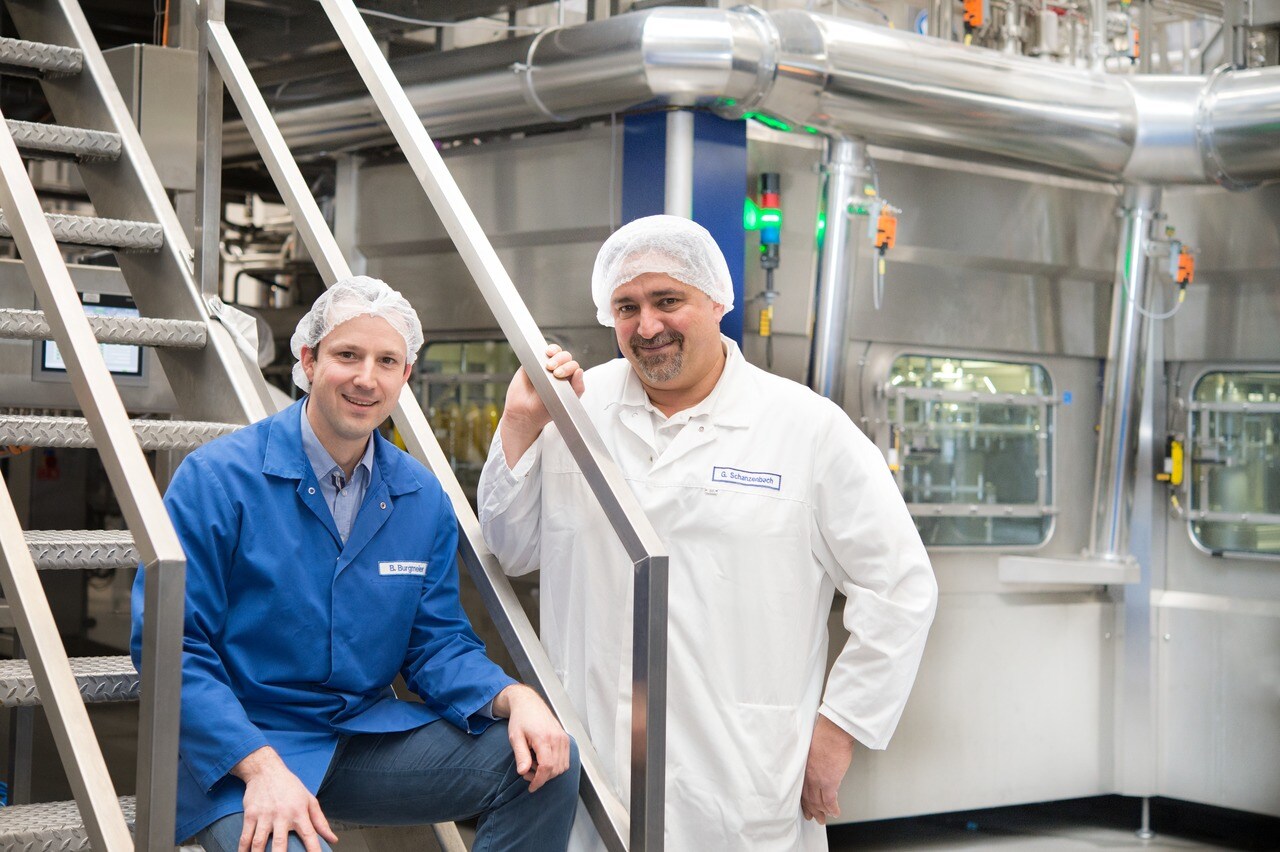 "What I found particularly fascinating was the installation of the line, which went like clockwork, thanks to the highly committed Krones staff."
Gerd Schanzenbach, Plant Manager at Gropper
And what proved particularly persuasive for Berthold Burgmeier? "Firstly, I definitely appreciate the innovative approach adopted for handling the complicated bottle and cap geometries we have to process. And secondly, the line's energy consumption data are the lowest on the market, being around ten per cent below those encountered with competitors' kit. And last but not least, in view of the long years of mutually supportive cooperation we've enjoyed so far with Krones, we had complete confidence that the line would be up and running right on schedule."
"The line's energy consumption data are the lowest on the market, around ten per cent below those encountered with competitors' kit."
Berthold Burgmeier, Technical Manager at Gropper
Contact person
Roland Scheuing
Krones AG
T: +49 9401 70-3958
E-Mail
---
Selected machines and solutions