The growth strategy pursued by the winery Zimmermann-Graeff & Müller (ZGM) also included an expansion of its logistical operations. The new intralogistical concept provides for a high-bay warehouse, so as to put in place the preconditions for merging the firm's filling operations – at present still running at two facilities – at its headquarters in Zell an der Mosel, thus turning ZGM into one of Germany's most efficient wineries.
"It has long since been our wish to safeguard the location on a long-term basis by merging the two facilities. The original plan was to build a conventional warehouse for this purpose. But we changed our mind in favour of a high-bay warehouse, because otherwise we would not have been able to achieve our goal of a fully automated supply to, and removal from, the production operation to optimum effect. The smaller footprint likewise advocated a high-bay warehouse," explains ZGM's Managing Director Dr. Tina Schiemann, who is responsible for production and logistics. "Here, Krones was our preferred partner, because we've been enjoying a very good relationship with them for years now."
What was also of crucial importance for the project as a whole was our wish to single-source everything, including the erection of the high-bay warehouse. And Krones was able to supply this together with its subsidiary Syskron.
Dr. Tina Schiemann
Comprehensive, holistically conceived solution
The new logistical solution at ZGM comprises all the operations for incoming and outgoing goods – i.e. everything from raw materials and supplies (RMS) right up to fulls storage and dispatch. The range of jobs Syskron was tasked with was complex indeed, and in the final analysis covered almost all the procedural sequences in the facilities at Zell and Kinheim, plus the external warehouses as well.
Incoming-goods reception for empties, closures, carton blanks, and finished products from other facilities
Feeding raw materials into the production operation, and transporting the finished goods to the high-bay warehouse and to the manually operated storage areas by means of automated guided vehicles and permanently installed conveyors
Managing the various manually operated block-type or bay-type warehouses and the fully automatic high-bay warehouse at the facility in Zell, order-picking using handheld devices
Printing and applying customer-specific labels
New intralogistical solution
Automated Guided Vehicles (AGVs)
The automatic high-bay warehouse comprises a total of 13 storage levels. The pallets are distributed two deep among the five storage-and-retrieval-unit aisles in a chaotic storage procedure.
The warehouses and storage areas are linked up to the production operation by means of pallet conveyors and a driverless transport system with six AGVs, which transport two pallets at a time. The two glass lines are the only exception here: these are in fact supplied with empties by the AGVs, but since they are very close to the storage area, their discharge zones are directly linked up by conveyors that take the pallets of fulls to the high-bay warehouse.
IT solution from Syskron
Syskron's IT system consists of the Warehouse Management System (WMS) and the Material Flow Computer (MFC). Both of these software applications have been developed in their entirety by Syskron in-house, using state-of-the-art software and database technologies. So as to guarantee a high level of quality for the software at a very early stage, all functions are tested in-house beforehand by means of emulation models, and validated by the client. The applications are completely modularised in structure, and can be individually combined, so as to achieve a maximum of functional stability and flexibility.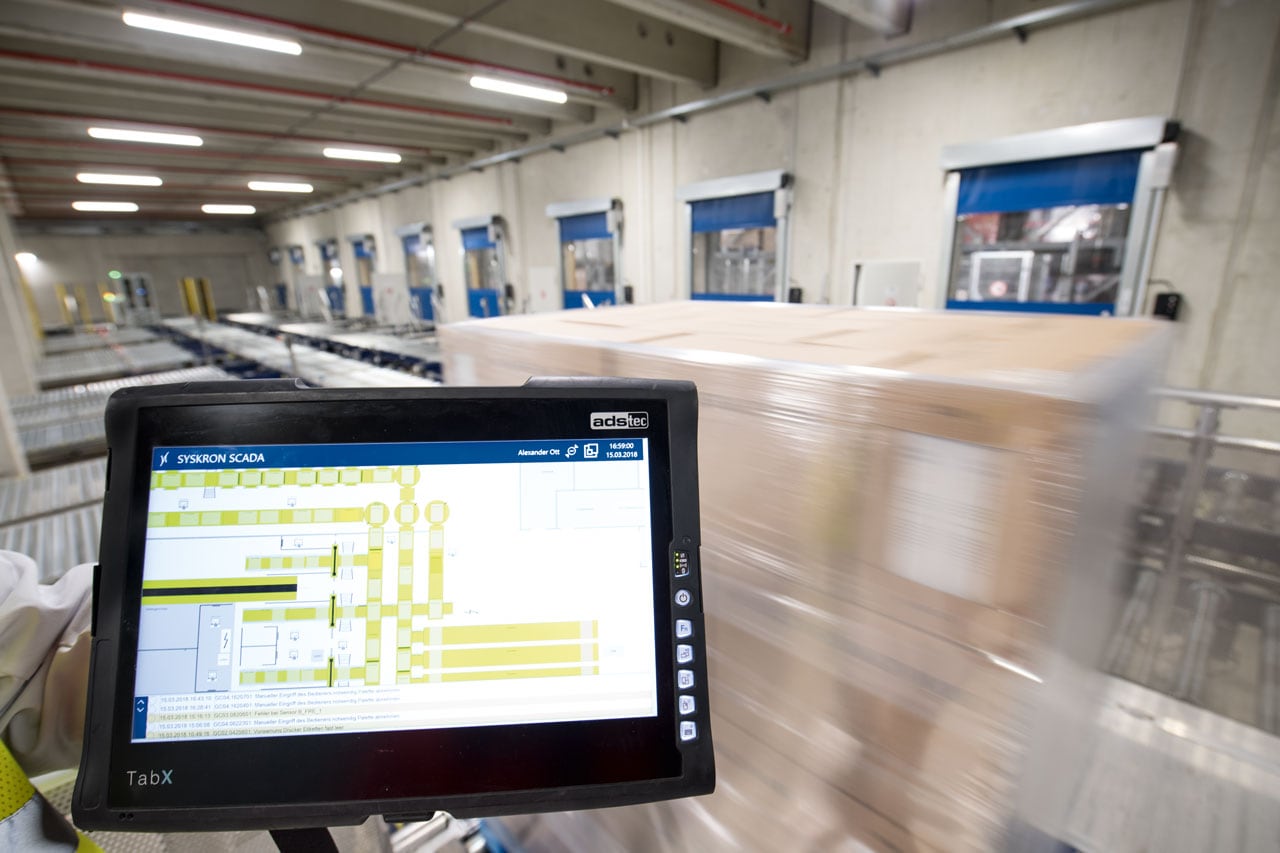 "System is running with maximised stability"
"We've been able to reduce the number of staff working in logistics by eight, and these eight people can now be deployed elsewhere", says Dr. Tina Schiemann. "What's more, we now have substantially fewer loading errors, and order assignment is better, something which creates enhanced transparency, not least for our customers. Yet another advantage is that truck loading times have likewise been halved. We now have everything we need at our Zell plant for working even more efficiently in our daily routine," she says, and adds:
Our new logistical system is most definitely a nice reference for Krones and Syskron.
Dr. Tina Schiemann
Wine filling with palletising centre
Following the successful commissioning of the new high-bay warehouse, ZGM has now placed an order with Krones for relocating two part-lines for bottling still and sparkling wines while simultaneously modernising these and upgrading them by including new machines. The following items will be integrated:
Commissioning is scheduled for the spring of 2019.
---