Qing Li is an entrepreneur. During the course of his career so far, he has gradually developed a fondness for craft beer, with a particular admiration for German brews.
Please activate JavaScript to play this video.
Which is why he first of all began to import them, but very soon this had lost the attraction of novelty. And so the idea was born of building a German brewery in China: TBT Urbräu – with a Steinecker brewhouse, Krones process technology, a Krones bottling line, a beer brewed to a German recipe under the Urbräu brand, and production under licence of König Ludwig wheat beer and Kaltenberg beer. And, of course, you also need a German brewmaster at the brew-kettle.
During his former incarnation as a karaoke entrepreneur, Qing Li, founder, partner and President of TBT Urbräu, was already importing beers from abroad. And he acquired a taste for them: he became particularly fond of craft beer, plus English and German brands – but, as he himself freely admits, he had "no idea" about brewing. In this point, he was supported by the specialists from Krones, whom he had contacted for the first time in early 2013.
All the technology from Krones
In August 2013, with the TBT Urbräu GmbH as the investor, the contract was signed for building the TBT Urbräu Brewery Park in Handan. Back then, China's economy was still looking good, achieving double-figure growth rates. Following initial contacts with international component vendors, Qing Li, as the co-founder of the TBT Urbräu Brewery Park, took a swift decision in favour of Krones' turnkey solution. The first construction work had already begun by the end of 2013, and six months later the first machines arrived from Germany, and in April 2015 the first brew was produced in Handan. The capacity installed by then was 120,000 hectolitres. Krones had supplied the brewhouse, the entire process technology and a non-returnable-glass line for TBT Urbräu, and handled all the engineering work as well.
Brewhouse
The conventional brewhouse has been dimensioned for an output of 100 hectolitres per brew, with ten brews a day. It features the following kit:
Process technology
All cylindro-conical fermenters are fitted with Evoguard double-seat valves. TBT Urbräu is thus one of the first breweries in China to be using these valves. The initial phase of construction work operates with hoses and pipe panels, while the second phase features pipe bend technology throughout.
Filling technology
For filling the beers in 330- and 500-millilitre glass bottles, TBT Urbräu uses a Krones line rated at 20,000 bottles per hour. This consists of:
In addition to filling glass bottles, Urbräu also operates a kegging line for 40 kegs per hour, plus two mini-keg lines for 1.0- and 2.0-litre returnable aluminium containers. They are rated at 3,000 normal or 1,500 mini-kegs per hour.
The first German craft brewery in China
While most of the Urbräu beers are currently being sold only in an area extending 200 kilometres round Handan, TBT Urbräu is attempting to place the high-end licensed products in all of China's major cities. The brewery utilises all available channels for this purpose: from restaurants and bars all the way through to supermarkets. Online trading is all set to go live as well. A bottle of Urbräu costs the consumer about 1.10 euros, though the König-Ludwig and Kaltenberg beers are two to three times more expensive. The brewery sells the licensed beers in the classical 500-millilitre returnable glass bottles. For Urbräu itself, the range comprises 330- and 500-millilitre bottles. But in China reclosable 1.0- and 2.0-litre returnable cans for restaurants are likewise proving highly successful. Urbräu is also offering 30-litre kegs filled in the same way.
Range of beers to be expanded
For Supply Chain Manager Bing Zhu, this brewery construction job constituted a unique experience. Although as a brewmaster he already had 15 years of experience at a Chinese brewery under his belt, responsible for production under licence of an international beer brand, there was one thing missing on his CV: the manufacture and installation of a brewery's equipment. So he counted himself very fortunate to be involved here at Urbräu right from the start. For example, he chose state-of-the-art equipment for the brewer's lab, which now even features a gas-chromatograph for measuring fermentation aromas.
Bing Zhu is in particular highly satisfied with the Steinecker brewhouse: "This system provides the requisite flexibility for our needs, and above all works very reliably." Urbräu is currently producing 15 different SKUs (stock-keeping units). When the brewery has then put in place a broader distribution network, the plan is to expand the range of beers still further. Bing Zhu is thinking, for instance, of a light IPA with around 30 bittering units or a dark ale with a higher alcohol content, plus other craft beer types.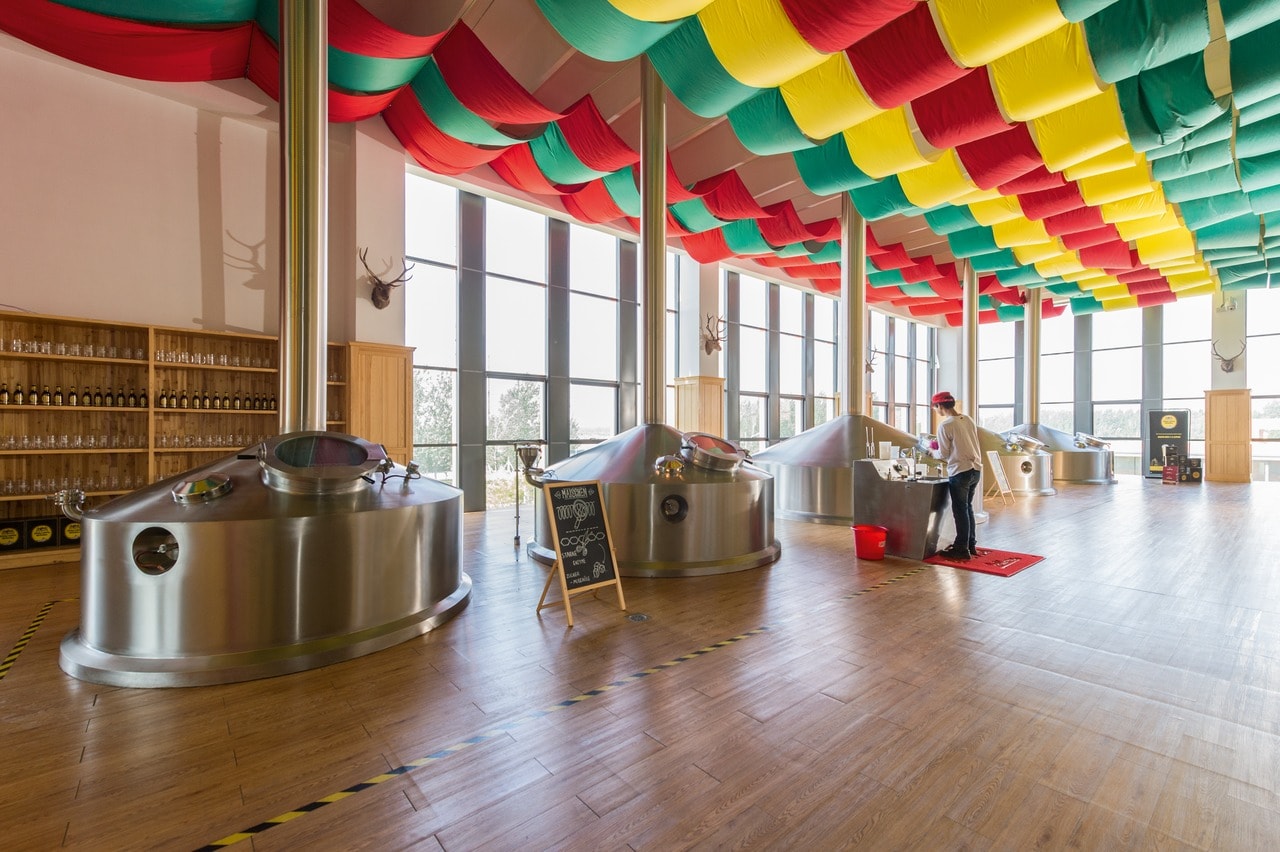 The actual brewing is handled by German brewmaster Axel Gummich. "I feel as if I'm actually in Germany. We're brewing German beer, without any additives, yes really – even though we don't emphasise that in the marketing," he says. "With Krones' technology, it's easy to brew top-quality beer. We're achieving a hop yield of 32 per cent, for instance, whereas in the textbook 30 to 31 per cent is the maximum possible here. The malt grist is likewise significantly lower than with other brewing lines. Quality pays off, you know. And the Kaltenberg and König-Ludwig beers we brew here taste exactly like they do in Germany." And that's the way it's going to stay, thanks not least to brewing engineer Josef Schraml, who as the licensing executive at König Ludwig International drops by in Handan several times a year to check on the quality of the products concerned.
Quality pays off, you know.
Axel Gummich
Accepting responsibility
Urbräu had some of the operators for the bottling line and the brewhouse trained at the Krones Academy in Taicang, in order to ensure that all the operators are actually able to handle the machines and systems involved. The Krones subsidiary in Taicang also handles after-sales service and maintenance. "The collaboration with Krones as our single-source supplier was on all levels very amicable and constructive," says entrepreneur and beer fan Qing Li. "What I found most impressive was that Krones willingly accepted responsibility. I myself didn't know much about brewing, but I've learned a lot from Krones – in terms of both the technology involved and the future strategic focus. What we have in common is a shared commitment to quality and service. I regard Krones as not only a vendor, but also a partner who provides never-failing support." And since the Chinese love symbolism and flowery language, he sums up his thoughts in a charming simile: "Krones is like a huge tree, in whose shade you can rest easy in your mind. Krones is a very trustworthy company."
Krones is like a huge tree in whose shade you can rest easy in your mind.
Qing Li
---
Selected machines and solutions