So far, the French bottling company Antartic had been operating three lines from Krones. In 2018, Numbers Four and Five were commissioned: two PET lines, one from Krones featuring an ErgoBloc L for producing still water, and one from Kosme for bottling syrup in PET containers.
Please activate JavaScript to play this video.
The line with the ErgoBloc L replaced an existing one that dated back to the 1990s and no longer met contemporary requirements. However, it was not installed on the same area, but in a building specially erected for the purpose. The old water line, by contrast, made room for the new Kosme line.
With the Krones new line, for the entire process involved – from stretch blow-moulding all the way through to container closing – only one operator is required. This is made possible by the ErgoBloc L wet-end block, which handles within a single system the steps of stretch blow-moulding, labelling, filling and closing. And the block requires up to 70 per cent less space than conventional configurations. In order to speed up the change-over process to new bottle formats and to neatly store the moulds not currently needed, Antartic deploys three MouldStar change trolleys. These contain moulds for two different 1.5-litre bottles and one 0.5-litre size. Two Variopac Pro FS shrink-wrappers pack the 1.5-litre and 0.5-litre containers. A Robobox then prepares the layers, which are thereupon palletised in a Modulpal 2A.
The finished pallets are transferred automatically to a high-bay warehouse. With this line, the company can produce 900 of these finished pallets a day. In 2017, it delivered around 400,000 pallets of beverages to the central warehouses of the Intermarché Group, which Antartic is a member of.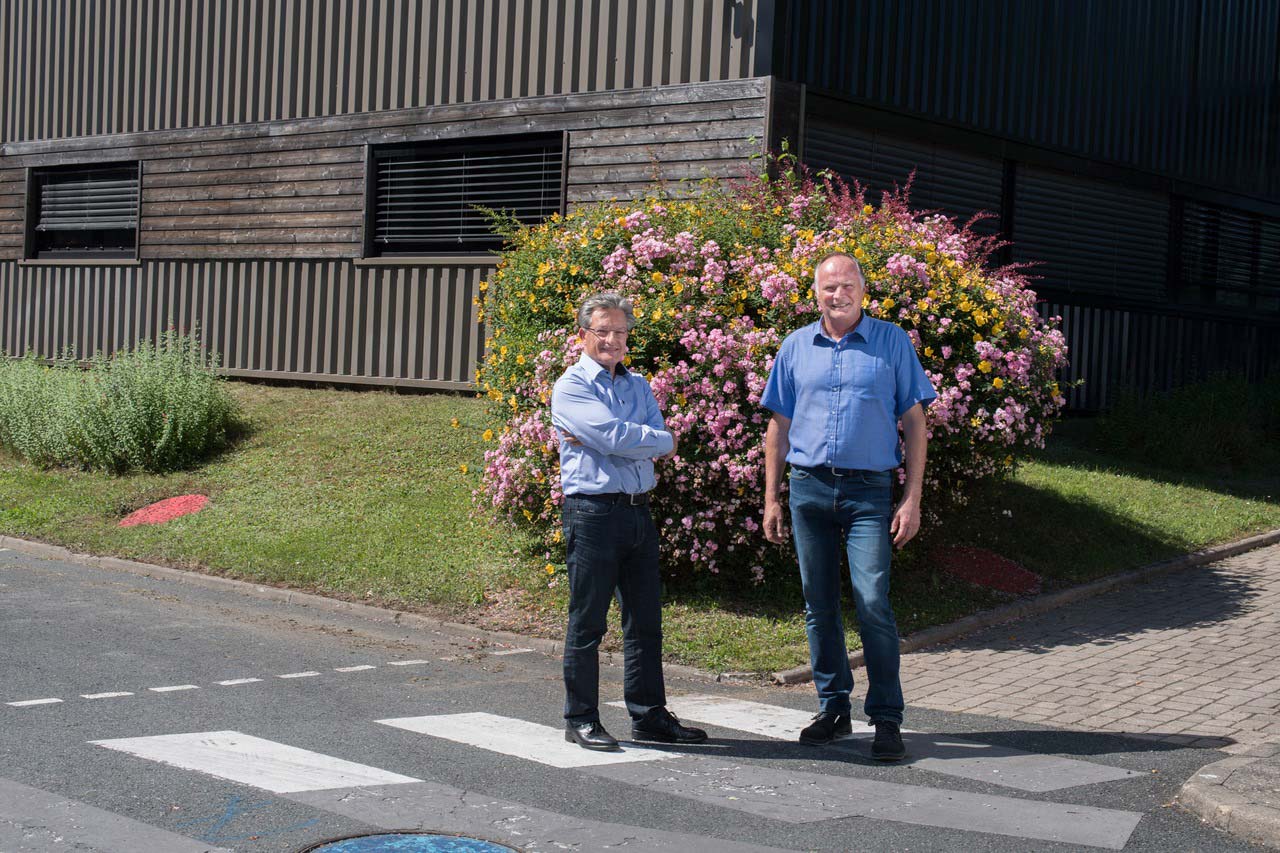 Pioneer
With the new line, Antartic has not only modernised its still-water bottling capabilities significantly, but at the same time also upsized the capacities involved. "Antartic was at the time the first French bottler to have installed an aseptic line from Krones. Now we're the first in France to be working with an ErgoBloc L. We simply put our trust in Krones' vast experience with this technology," says Director Robert Baudin. The line has created a whole series of advantages for Antartic:
The output has risen from 25,000 to 32,000 containers per hour.
Thanks to the higher hourly output, Antartic has been able to change from cost-intensive three-shift operation to two shifts.
The number of operators per shift has fallen from four to three.
The energy consumption has been reduced by around 15 per cent. The paramount factor here is the lower blow-moulding pressure of the Contiform 3 Pro, now 18 bar compared to 25 bar with the previous system.
The bottles are labelled before being filled, while they are still dry, which improves the quality of the labelling function.
When changing over to the ErgoBloc L, Antartic also replaced paper labels by more affordable polypropylene dress.
The block has likewise enabled lightweight bottles to be used, so that the preform weight of the 1.5-litre container could be reduced from 26 to 22 grams, with concomitantly high cost savings. The declared goal is in future to downsize to the market's standard of 21 grams.
We simply put our trust in Krones' vast experience with this technology.
Robert Baudin
Five Krones lines in succession
During installation and commissioning, Antartic had its staff trained by the instructors of the Krones Academy directly on the machines involved. Following successful commissioning early in 2018, Syskron also implemented the SitePilot Line Diagnostics line documentation system for Antartic. On two large screens, suspended inside the line for easy visibility, staff can precisely track the function and output of the individual machines. "The operators gain time, because malfunctions at a single machine are transparently displayed, which means they can intervene more promptly. Line Diagnostics, moreover, offers shift managers an option for ascertaining how the line behaved in the previous shift," says Technical Manager Patrick Bertheau.
Since 2005, Antartic has meanwhile installed a total of five Krones lines in succession; only some individual machines came from other manufacturers during this period. "We trust the market leader Krones. What's more, it's advantageous that our staff are by now thoroughly familiar with the technology, and spare parts inventories have been streamlined," says Robert Baudin. "Krones has committed itself to continually reducing the consumption of energy, water and compressed air. This fits in totally with our corporate focus."
First ErgoBloc L in France
The heart of the Krones line is an ErgoBloc L featuring:
Syrup in PET containers
Syrups in a huge array of different flavours are relatively popular in France. Intermarché also offers this beverage category and has so far been filling it in glass and metal bottles. "Ten years ago, we had already tried offering syrups in PET containers. Back then, though, the market wasn't ready for this. That has now changed," says Director Robert Baudin. For this new market launch, Antartic has meanwhile installed a dedicated bottling line, whose heart is a Kosme 3Bloc consisting of:
The block, rated at 12,000 containers per hour, fills around 25 flavour variants of syrup, handling a total of three different container formats in the 0.75 and 1.5-litre sizes.
---
Selected machines and solutions