With production still ongoing, Norway's biggest dairy company TINE changed its palletising operation at TINE Meieriet Oslo for products from six filling lines over to a new palletising centre – without a single hitch.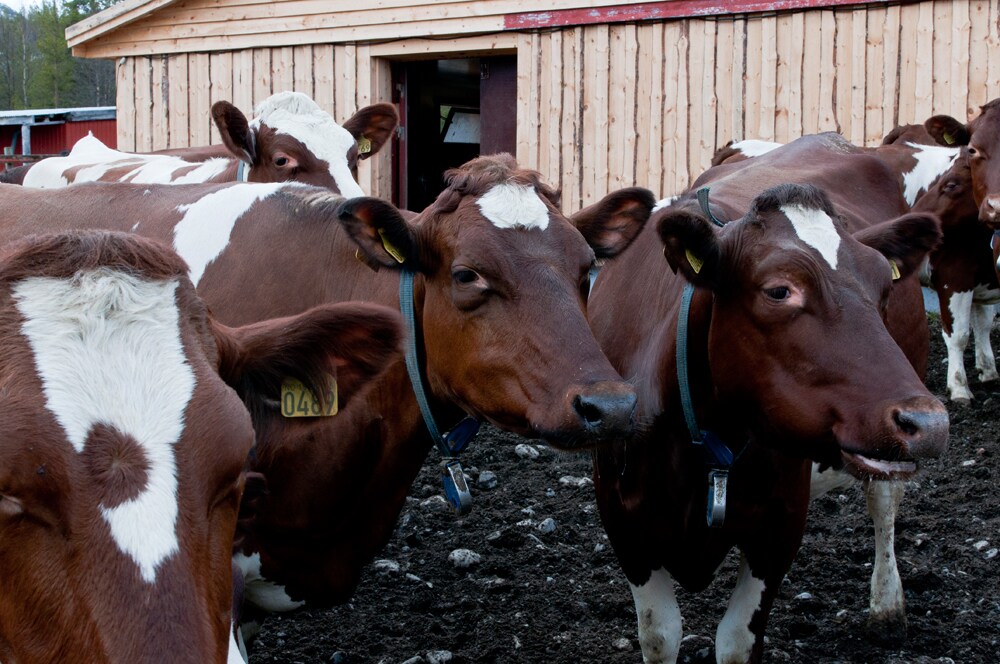 The high degree of dependability in executing this job, and the integration of more than 500 metres of pack conveyors, was crucial in the client's placing the order with Krones, comprising a total of three Robobox grouping stations and three Modulpal palletising robots, each in combination.
TINE SA is Norway's largest producer, distributor and exporter of dairy products, with a national market share of about 85 per cent. This company's backbone is provided by more than 10,000 farmers, who as members of this cooperative are stakeholders in TINE, and every year supply 1.4 billion litres of cow's milk and 19 million litres of goat's milk. The group employs almost 5,500 people, and achieves a turnover of (2012) just under 20 billion Norwegian kroner, corresponding to about 2.3 billion euros. From the milk supplied by the farmers, the group makes more than 500 different dairy articles in 42 facilities (13 of them are fresh milk dairies) spread all over the country. The products are sold under the TINE brand.
The production capacities of three out of the firm's 13 dairies are to be redistributed among the other plants, with concomitant capacity upsizing in the remaining ten milk processing facilities. For example in the Oslo plant, whose annual capacity now runs at 150 million litres of milk and 20 million litres of fruit juice, and is earmarked for further upsizing. To enable the company to maintain these production output levels throughout all steps of the process, TINE installed the new palletising centre to start with, and then the company had a new, two-part high-bay warehouse built, with 10,748 euro-pallet slots and 3,200 parking slots for rolling containers, which serves to accommodate the fully loaded pallets of merchandise until they are order-picked from there via automated overhead conveyors.
Replaces five conventional palletisers
For handling fresh milk, the TINE Meieriet Oslo company has ten cartoning lines, plus two bag-in-box lines, at its disposal. PET or HDPE bottles for fresh milk have not (yet) become accepted practice in Norway. The cartons of fresh milk are loaded in roll containers, which are placed on special pallets to adapt the new warehouse system.
The new palletising centre from Krones handles the products from a total of six filling lines. It replaces five conventional palletisers. In these previous lines, the layers were formed by means of external turning stations and mechanical grouping.
Palletising two different products alternately
Each of the three Modulpal palletisers has one pallet loading position at its disposal on the left and one at the right, so that the machine can load two disparate products from two filling lines alternately. Note that the layer pattern can be completely different, since it is formed by the Robobox, which functions on the principle of positive turning and distribution of the packs, thus doing without specific components, like spacing devices, for example. The easily accessible Modulpal places the finished layers on the pallet by means of a shutter-type gripper head. The pallets are supplied, and taken away by a double-deck PalCo conveyor. The two levels enable the entire pallet handling operation to be positioned on one side, which means the operator side is completely accessible. All conveyors are equipped with a pallet tracking capability, which makes sure that every pallet is individually wrapped, labelled, and passed to the cooling store. Every pallet of fulls is stabilised with a net by a double-head wrapping machine. A total of seven vendors from all over Europe were involved in the tender for the new palletising centre, three of them with a robot solution. "We opted for the most dependable variant, and chose Krones", emphasises Åsmund Amlie, Manager of the Project Department.
Without interrupting the delivery chain
Dependable and fast – these were the watchwords, too, for the change-over from the old palletising operation to the new palletising centre. "Without interrupting the delivery chain" was the stipulation posed. "What proved extremely valuable was that Krones organised a comprehensive, internal kick-off meeting before we started. This once again changed the complete layout, leading to ideal accessibility for the machines", remembers Åsmund Amlie. Installation proper then went off without a hitch. "At peak times, up to 40 Krones staff were working on it. Without a break. Every single one of them was giving his best, keeping the agreed completion date firmly in sight", says a laudatory Åsmund Amlie.
Since the change-over could only take place at the production-free weekend, the old system stopped operations on a Friday and staff from Krones did their job. When on Monday morning Technical Manager Espen Tyrihjell looked in on the line, he was flabbergasted. He phoned Project Manager Åsmund Amlie on his mobile at once and asked: "What's going on? All of Krones' staff have left, and the line is running!" "Yepp", was the laconic answer, "isn't that what you wanted?" When she started her shift early on Monday morning, the line operator had simply pressed the green button as usual – and everything started up like clockwork. "Cool story, bro!" says Espen Tyrihjell, "epitomising our perfect cooperation. All our expectations were fully met. We've solved that one hundred per cent. Neither our customers nor the consumers noticed the change-over in the slightest. That was a crucial stipulation. Krones is an excellent partner."
---
Selected machines and solutions