Produces and fills oval bottles for liquid food
Always the perfect fit: The ContiformBloc BF with ProShape module is the ideal partner when it comes to condiments and other liquid foods. For it masters both the production of oval PET containers and the filling of viscous products –both at high speed and in perfect quality.
At a glance
Produces oval and asymmetrical PET containers
Fills condiments and other viscous foods
Processes containers with

volumes of up to 3.5 litres
diameters of up to 125 millimetres

Achieves an output of up to 48,000 containers per hour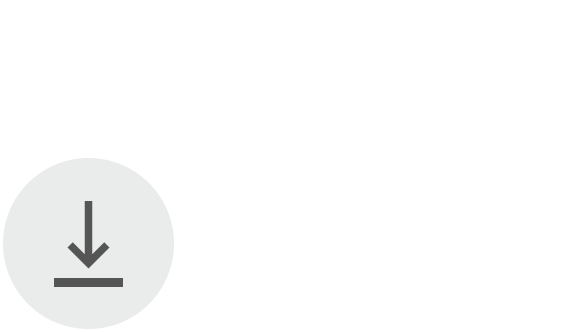 Brochure Krones Contiform Bloc BF with ProShape Modul
0.89 MB, .pdf
The block: All components at a glance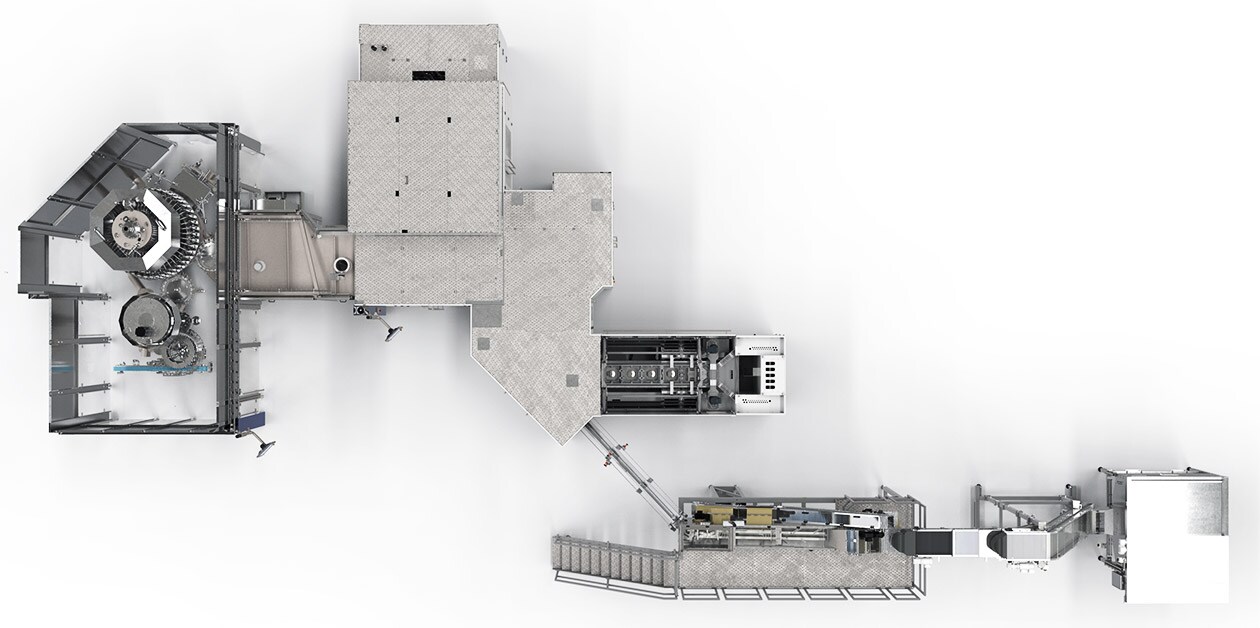 Benefits
Benefits to you when compared to a conventional line layout
Efficient production on minimum space
The Contiform Bloc requires up to 30 % less space than a blow moulder and filler installed in a conventional single machine arrangement. The compact line layout ensures also less potential malfunction sources within the line.
Sustainable block concept
The direct combination of individual machines into a block pays off twice: An air conveyor system for the blow-moulded containers, a bottle rinser or conveyor sections are no longer required, which, in turn, results in a reduced consumption of water, compressed air and energy in the complete line.
High hygienic standard
Few interfaces and conveyor sections are key factors in achieving a high level of bottle material cleanliness. The direct transfer of the bottles from the stretch blow moulder to the filler and capper prevents dirt being brought in.
Low operator requirement
The Contiform Bloc offers a good overview, short paths and a standardised operating concept. It also requires little change-over work and has an optimised maintenance program thanks to the use of servo technology.
Efficient and flexible line concept
With the Contiform Bloc, you are optimally prepared for bottle or product change-overs. It allows both, line change-over and restart in a quick and reproducible way.
Tethered caps: Get ready!
Beverage containers made from rPET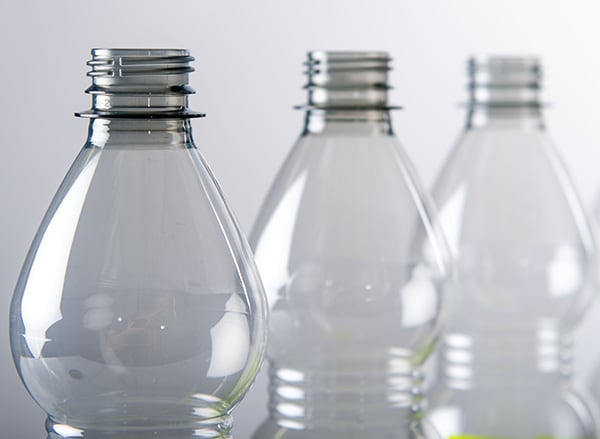 Material properties, processability, food grade quality: you can find all kinds of interesting facts about the use of recycled PET in our free white paper.
ProShape module: Benefits to you
High performance
High speeds are no problem for ProShape: This process enables outputs per blowing station of up to 2,300 bottles per hour.
Precise tempering for perfect shapes
The ProShape process works with extreme precision and permits the smallest of tolerances. This way, each preform obtains a precise temperature profile with exactly defined temperature zones. This results in precisely shaped bottles.
Best material distribution
Extensive lab tests have shown, that ProShape achieves much better material distributions than comparable systems of other manufacturers.
Material savings
ProShape utilises light weighting even for oval and asymmetrical containers. Selective tempering enables areas with thick and thin side-walls to be positioned close to each other which, in turn, results in very stable containers, even if the weight is very low.
Round and oval on one machine
If necessary, ProShape can be deactivated very easily.This way, changing between standard production and ProShape mode is possible as required.
Modulfill NWJ checkweigher filler
Precise fill quantities
The valves of the Modulfill NWJ are equipped with load cells. This enables the system to achieve precise fill quantities – for every product, whatever its degree of viscosity or conductivity.
Clean filling
The thicker the product the greater the chance that it might drip after filling. The unattractive result: Dirty containers and a dirty filler, as well as unnecessary product losses. In order to protect your production exactly from these factors, the Modulfill NWJ-Neck is operating with valves specifically developed for such situations providing clean filling without any spilling.
Gentle filling process
The filling process is designed to fill particles with a size of up 6 x 6 x 10 mm without any damage.
Different product and container combinations
The Modulfill is amazingly flexible and open for numerous combination options. It fills products with particles as well as low-viscosity and high-viscosity products into glass and PET containers.
Single machine or integrated in a block
An arrangement customised exactly to your requirements: The Modulfill is available as a single machine, in combination with a filler or as a block solution with a rinser or blow moulder.
Best hygiene conditions
Fully automatic CIP and SIP processes as well as an optional design in the clean room with automatic foam cleaning system or bottle and cap treatment ensure that the Modulfill NWJ meets even the highest hygienic requirements.