Heaven Lake in the north-east of China is where the Baeksan water bottled by Yanbian Nongshim originates. So as to guarantee top quality levels for its product during filling as well, the company is meanwhile using its third ErgoBloc L.
Please activate JavaScript to play this video.
The wet-end block for stretch blow-moulding, labelling and filling has been installed in a cleanroom so as to make absolutely sure the company's stringent quality stipulations are actually met. The latest line runs at a speed of 54,000 containers an hour, so Yanbian Nongshim produces three million bottles a day in total on its three state-of-the-art Krones lines.
When the company began planning its new factory in 2014, it took Krones on board for this purpose: "Many large international water bottlers are using Krones lines. This was what drew our attention to this firm, and following a visit to a trade fair and a number of meetings with Krones Korea, we ultimately opted for Krones – and have been very satisfied with our decision ever since," relates Ahn Myung Sik, Chairman and CEO of Yanbian Nongshim.
Many large international water bottlers are using Krones lines.
Ahn Myung Sik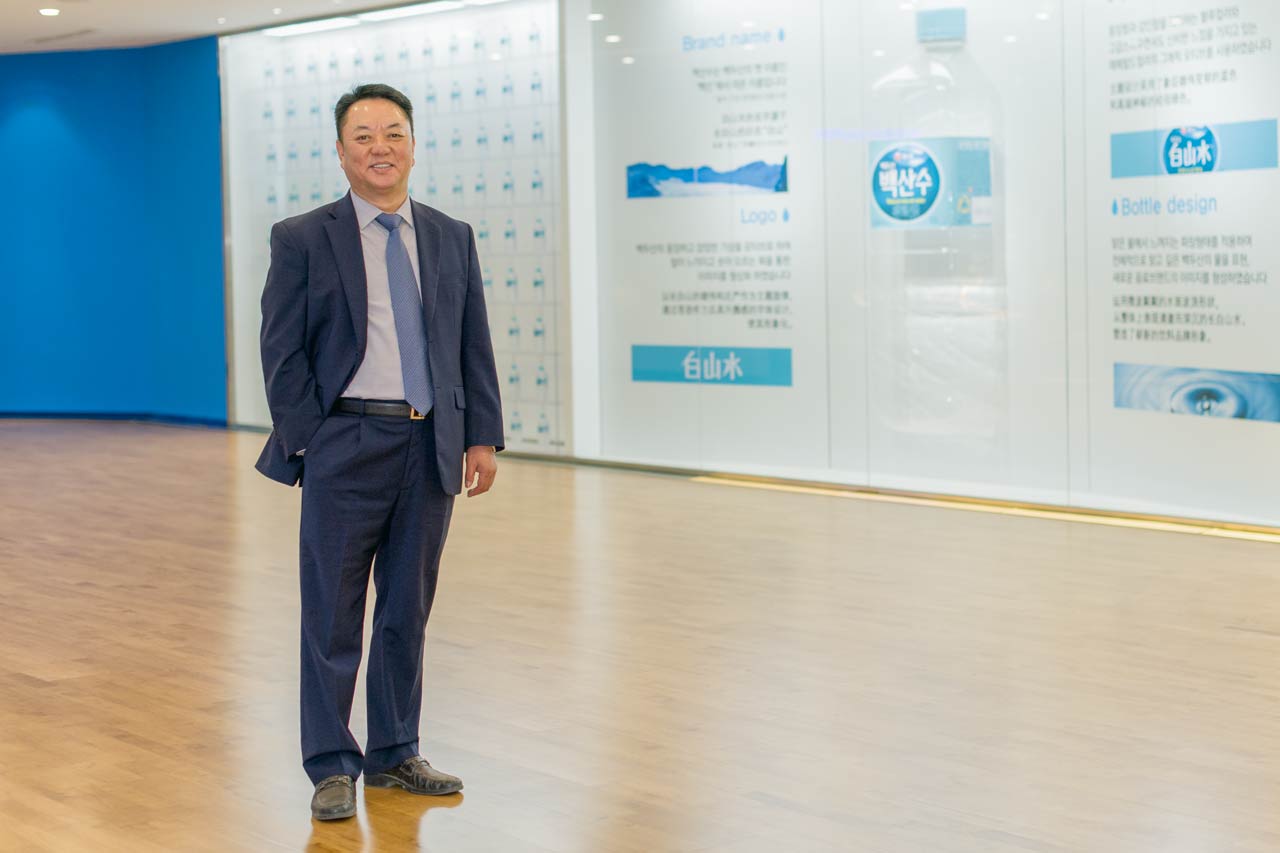 An OEE of 90 per cent
At that time, the client chose to buy two lines, each featuring an ErgoBloc L in the wet end, and a Variopac Pro, a Robobox and a Modulpal Pro for the packaging, grouping and palletising operations. Only a short time after entering the market, Yanbian Nongshim proved to be hugely successful, and it swiftly became clear: a third line was urgently needed to enable the high levels of demand to be met. The company did not have to think very long about it, as Ahn Myung Sik relates: "Although the ErgoBloc systems installed in the first two lines already contained state-of-the-art technologies, Krones improved on these even further, upgrading energy savings and efficiency levels, for example. And so we once again opted for this solution." However, the third line differs from the two previous ones in certain points that additionally increase the speed and quality involved: the preforms, for instance, are ionised prior to being stretch-blow-moulded, and subsequently sterilised with UV light. Krones has integrated a separate inspector for checking the BB date in the Topmodul labeller, and also changed the way the adhesive is applied. So as to provide a maximally high degree of production automation, Yanbian Nongshim additionally uses two Multireel quick-change systems that automatically supply the two Contiroll stations with wrap-around labels. "The line's efficiency is 90 per cent; what's more, it's child's play to run it with only four operators. I am convinced that it was the best choice for us," says an enthusiastic Ahn Myung Sik.
Location as a challenge
While the spring's location on a volcano right in the heart of nature brings nothing but advantages for the water's quality, this remoteness hampers any type of goods transport to and from the factory. The main sales market for Baeksan water, you see, is South Korea: around 70 per cent of the containers produced go to the home country of the Nongshim Group, with the remaining 30 per cent being supplied to China or Japan. To obviate the need for sending umpteen trucks a day on their journey along winding narrow roads through the north-east of China, Yanbian Nongshim uses an existing railway track that led through the present-day premises even before the water factory was built. From here, two to three trains per week depart with destination Beijing or the port of Dalian, where the water is loaded onto ships that take it to Korea, Japan and the south of China. For the loading routine, Yanbian Nongshim uses an intelligent high-bay-warehouse system that enables the pallets to be transported directly into the containers.
Here's to a brilliant future
Even though Yanbian Nongshim has not been active in the water business for very long, its market share in 2018 was already running at twelve per cent – and the uptrend continues. This is because the Chinese government's license for the permitted production quantity is a long way from being exhausted. The company is optimally prepared to cope with these growing sales. Not only does the existing hall offer space for two more lines, but the company's premises also boast a sufficiently large free area for erecting another building.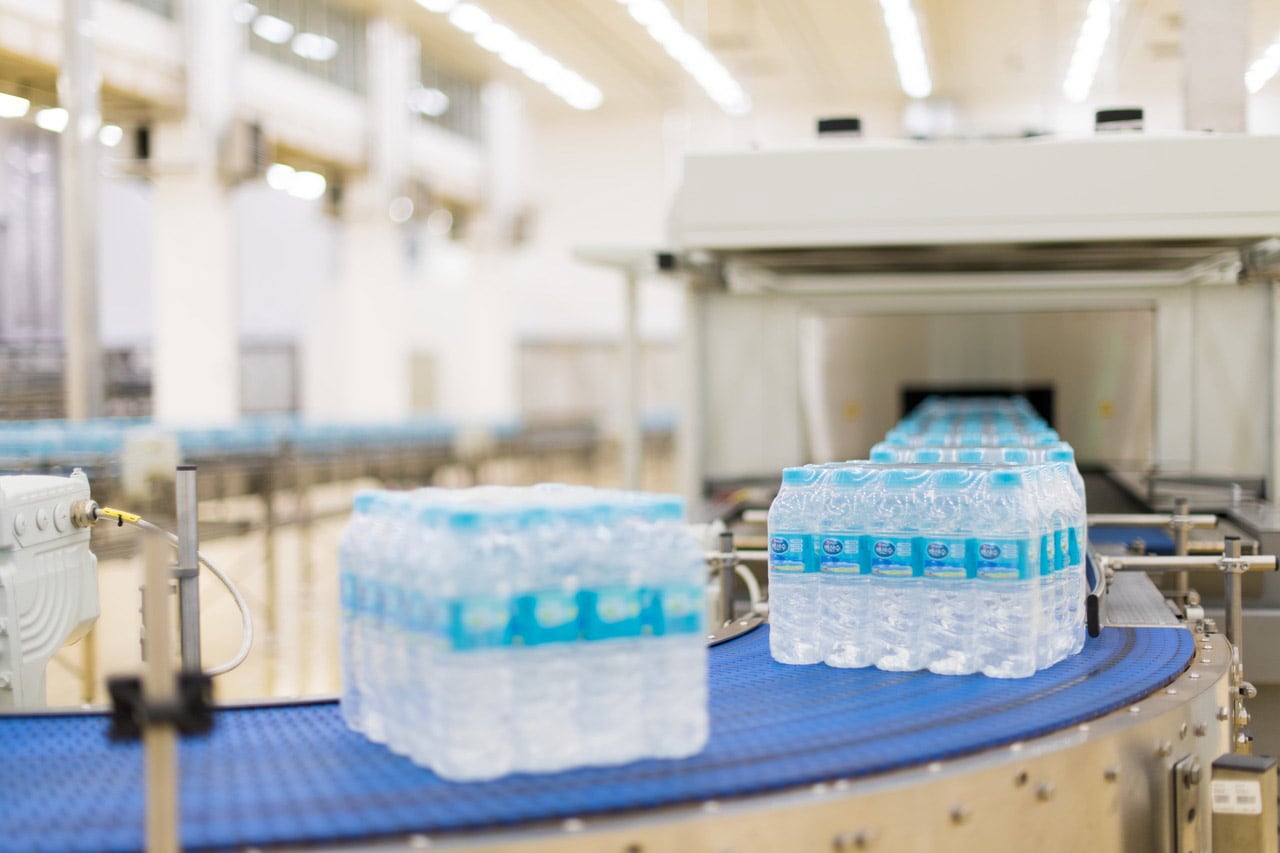 Ahn Myung Sik hopes he will be able to harness Krones' assistance and expertise for any upcoming projects as well: "Krones is more than just a machinery manufacturer – the firm also offers all the associated service capabilities and looks after the organisation here on the spot. I hope that we will continue cooperating with them in future too," summarises Ahn Myung Sik.
For Nongshim, Krones is the best partner in the world.
Ahn Myung Sik
---
Selected machines and solutions