In order to provide the catering trade with an option for offering beer-lovers a maximally broad spectrum of different beers, the Danish Carlsberg Brewery has developed Draught Master. The system ensures that beer filled in PET kegs remains fresh for up to 30 days after first tapping. For filling these 20-litre disposable PET kegs, Carlsberg has invested in a line from Krones at its Fredericia facility which has been dimensioned for an output of 500 PET kegs per hour.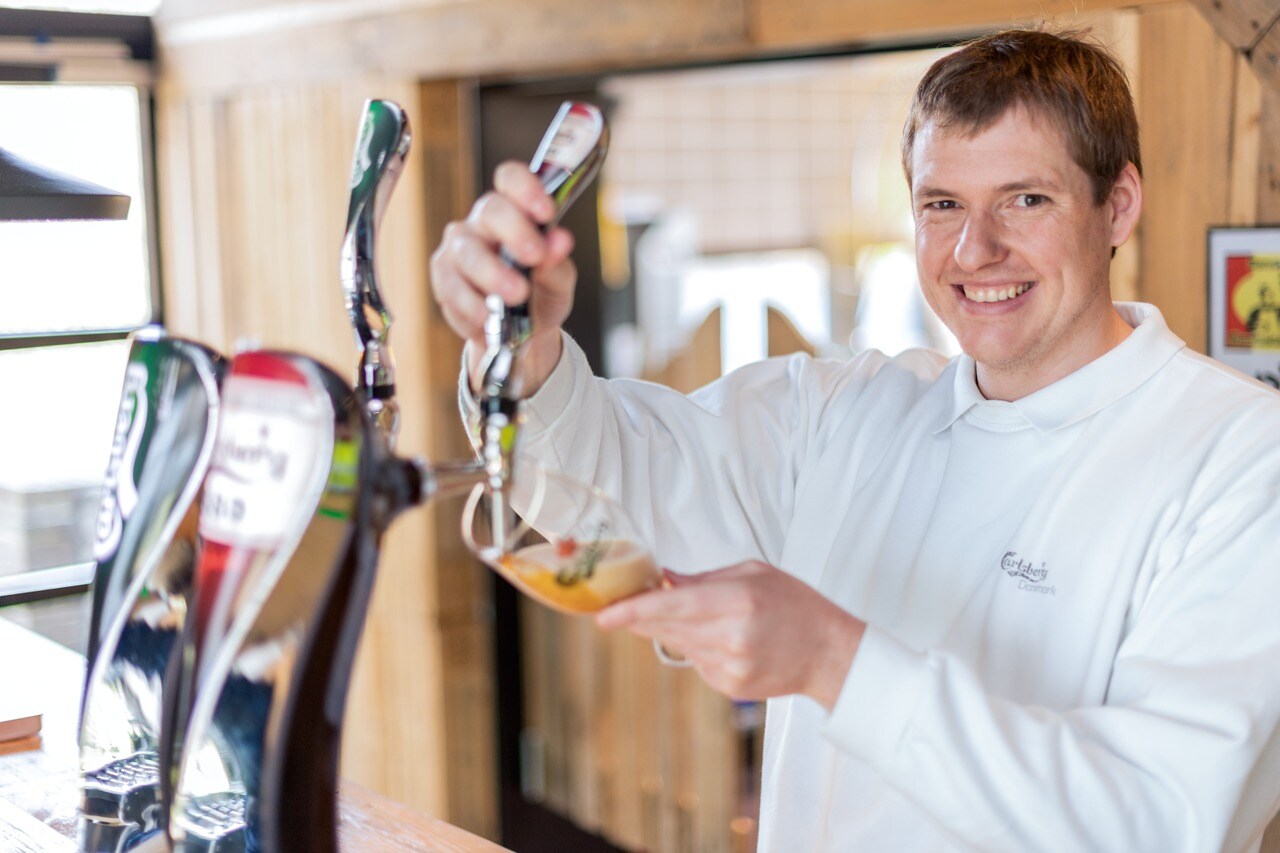 The PET preforms are moulded in the line by a stretch blow-moulding machine into 20-litre containers, and fed to the filler via AirCo conveyors. The filler is a special machine from the Modulfill VFS series, with 18 specially modified large-size filling valves. As PET containers cannot be pre-evacuated, a blowing starwheel is inserted, through which the air in the containers is flushed out by means of carbon dioxide, thus preventing the filled beer from coming into contact with oxygen. This is already the third time that Krones has built this special filler for Carlsberg. Together with the upstream container rinser and the downstream six-head closer, it is accommodated in a cleanroom. In this case, the kegs are sealed with a pressure closure, which is pressed on, not screwed.
Plant Manager Martin Bjeld explains the reason why Carlsberg chose Krones kit for filling PET kegs: "Quite simply, Krones was the only vendor that was able to supply us with this technology comprising a short-tube filler for this high rating and with the filling parameters we wanted." And Jeppe Holm-Jørgensen, who's responsible for the kegging operation as Senior Line Manager, adds: "I'm very satisfied with the line. It operates with high-precision filling accuracy, fully automatically, and very reliably."
Krones was the only vendor that was able to supply us with this technology for this high rating.
Martin Bjeld
After being filled, the containers are transported in carriers suspended on belts. A Variocart carton erector feeds in the cartons, and after the beverage kegs have been date-coded and labelled, the Linapac II packer inserts four containers at a time in a carton. After a downstream weight check, a Variocol closes and seals the boxes, which are then labelled as well. Now a robot places 15 cartons at a time on a pallet, which is subsequently stabilised for transport with a net.
Easier handling
In the meantime, Carlsberg is already producing 48 different SKUs on the new Krones line. From the Carlsberg Group's breweries abroad, too, tank beer is filled here in large PET containers. This means that well-known brands like Feldschlösschen, Kronenbourg or Holsten can likewise be seen on the cartons, but also, of course, craft beer brands like Jacobsen Yakima IPA or Jacobsen Wheat Beer. The high output of the Krones line enables a large number of different products to be filled. Changing over the line to a new beer type – including cleaning – takes just one hour.
"We would like to change over many more hotels, restaurants and catering outlets from aluminium kegs to the containers of the Draught-Master system, because they're much easier to handle," says Jeppe Holm-Jørgensen, who's in charge of the four shifts with two operators each. "Aluminium kegs are returnable containers, you see, you need water and chemicals for cleaning them, the empty kegs require storage space and they're heavier." The weight of the filled 20-litre PET kegs is significantly lower than that of aluminium kegs. And the fact that the PET kegs are used as disposable packs makes handling and logistics a whole lot easier.
Numerous options for filling in Fredericia
With more than 41,000 staff Carlsberg is the world's fourth-biggest brewing conglomerate: it produces around 140 brands for over 150 different countries. In Fredericia, the company produces and fills beer and soft drinks. A high-bay warehouse is also annexed. Beer is filled on two glass lines (one each for returnable and non-returnable containers), two canning lines, and the new PET kegging line, whereas soft drinks are produced on a total of seven lines for cans, glass and PET containers as well as on one line each for kegs and large PET containers.
---
Selected machines and solutions