It was only just over 20 years ago that Alberto Bertone laid the foundations for the Fonti di Vinadio mineral water company, whose mineral water brand Sant'Anna is today leading the Italian market, with a share of more than twelve percent.
Please activate JavaScript to play this video.
Italy's biggest mineral water bottler Fonti di Vinadio produces 1.3 billion fills a year in its plant in Vinadio. As on the overall Italian market, still water accounts for around 70 percent of the water sales at Fonti di Vinadio, and carbonated water for the remaining 30 percent. Since 2013, the company's portfolio has also included ice teas of the Sant'Anna SanThè brand, and since 2017 Sant'Anna Karma soft drinks. In the meantime, both these beverage categories together achieve about a tenth of total sales.
In the years 2017/2018 alone, demand for Fonti di Vinadio's products rose by around 30 percent. And that in a market with overcapacities, in which the five largest mineral water brands account for roughly four-fifths of the total. That is why Alberto Bertone, the company's President and CEO, is continually investing in his production operation, and as far as technology is concerned is opting for maximised efficiency and the highest possible degree of automation. This is reflected, for example, in how the lines are supplied with preforms and other processing materials, and in how the pallets of fulls are discharged. You see, these tasks are performed by 40 automated guided vehicles whizzing through the halls powered by lithium batteries.
Maximised automation
"But our paramount goal is to ensure that our lines, too, are run with a maximised degree of automation," says Alberto Bertone. To achieve this, he has over the past two years had five new bottling lines from Krones installed.
Three of these replaced relatively old lines with machines from various manufacturers, and have increased the output from what used to be 20,000 each to what is now 54,000 bottles an hour.
The other two were additionally installed in order to upsize capacities still further, and to upgrade efficiency levels as well:
The lines' tasks are clear: three of them fill exclusively still water in square 1.5-litre containers. This bottle type accounts for more than 70 percent of total sales, and, thanks to its shape, does not take up as much storage space as its cylindrical counterparts. Another 54,000-bph line handles just these cylindrical bottles, in sizes of 0.5, 1.0 and 1.5 litres, filling them with still and carbonated water. The fifth new line, the last of them, commissioned in August 2018, fills 0.5-litre bottles at a speed of 81,000 containers an hour.
These dedicated lines, as they are called, hardly need any change-over times any more, and thus upsize the achievable output.
Marco Bilbiano
This 0.5-litre bottle is a lightweight champion weighing a mere 7.2 grams (previous bottle 12 grams). For developing it, Krones pulled out all the stops. From the sketchpad containing a large bandwidth of possible shapes, they joined forces to progress the development work and to shortlist a smaller number of design variants, for which sample bottles were then produced. Simultaneously, the preform design was developed and validated, so as to assure technical feasibility. The result is persuasive, eco-friendly, cost-efficient, and scores highly in terms of an appropriately appealing design.
Block technology of the ErgoBloc L
Each of the 54,000-bph lines comprises:
Just one operator per line
Each of the five new lines operates with an ErgoBloc L. Their basic layout is identical, with the 81,000-bph line obviously using higher-output machines. "The block systems are fantastic," says Alberto Bertone. "Their footprint is small, their machines work efficiently, and we can actually handle bottling, labelling and packaging with just one operator per line. For this purpose, the Multireel C magazines are absolutely essential in my eyes, as they save a lot of the operator's time."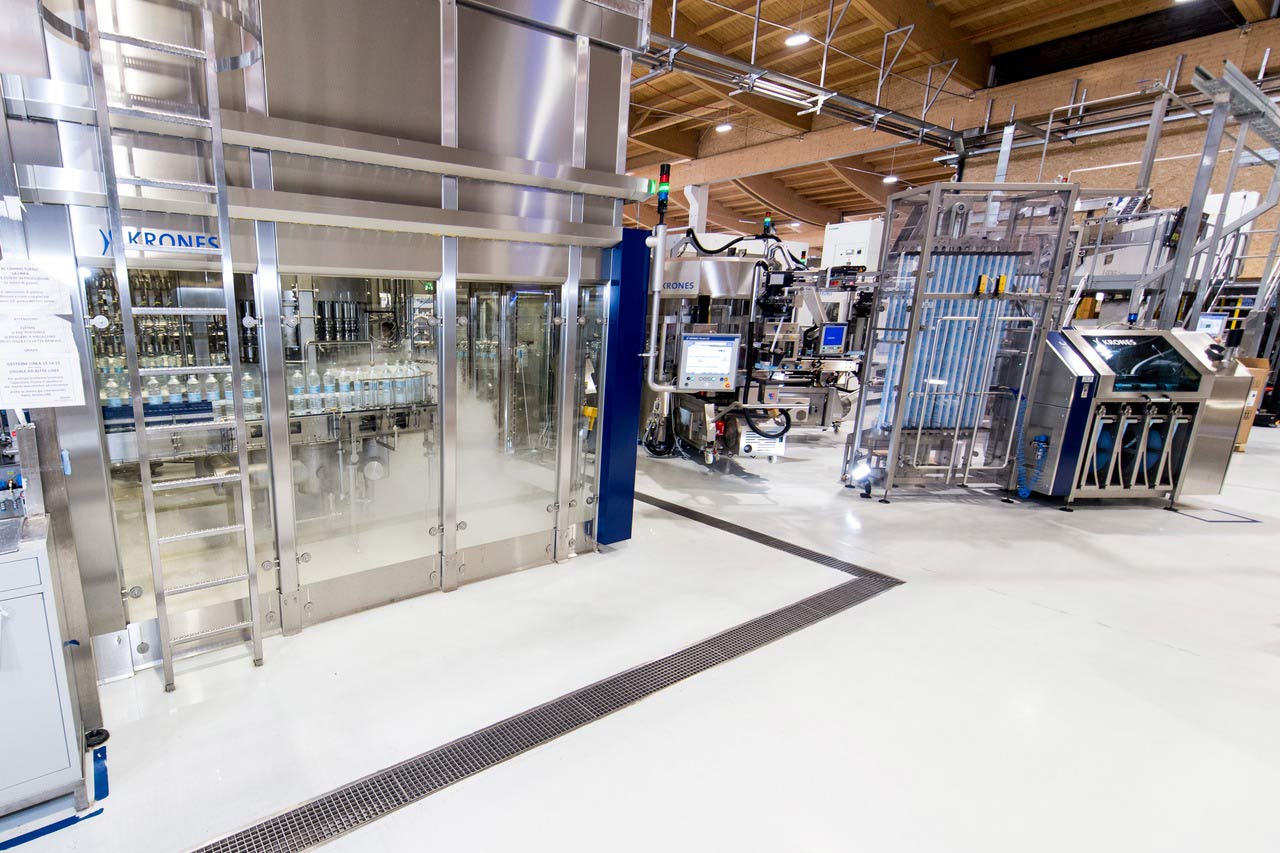 Some of the lines lead into a separate palletising centre featuring robots. From here, the pallets of fulls are then passed into a relatively small block-type warehouse, with space for "only" 2,000 pallets, because, you see, about 85 percent of the daily output during the peak season, which totals 12,000 to 13,000 pallets, is loaded directly onto the trucks waiting at a total of 32 loading gates – just-in-time collection. This sophisticated logistical concept enables the mineral water bottler to keep the plant, despite the high output level, relatively compact in size with only a single storey, so that it fits harmoniously into the mountain valley's landscape.
Further capacity upsizing
Alberto Bertone already has specific plans for the future too:
Fonti di Vinadio intends to continue upsizing its capacities, initially with a glass line, and later on with two PET lines as well.
For various retail chains, the company intends to develop new formats, e.g. bottles in the 250-, 330-, 670- and 1,350-millilitre sizes.
The new water brand MIA Vallestura, with a somewhat higher mineral content, is intended to complement the hitherto solitary brand Sant'Anna.
He's already brought on board the right partner for this: "Krones is more than sufficiently innovative to meet our expectations regarding automation and efficiency in the bottling operation. We're linked by a mutually supportive relationship that enables us to fruitfully synergise theory and practice in order to find good solutions for all future tasks," is Alberto Bertone's firm conviction.
---
Selected machines and solutions