When the demand for beer in Rwanda rose a few years ago, Unibra decided in 2010 to produce the purely malt-based beer locally too – and built a new brewing facility for the purpose: Skol Brewery Ltd. (SBL).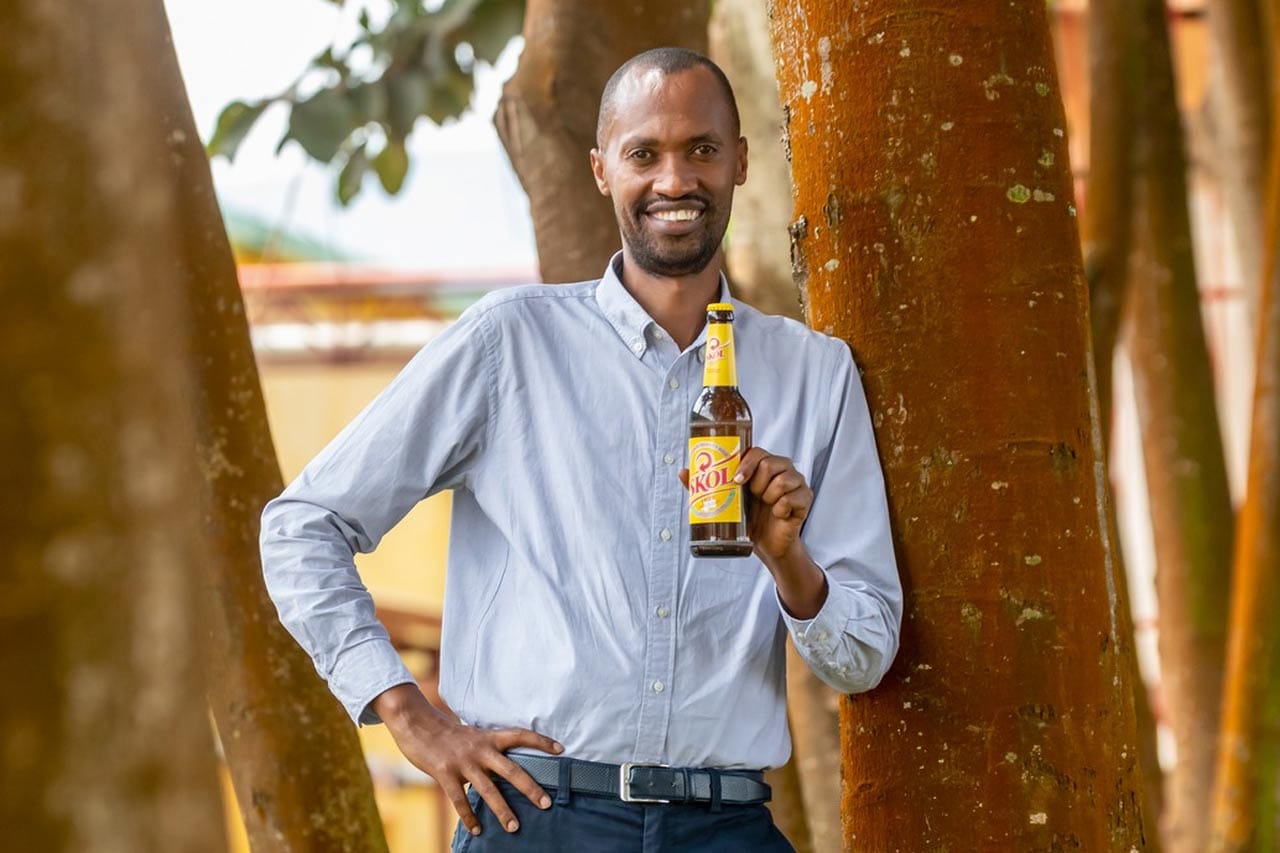 Up against the capacity limits
At first, Skol had dimensioned its fermentation and storage capacities rather cautiously, at 100,000 hectolitres. But because sales reached 80,000 hectolitres in the very first year, the brewery continually upsized its tank capacities. By 2017, sales had then risen to 400,000 hectolitres a year – and Skol was coming up against the limits of its bottling capacities, since the returnable-glass line installed (which includes some pre-owned machines from Krones) handles only 24,000 bottles per hour. So in order to meet the continuously rising demand, SBL had to invest in a second line. For this purpose, a new hall was built as a greenfield project, designed to house a complete new line from Krones.
Returnable-glass line rated at 25,000 bottles per hour
"We wanted to have top-quality machines"
Skol placed the order for the line with Krones in January 2018; installation began in September, and production started up in November – to Eustache Mpiko's complete satisfaction: "Opting for Krones was the right thing to do. After all, we already had long years of positive experience with Krones' machines in the first line. So we also knew that Krones' service people provide excellent support," he says, and adds: "We produce top-quality beers, so we wanted to have top-quality machines as well."
The beer bottles are packed solely in crates, though relatively small quantities for the export markets are also packed manually in cartons. The line's particular highlights in Eustache Mpiko's eyes include the Linapac II unpacker and packer, because they enable format change-overs to be performed fully automatically by entering a command at the touchscreen. "This enables us to change over the entire line in 45 to at most 60 minutes," says Eustache Mpiko. "Which means we're achieving a line efficiency of more than 85 per cent." For that reason, each Linapac II can select between five gripper heads for different bottle sizes. They are stored directly next to the pick-and-place packers. The line has been running right from the start in three shifts, manned by six operators at a time. "We're thus able now to ease the old line's workload a bit."
Skol trained the operators for the new line in-house for more than a year on the first line, which is likewise largely equipped with Krones machines. In late 2019, the Krones Center East Africa provided on-site training on particularly important machines, like filler, labeller and empty-bottle inspector. And if some assistance from Krones was nonetheless required, a service technician from the center in Nairobi could arrive on site within six to eight hours. "The proximity of the center was also an advantage in Krones' favour," comments Eustache Mpiko. And a maintenance agreement with Krones is on the agenda upon expiry of the warranty period. SBL has already concluded a remote service agreement.
Opting for Krones was the right thing to do.
Eustache Mpiko
Keep on growing
For the future, the Skol Brewery already has some ambitious plans: "Beer consumption in Rwanda is directly dependent on economic growth. This has been running at around seven per cent per annum in recent years, and is expected to keep on rising. We have lots of young people, who in the near future will grow up to be potential beer consumers. If all goes well, we can start thinking about another Krones bottling line," says Eustache Mpiko.
---
Selected machines and solutions