For years now, there has been above-average growth in the sales figures for Salvus products in glass bottles. Whereas the PET-to-glass ratio was still at 70:30 a few years ago, the shares are meanwhile evenly split.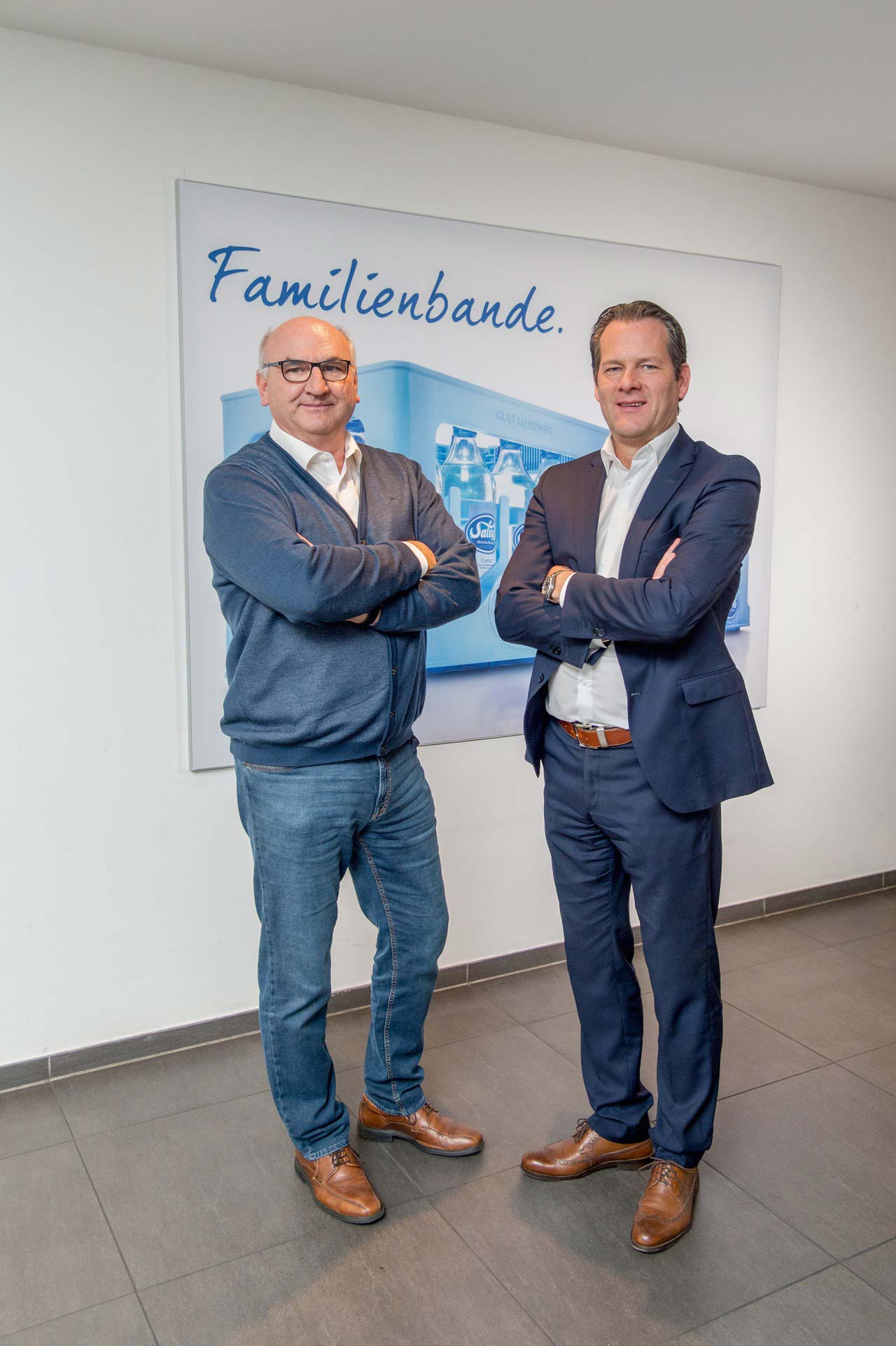 Whereas in 2017 the roughly 200 German mineral water bottlers had to accept a minus of 1.8 per cent in their sales, Salvus succeeded in increasing its sales in the same period by a double-digit amount, to reach more than 155 million fills. And this was topped in 2018 by another five million more bottles. "The steady increase in demand for glass containers has reinforced our resolve to invest in another bottling line for glass. The trend towards still mineral water in glass continues unbroken among consumers," explains Guido Schürkötter. "The new line will enable us to fill about 140 million more glass bottles a year, so we've still got plenty in reserve."
We're seeing a renaissance of the glass bottle.
Guido Schürkötter
Please activate JavaScript to play this video.
Fourth line from Krones
Salvus operates two complete PET lines from Krones installed in 2000 and 2003. In the years 2012 to 2014, Krones upgraded the filler, labeller and empty-bottle inspector in an existing returnable-glass line. The returnable-glass line for filling mineral water installed now was supplied by Krones in its entirety.
The new line handles 28,000 bottles an hour and comprises:
An electric overhead conveyor takes the finished pallets of fulls directly into a newly erected high-bay warehouse.
"For the new line, we paid particular attention to cost-efficiency on the one hand and product safety on the other," says Plant Manager Holger Mathes. "When it came to the bottle washer, our goal was clear: to achieve optimum cleaning results with minimised consumption figures. That's why we opted for a Lavatec E4 with omega loop, four label removal points, caustic filtration and sedimentation tank." In his view, this configuration entails several advantages:
What is called the omega loop, an optimised loop routing in the caustic section, extends the bottles' dwell and treatment time in the caustic tank. The integrated label removal points ensure an efficiently purposeful discharge function for the labels before these disintegrate.
During downtimes or at the weekend, the caustic is pumped over into the sedimentation tank holding 50 cubic metres, where the solids can be deposited as a sediment. This reduces the amount of fresh caustic required. What's more, the caustic is filtered during ongoing operation in an automatic backwashing filter, through which the entire caustic volume is circulated every hour. This additionally provides protection for the caustic jetting tank against clogging up.
The bottle pockets can be replaced easily and affordably.
The bottle-cell carriers are in latticed design and made of steel. This structure means firstly lower drive forces are needed, and secondly it minimises caustic entrainment.
At 160 millilitres per bottle, fresh water consumption is extremely low. Thanks to quantitatively proportional dosing of chemicals, which is meticulously monitored, overdosage is precluded, thus ensuring demand-responsive supply.
PRODUCT SAFETY in capital letters
Holger Mathes is likewise highly satisfied with the cleanroom roof above the filler. "The cleanroom with its HEPA filters by far exceeded our expectations for microbiological safety. The values for airborne germs are approaching zero. That certainly is money well spent." The filler from the Modulfill series is itself in hygienic design, doing without a front table. And additional levels of safety during filling are provided by an extensive bottle-burst safety system: a bursting bottle will automatically trigger a dedicated cleaning program, which for the next three revolutions sprays the outside of the filler carousel with water, thus removing any glass fragments. Furthermore, during the next three rounds a total of twelve bottles on the left and the right of the burst bottle are rejected.
A huge number of inspection routines downstream of the filler, using several Checkmat inspection systems, serves to enhance product safety still further.
Brand-loyalty with Krones
In the acceptance test, the new line achieved an efficiency of 98 per cent. "That's an extremely good value for a returnable-glass line," emphasises Holger Mathes. "Sure, with every major project there's bound to be some problems here and there, but I can rely on Krones to solve them."
It wasn't just good project management, however, that was one of the pluses tipping the scales in favour of Krones for the new line as well. In his view, the operators were thoroughly familiar with Krones' technology and operator interfaces, thanks to the three lines already up and running. And service support and parts supply also work flawlessly at Krones. "It's relatively easy to understand the machines. Moreover, via the service hotline Krones has direct access to the machines and can offer prompt, inexpensive solutions in the case of malfunctions," he adds.
Sure, with every major project there's bound to be some problems here and there, but I can rely on Krones to solve them.
Holger Mathes
Managing Director Guido Schürkötter reaffirms this statement by asserting: "We know the contact persons at Krones well, the erection team was technically top-notch and really nice people as well, and communication among the crew was very good. These are important soft skills for any cooperation to run smoothly. We're loyal to the Krones brand."
---
Selected machines and solutions